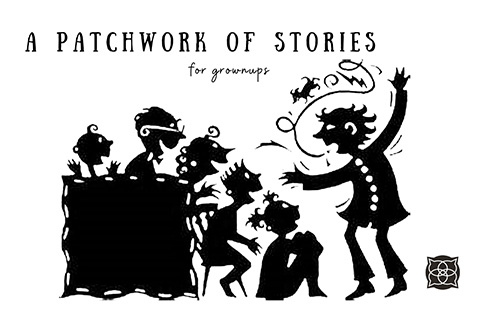 Patchwork: A Storytelling Guild PATCHWORK CELEBRATES A PATCHWORK OF STORIES on Saturday, September 25 @ 7 PM EST. This live event is open to the public and will be broadcast virtually. Patchwork offers Pay-What-You-Can ticket options for greater accessibility for all. Pay-What-You-Can: GET TICKETS
According to Denise McCormack, president of Patchwork and host of the event,
"A Patchwork of Stories for Grown Ups means to offer a unique balance of tales that complement one another for an hour of entertainment bliss. Each story has been carefully selected and crafted by the teller to be shared and enjoyed virtually and in real time for a wholly intimate and up-close experience. This novel hybrid is truly the stuff of fringe tradition, a grand experiment in accessible and meaningful performance art."
Featured in this amazing lineup are, in alphabetical order, Michele Belluomini, Judith Onesty, Denise McCormack, Les Schaffer, and Ed Stivender.
This program is sure to delight story lovers everywhere, and we encourage everyone to spread the word! We want to put a smiles on everyone's faces.

About The Tellers
DENISE MCCORMACK is deeply committed to sharing the history, benefits, and practices of storytelling in a broad spectrum of applications for education and community to business, health, and well-being. Among her many roles, McCormack is president of the Patchwork Storytelling Guild, and an active member of various local and national organizations wherein storytelling and the arts play an integral role. She is also a storytelling/speaking coach and creative designer and producer for video/audio; digital and print projects. For more information, go to: www.denisemccormack.live
MICHELE BELLUOMINI
Michele Belluomini has been telling stories to children and adults for the last 15 years.
She has performed in schools, libraries, and museums, as well as at universities in the Philadelphia area.
Michele presented solo performances on the "Fringe" stage at the 2006 National Storytelling Conference in Pittsburgh and at the 2012 National Storytelling Conference in Cincinnati. She has also performed in a host of Patchwork Tellebration festivals, the New Jersey Storytelling festival, and the Lehigh Valley's Story Fusion.
LES SCHAFFER
"I've always told stories –believing that a good story will get you out of just about anything, feeling that storytelling can save the world. Now that I'm solidly an octogenarian, these values are even more critical for me."
Les' stories range from biographical to folk and fairy tales and he means to encourage each of his listeners, to create, cherish and pass their own stories along to the generations that follow us.
A resident of Richmond, VA, he is a co-founder of Richmond's Tell Tale Hearts Storytellers Theatre he leads the Story Warriors, a youth storytelling group, teaches storytelling and related topics to Senior Citizens at his local LifeLong Learning Center, and works with fellow teller Judith Onesty as TwoTellers Telling Tandem Storytellers.
I tell at regional Story Slams and co-host a slam for Older Tellers A co-founder of Richmond's Tell Tale Hearts Storyteller's Theater, TwoTellersTelling Tandem Storytellers, I'm a current Board member of the Virginia Storyteller's Association (VASA). I've presented workshops, one-man and tandem-telling shows at Storytelling Conferences around the country.
A story-listener recently said that my telling is "…like scenes from a Christopher Walken movie."" I think that was a compliment. "
ED STIVENDER
Ed Stivender, a self-described 'Daydreamer moonlighting as a Storyteller' has been entertaining audiences around the globe since his Jonesborough debut in 1980. Dubbed "The Robin Williams of Storytelling" by The Miami Herald, and "The Clown Prince of Storytelling" by Festival Founder Jimmy Neil Smith, he is well known for the mixture of wit and whimsy that earned him the NAPPS Circle of Excellence Award in 1996. Author of "Raised Catholic - (Can You Tell?)" he is available for custom Zoom parties and coaching. This season he will be found on the line-ups for the Timpanogos, Jonesborough, Weber State (Utah), and Azalea (Georgia) Festivals.
JUDITH ONESTY
Judith Onesty has been telling stories ever since she ran into a bunch of cowboy poets and storytellers. She loves telling stories about her family, going all the way back to her great grandparents. The thing that she loves the best about storytelling is the special heart to heart connection that is made with the listeners. In 2013, Judith won first place in the Virginia Tall Tales/Liars Contest and she was also a Featured Regional Teller at the National Storytelling Conference.


Pay-What-You-Can