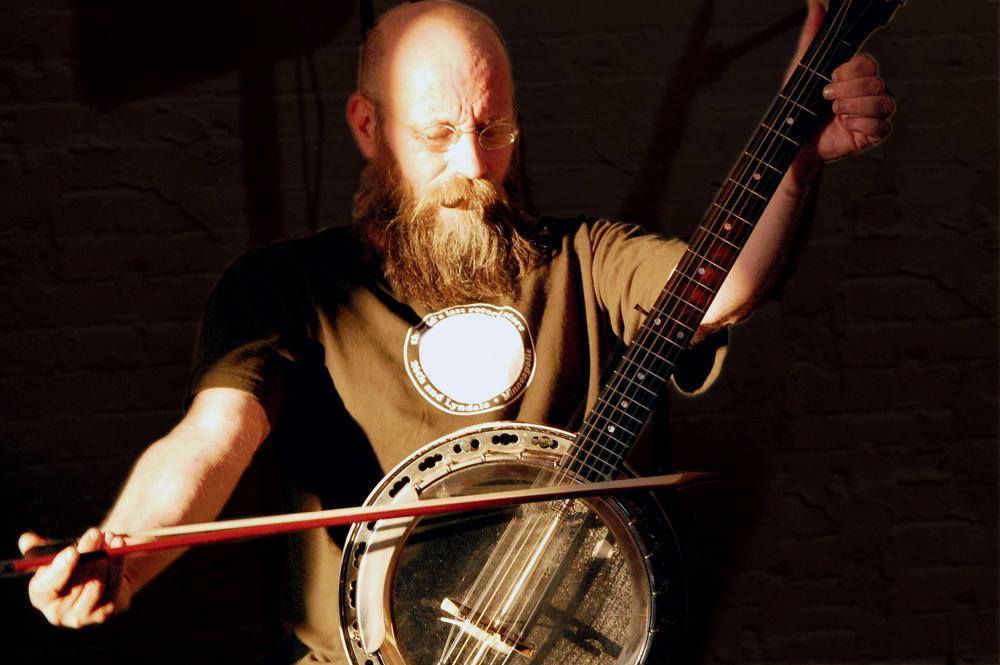 Fire Museum
presents
Paul Metzger & John Saint Pelvyn
Since way back in the 70s, Paul Metzger has been experimenting, playing his various art-instruments including his distinct heavily modified 23 string banjo. In 2003 he went public playing out sets of his own music, part old time strung out blues and raga's and part deep listening compositions that wind their way through you inner ear. This is not however the limit…what he can do with his instruments live also includes clangorous, rapidly punctuated percussive workouts that blow audiences away. He pulls the listener inwards and then takes them out the backdoor to experience the other.
"As an unaccompanied instrumentalist Paul Metzger's banjo and guitar soundings straddle a bunch of specifically American idioms, from contemporary guitar soli through old-timey music and the extended modifications of devotional music of late 1960s exponents like Sandy Bull and The Electric Prunes circa Mass In F Minor. It also factors in raga modes and Eastern sonorities, highlighting the drone that connects American and Asian vernacular music. But Metzger's obsessively modified instruments place him in the tradition of the American musician-composer-inventor à la Harry Partch and Harry Bertoia, though there's something a little more hands on and gonzo to Metzger's approach that puts him alongside DIY mavericks like Eugene Chadbourne and his electric rake, or Charlie Nothing's dingulators – metal guitars made out of salvaged automobile parts." –The Wire, David Keenan
website: http://paulmetzger.net/
John Saint Pelvyn
Guitarist, thereminist, singer, and player of some species of dismantled electrified folk, John Saint Pelvyn is a musical enigma of the best kind. At the root of his playing is something akin to traditional stride, but rich with quivering whammy bar wobble and shimmering feedback. He often plays the tailfin strings of his archtop like one would play harmonics, or retunes seamlessly mid-stream to create a shifting temperament across the length of a piece. An affinity for the likes of John Fahey or Loren Mazzacane-Connors can be heard here, but the comparisons quickly fall away as one takes in this ambidextrous musical sensibility. He will sing otherworldly vocal duets with his theremin while simultaneously accompanying himself fingerpicking, or will throw modulated feedback tones across otherwise inviting harmonic landscapes based on blues & folk motifs, overshadowing them with clouds of squelch that loom like an approaching post-noise squall, but that ultimately swell and punctuate more like the tone clusters of Henry Cowell or the lyrical saxophone of Frank Lowe.
"When wandering the stage singing into the F-holes of his electric arch top bringing forth arpeggios of feedback, or waving the neck of his guitar in the vicinity of a howling theremin, indeed, he seems to be playing the very air itself." – Electro Motive Records
Forthcoming solo release on Seeland/Electro Motive: https://midheaven.com/item/a-clerical-error-in-shasta-county-shouldnt-have-to-ruin-a-saturday-night-by-saintpelvyn-john
more links at: http://firemuseumpresents.com/shows/paul-metzger-john-saint-pelvyn


Admission is FREE. Donations will be humbly requested at the door.