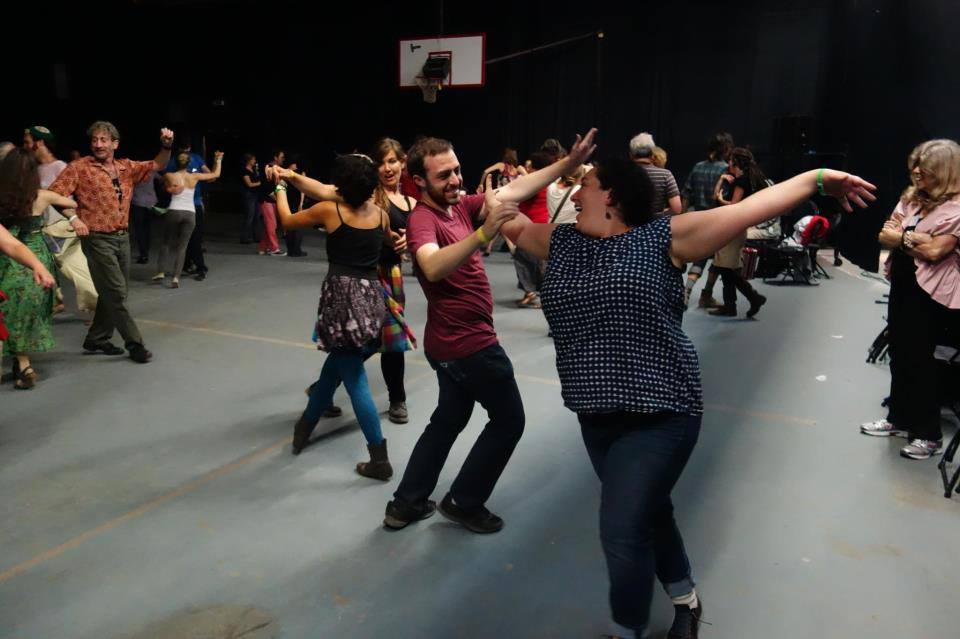 Join us for an epic Klezmer Dance Party in West Philly featuring Susan Lankin-Watts, Dan Blacksberg, the Community Klezmer Orchestra, the KITA All-Stars, with Dancing led by the great Steve Weintraub!
Award-winning artists Susan Lankin-Watts and Dan Blacksberg of the Community Klezmer Initiative host an evening of traditional and innovative Klezmer music focused on getting the crowd performing -- on instruments and on the dance floor.
Come join in as the Community Klezmer Orchestra (led by Lankin-Watts) and the Klezmer in the Afternoon All-Stars (led by Blacksberg) rock the "hoyz" (Yiddish for "house"), setting the stage for dancing under the guidance of Steve Weintraub, the Pied Piper of Yiddish dance.
Energy and momentum around Klezmer is at an all-time high in Philadelphia. The Community Klezmer Initiative (CKI), according to founder Susan Lankin-Watts, has been "harnessing that interest and excitement through workshops that invite participation from musicians at all levels, and through public Klezmer jams that include performances, improvisation and dance parties." It's now time to celebrate a year of successful CKI programming and to "bring the joyous energy of Klezmer into West Philly, at an event during which all who love this music can delight in it together," adds Dan Blacksberg.
About the ARTISTS:A fourth-generation Klezmer musician, Susan Lankin-Watts is a singer, trumpet player, composer, and arranger whose complex arrangements draw from tradition, the poetry of her great-grandfather, and a desire to give new voice to the art form and create Klezmer culture for a younger generation. An ambassador for her own Hoffman family musical lineage, she's also a creative innovator within this rich artistic tradition. Susan has performed throughout North America, Europe and Asia, and teaches locally. She has been honored with an award from the Leeway Foundation in 2012, and a Pew Fellowship in the Arts in 2015.
Trombonist Dan Blacksberg's musical activity spans avant-garde jazz, modern classical music, improvised music and Klezmer. He is a founding member of Alan Bern's The Other Europeans, and co-leads the Klezmer power trio Leviticus with Michael Winograd and Tyshawn Sorey. He has also played with many of the field's top artists and taught at Klezmer Festival Fürth and Yiddish Summer Weimar in Germany, and has been an artist-in-residence at the University of Virginia in Charlottesville. He received a Pew Fellowship in the Arts in 2012.
Steve Weintraub is a teacher, choreographer, and performer of Jewish dance, particularly Yiddish dance, the dance performed to Klezmer music. Steve received his dance training in Manhattan with Alvin Ailey and Erick Hawkins, among others. He is in international demand as a teacher of traditional Yiddish dance at festivals and workshops including Klezkamp, Klezkanada, and festivals in Krakow, Furth, Paris, London and elsewhere.
About the COMMUNITY KLEZMER INITIATIVE:The Community Klezmer Initiative, dedicated to creating new Klezmer culture, is a Philadelphia-based 501(C)(3) organization founded in 2012 that supports cultural continuity and innovation.
Admission is FREE