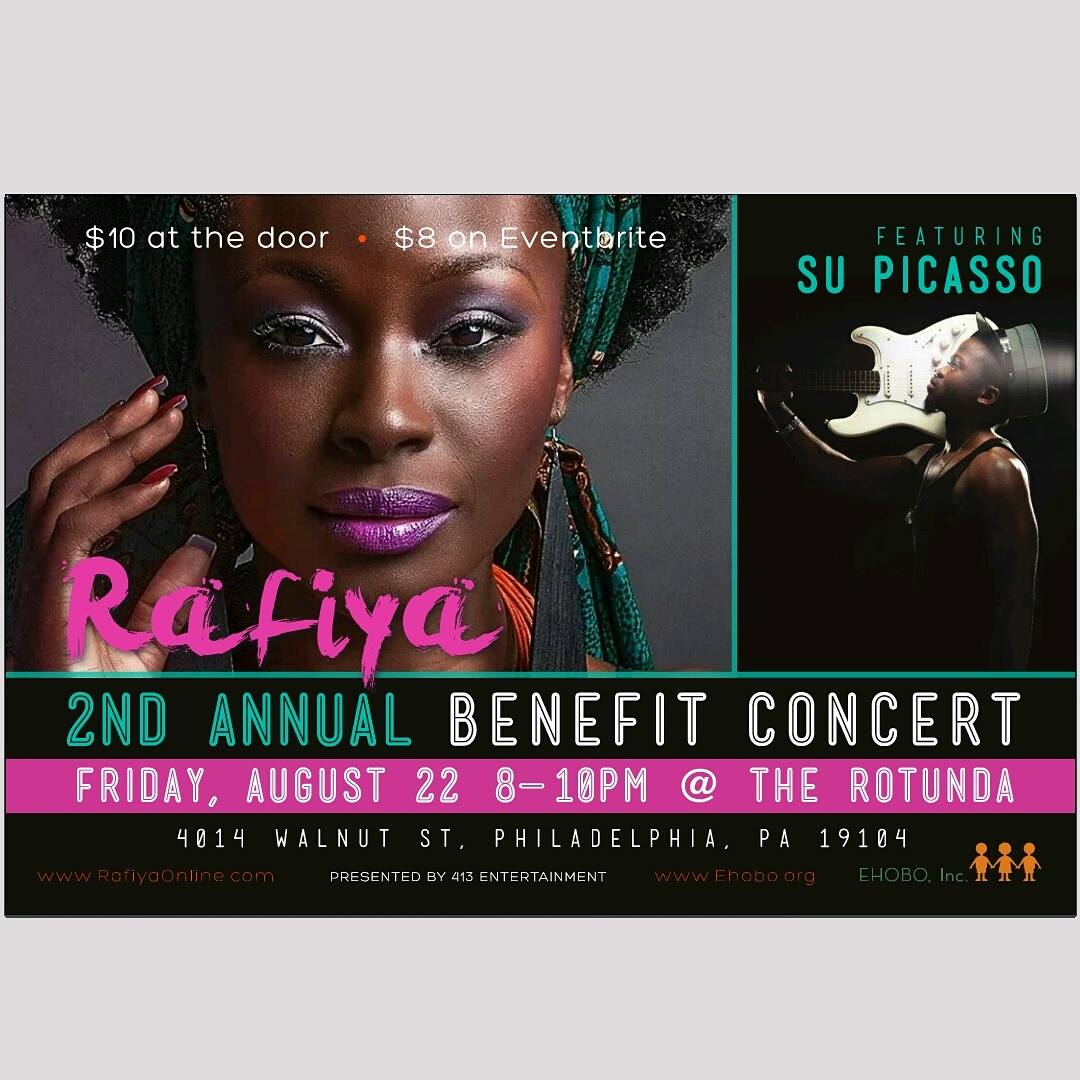 Come enjoy a night of music at Rafiya's 2nd Annual Benefit Concert featuring super duper lyricist Su Picasso!!
A portion of the proceeds will go to EHOBO (Empowering Humanity One by One), a non-profit dedicated to the health care and education of children and women in the Democratic Republic of Congo.
Don't miss this concert for a cause!
Rafiya
and
Su Picasso
RAFIYA
Rafiya was born in Los Angeles to Congolese parents. Due to her father's career, she traveled extensively during her formative years: living in Congo (Democratic Republic), the Cape Verde Islands, Benin, Senegal, Guinea, Barbados and Ivory Coast. She moved to Philadelphia in 2001 to attend Temple University where she double majored in Sociology and Spanish, and graduated in 2006 with honors. While attending school full-time in the aforementioned nations, Rafiya found time to work with local artists, absorbing their techniques and wisdom all the while enriching her sound. She has worked with Oscar Kidjo, recorded in Youssou N'Dour's studio and toured France and North Africa with French rap star, Mokobe. Every passing collaboration, studio session and performance strengthened her ever-present belief that she would be spending her life making music; making people smile, dance and think. Rafiya released her "Amazing" debut in 2010 to great acclaim from domestic and international soul music aficionados. She premiered a single which celebrates her African heritage, "Where I'm From," in May 2012 and is back in 2014 with a new song "My Number" which will establish her as the next major artist. Her new album is scheduled for release in the summer of 2014. Rafiya writes and sings about the human experience in French and English but regardless of your native tongue her passion translates itself in the melody. Parlez-vous Rafiya?
SU PICASSO
A rose is a flower loved by millions and when given is used to signify many sentiments and emotion of affection. It is beautiful but has thorns that will prick you if you don't handle it with care. just like a Rose, artist Su Picasso, born Kajad Alobeyo, uses music to tell stories that evoke emotion which paints images that make his music relatable to a mass audience. Kajad Alobeyo was born in the Democratic Republic of Congo, located in Central Africa. His mother and father moved their family of seven and relocated to Philadelphia when Kajad was just a young boy to give their starting line of boys a chance to live the American Dream. Kajad, the middle child in a family of 5 boys, used writing poetry as a way to express himself. He began writing at a young age, about his struggle, love and everyday life as he knew it. It wasn't until one of his older brothers noticed his talent that he really began to share his poetry. His brother was into music and encouraged Kajad to let music be the backdrop to his engaging storytelling, at the age of 13, the gifted buy shy Kajad agreed and began rhyming over beats and sharing with his friends in school. The positive response from classmates helped him break out of his shell, he went from writing to entering cyphers in high school showing his talent by free-styling where he became popular and known for his poetic structure. He was good, devouring his opponents, one by one. Those who decided to battle Kajad were known for killing their own high school rap careers, committing rap suicide and Kajad's fans began to call him Suicide for that reason. Suicide had a sound and a look that crossed different genres and was encouraged to look outside the box of just hip hop and explore other musical sounds. It wasn't until meeting music executive Damon Eden, who signed B.O.B, that he finally decided to give it a try. The rose was blooming! In 2012, with the help of his team, Su Picasso put together his first concert at the infamous studio and concert hall in Philadelphia, Sigma Sounds. He was beyond excited to fill the space, selling over 300 tickets. Su Picasso's first concert, was sold out. He was motivated and encouraged, he knew he had the ability to impact people in a positive way. He told stories, painted pictures, and brought tears through his form of art and he was going to continue this journey. In 2014, the grind doesn't stop. Su Picasso continues to work, touring cities globally sharing his art with those around the world. His most recent performances were in Japan and Tokyo. His garden of followers and fans on social networks such as Twitter, Youtube, Facebook and Reverbnation continue to grow worldwide and this flower continues to bloom. You will see often see Su wearing a rose in many pictures and at his shows symbolizing his personal growth and his professional career. Su Picasso's style and effect on his audience is just like the rose of many colors and sentiments. Look to see more of Su Picasso has he begins his movement and tour "Love and Music"