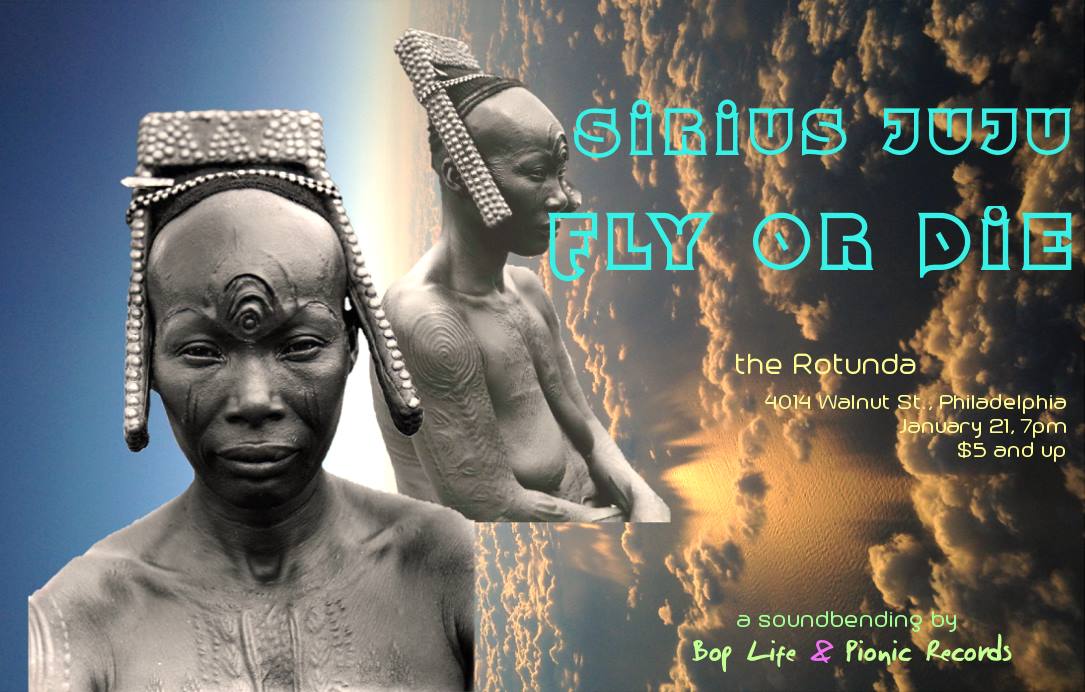 Sirius JuJu | Fly Or Die
a soundbending by Bop Life and Pionic Records.
Sirius JuJu:
Heru Shabaka-Ra - trumpet
Mike Watsun - bass clarinet
Alex Kulick - guitar
Ben Rosen - bass
Julius Masri - drum
..listen: https://soundcloud.com/boplife/the-jinn-jawn
..listen: https://soundcloud.com/boplife/2015c
"..while they murder, we re-drum." - Heru Shabaka-Ra
"..music is the weapon...the weapon of the future." - Fela Anikulapo Kuti
..still building pyramids..
..with liquid sound..light and laughter..with plasma and breath, with bop and bodyrock, crazyleg twostep, graf writin in hotep...
..hidden capstones in cop zones...
shadow walkers whisper talkers freedom style, lowered eyes and lids lie higher minds and deeds..
.spliffstar, peoples champ champin blacks, dressed in black like monk, brass knuckled armstrong...
long strokin john henry grindin strong into the twilight..
..raising temples to the Sun, One, and Nun...
Fly Or Die:
Jaimie Breezy Branch - trumpet
Lester St.louis - cello
Ajemian Jason - bass
Chad Edward Taylor - drums
..look: https://youtu.be/GJV2BQJamZk
..listen: https://intlanthem.bandcamp.com/album/fly-or-die
...The New York Times:
"#4. JAIMIE BRANCH "Fly or Die" (International Anthem)
Sometimes charging forth, sometimes rerouting, the debut album from Ms. Branch is always on the move. A formidable solo performer, she could get by on extended technique alone. Instead she's enlisted a wonderfully unorthodox band (Tomeka Reid on cello, Jason Ajemian on bass and Chad Taylor on drums), and created a work of hardscrabble imagination." --Giovanni Russonello
...Stereogum:
"#1 Jaimie Branch – Fly Or Die (International Anthem)
Trumpeter Jaimie Branch took over a decade to make her first album. She spent that time earning her spot on the Chicago scene, playing with saxophonist Keefe Jackson, cellist Fred Lonberg-Holm, bassist Jason Ajemian, drummer Tim Daisy, and others. As far back as 2007, people already knew who she was; she was invited to perform in New York at theFestival of New Trumpet Music. But personal problems kept her from fully focusing on music for quite a few years. Now that she's emerged, though, there's no denying her. Fly Or Die was primarily recorded with a quartet that features cellist Tomeka Reid, Ajemian on bass, and Chad Taylor on drums. Her playing is free and abstract, swirling around and wafting like a breeze through the storm created by the band. Taylor in particular never seems to let up on the groove, and Reid's cello and Ajemian's bass give the music an African/American throb like you hear on Julius Hemphill's early albums Dogon A.D. and Coon Bid'ness. At times, extra instruments appear: a forcefully picked guitar serving as an interlude, or two cornets that join her for a foghorn-like brass trio segment. This isn't just the best jazz album of the year, it's one of the most amazing artistic statements I've heard in forever. An absolute must-hear." - Eric Mcdowell
Admission is $5. More appreciated.