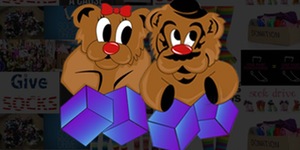 Socks-A-Millions 2nd Annual Spotlight Give Back is a charity event to help others in need by providing care packages as well as other assortments of donations. July 11th 2015 will be a night to remember! Amazing artists will come out to perform and bless the stage with their talent. There will be refreshments along with with awsome raffle prizes!!! Come out to join us for an epic night of change. Join Socks-A-Million as we create change one foot at a time!
Have questions about Socks-A-Million Spotlight Give Back 2? Contact Socks-A-Million
Socks-A-Million
Socks-A-Million is a home based non-profit organization dedicated to helping those in need and promoting the awareness of the need for a social change by way of people giving back to and investing in their communities everyday through charity and kindness! We work to create change one foot at time!
Admission: Adults: $10 / Children: $5. Buy advance tickets HERE