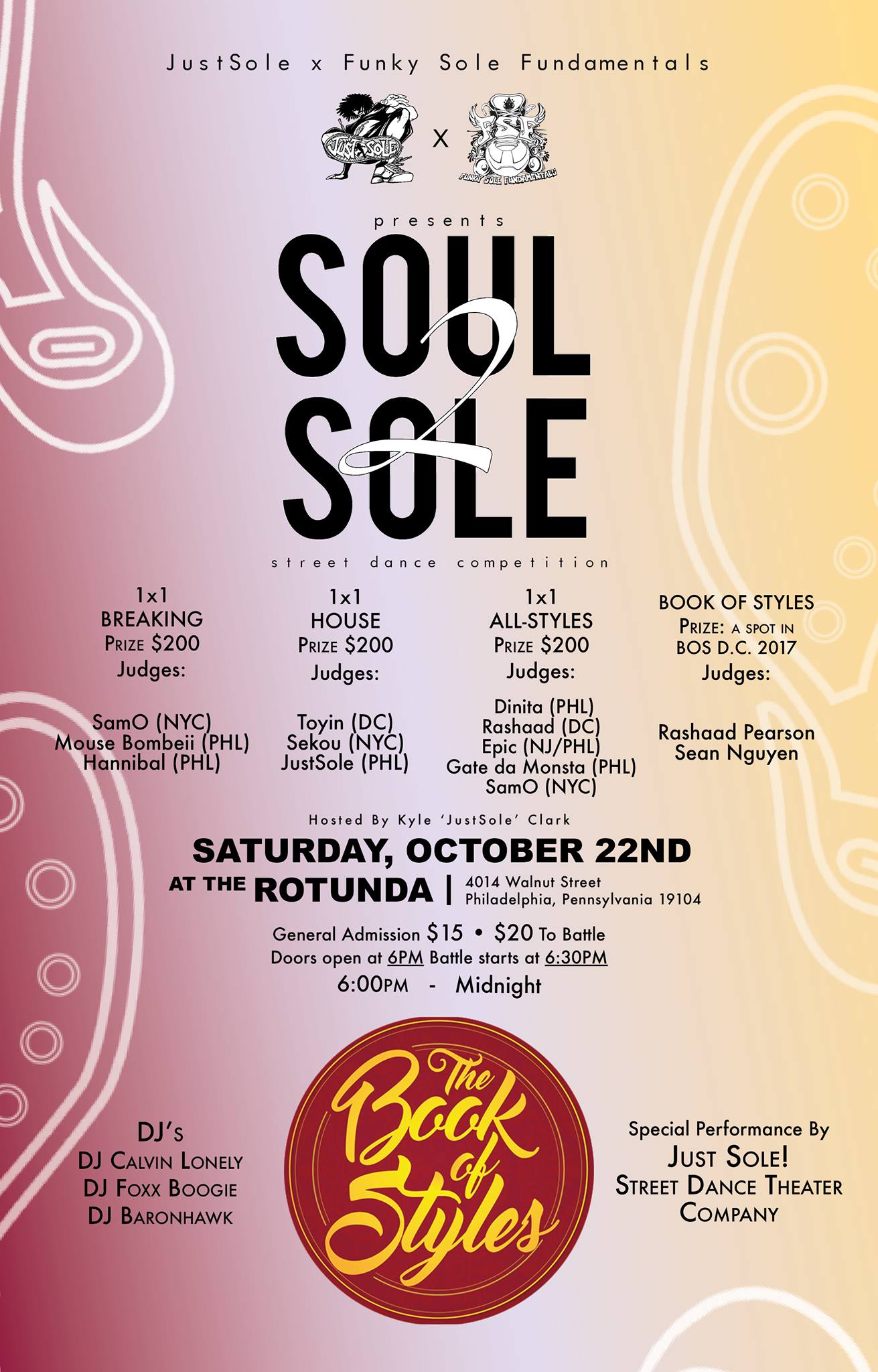 JustSole x FunkySoleFundamentals presents
SOUL 2 SOLE
Street Dance Competition
&
BOOK OF STYLES
Qualifier Concept for SOUL 2 SOLE
The mission for this upcoming Soul 2 Sole competiton is UNITY. We are all passionate about Hip Hop Dance and Culture. There is no culture without ALL of us. There is no better way of displaying that then having a MULTITUDE OF OPINIONS (I say opinion because ART is in the eye of the Beholder, its personal) from different areas/styles that represent the diversity we so often see in our travels and social media within the USA. We can not grow as a community or culture without a concensus on what a style is or is not fundamentally as well as having the opinion of different generations. Without futher ado your line up of QUALIFIED & BATTLE TESTED Judges for the competition. To sign up, simply put your alias and style you want to enter on a post right here in the event page.
PRICE: $20
1x1 HOUSE Prize $200
Judges: Toyin (DC), Sekou (NYC), JustSole (PHL)
1. Trizzy Stacks
2. Aaron Windz Z
3. Sam Goody
4. PVT
5. Mad Hatter
6. Kinese
7. Danzel
8. SC-One
9. Master Juice
10.
11.
12.
13.
14.
15.
16.
1x1 ALL STYLES Prize $200
Judges: Dinita (PHL), Rashaad (DC), Gate da Monsta (PHL),
Sammy Soto(NYC) , Marcus aka Epic(NJ/PHL)
1. Trizzy Stacks
2. Aaron Windz Z
3. Misfit
4. Lockadyle
5. Networkz
6. Sam Goody
7. PVT
8. Mad Hatter
9. Kinese
10. Danzel
11. SC-One
12. Kamikaze
13. Master Juice
14.
15.
16.
1x1 BREAKING Prize $200
Judges: Brian aka Hannibal (PHL), Shafeek aka Mouse Bombeii (PHL),Sammy aka SamO (NYC)
1. Misfit
2.
3.
4.
5.
6.
7.
8.
9.
10.
11.
12.
13.
14.
15.
16.
Concept for BOOK OF STYLES - QUALIFIER
DJ: Baronhawk Portier
What is The Book Of Styles?
The Book Of Styles Popping Competition concept is about celebrating the traditions and many schools of thought of Funk dances from California. From the mid 60's til date, this Funk Culture has spread globally and taken different shapes, molding it's self to each cities culture.
How does it work?
The spirit of the battle and exchange is the primary focus, in a healthy and educational environment. With so many resources available, why not take advantage. We will give a list of styles and moves from different regions for you to study. You will then have to incorporate these styles and or moves into your training on top of what you already are comfortable with. Train smart guys.
The Book Of Styles will have a Wheel of Funk.
On this Wheel of Funk will be a list of the various styles and moves from different regions. In each round we will spin the Wheel of Funk and whichever style or move it lands on the dancer will have to incorporate it into their own styles.
What is the Goal?
The Book Of Styles goal is to encourage the dancers to come outside of their comfort zones. Becoming well versed in the History, Battle and Movement. We look forward to celebrating the music and dance art forms with you all.
What will be on the Wheel Of Funk?
*Twisto Flex
*Glides/Floats
*King Tut
*Waving
*Posing/Hitting/Popping
*Animation
*Robot
*Fillmore
*Cobra
***Monkey Wrench (DJ's choice of music) (New to the Wheel)
1x1 Popping
1. Trizzy Stacks
2. Tony Teknik
3. LockAdyle
4. Networkz
5. Sam Goody
6. PVT
7. Mad Hatter
8.
9.
10.
11.
12.
13.
14.
15.
16.