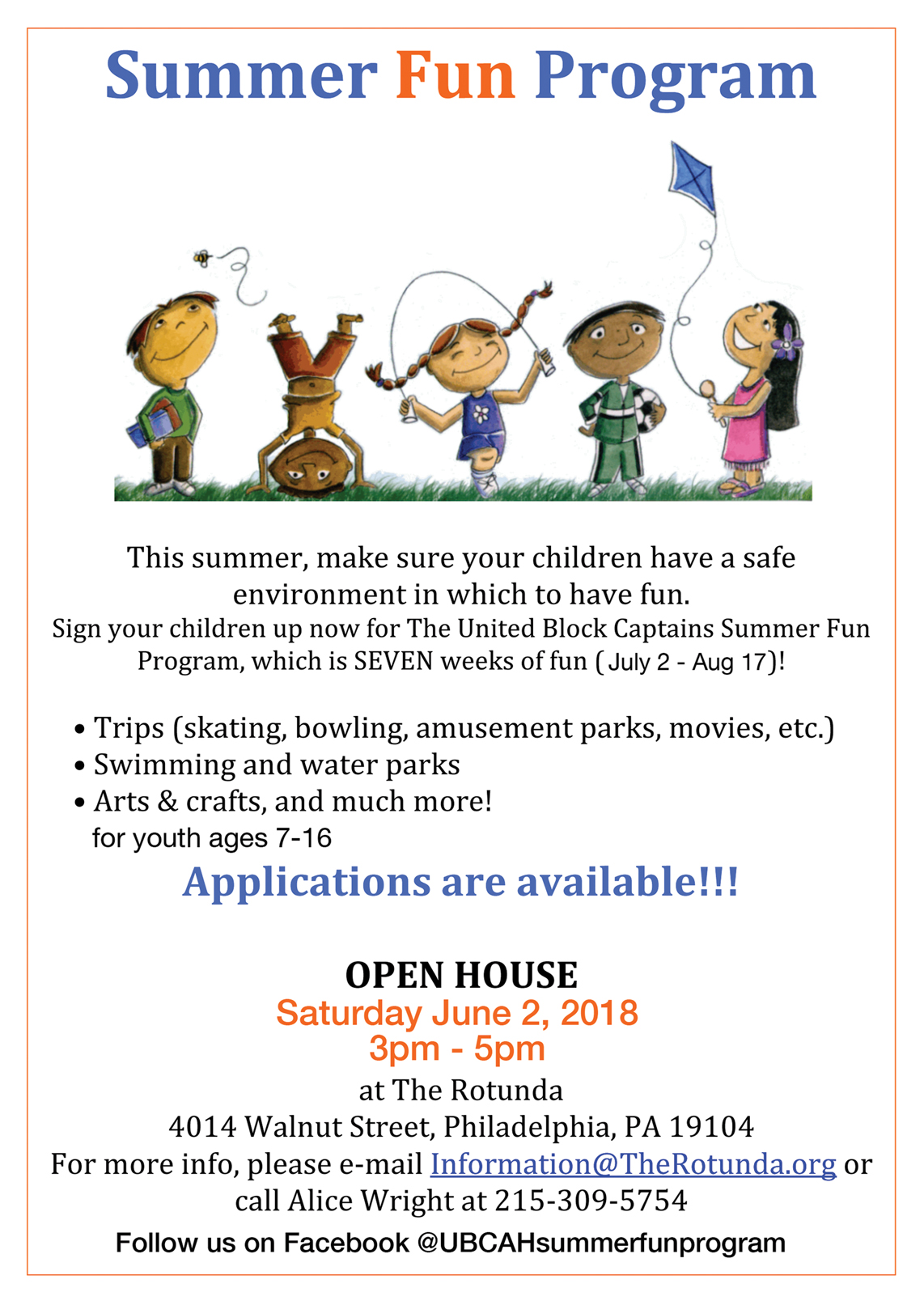 Come hear about our 2018 program, register your children, and meet other parents and guardians! Light refreshments provided.
United Block Captains Association Hospital (UBCAH) was founded by Alice Wright and is organized to Empower, Encourage, and Support Block Captains, Junior Block Captains, and Co-Block Captains citywide.
About the SummerFun Program:
• Mission: To provide fun and educational summer activities for children irrespective of income or background
• Founded by Alice Wright, President and Founder of the United Block Captains Association
• The program began in 1978 under Wright's Presentation Associates. In 1998, the name changed to the United Block Captains Association Hospital Summer Fun Program.
• Expanded the program in 2005
• Located at 40th and Pennsgrove 2005-2014; moved to The Rotunda in 2015
• Has always served children 9-16 years old; now serving children 7-16 years old


What Do We do?
Activities
• Outdoor Play
• Field trips (amusement parks, museums, and more)
• Crafting
• Swimming and Water Parks
Education and Awareness
• Dancing and Music Education
• Violence Reduction and Gang Awareness Activities
• Entrepreneurship Training Workshops
• Cultural Awareness Activities (language learning, community outreach, history lessons, etc.)
• Junior TownWatch "Ears and Eyes"
• Junior Block Captains
Arts & Crafts and Arts Education
2017 instructors/programs included:
BrotherIB - Hip Hop history and song writing
Malika Rowland - Kemitic Yoga and Meditation
MessyPalms art classes
Sharon Newman Ehrlich- Science and Technology
Jan Jeffries - African Drumming and Dance
Indiya Glenn - Hip Hop and Jazz Dance
DuijiMshinda - DJing
JenaHarris of foodeveryonedeserves & Al Pascal of Fikira Bakery - Cooking
Community Service andNutrition
Lots of Trips! Lots of Fun!
The 2017 Summer Fun Program was sponsored by:
The Support Community Outreach Program (SCOP) of the Philadelphia Department of Human Services (DHS)
The Philadelphia Activity Fund, Councilwoman Jannie L. Blackwell,
Drexel University Human Resources Department and Drexel University Government and Community Relations under Bryant Teech
The Netter Center for Community Partnerships at TheUniversity of Pennsylvania
and The Rotunda.