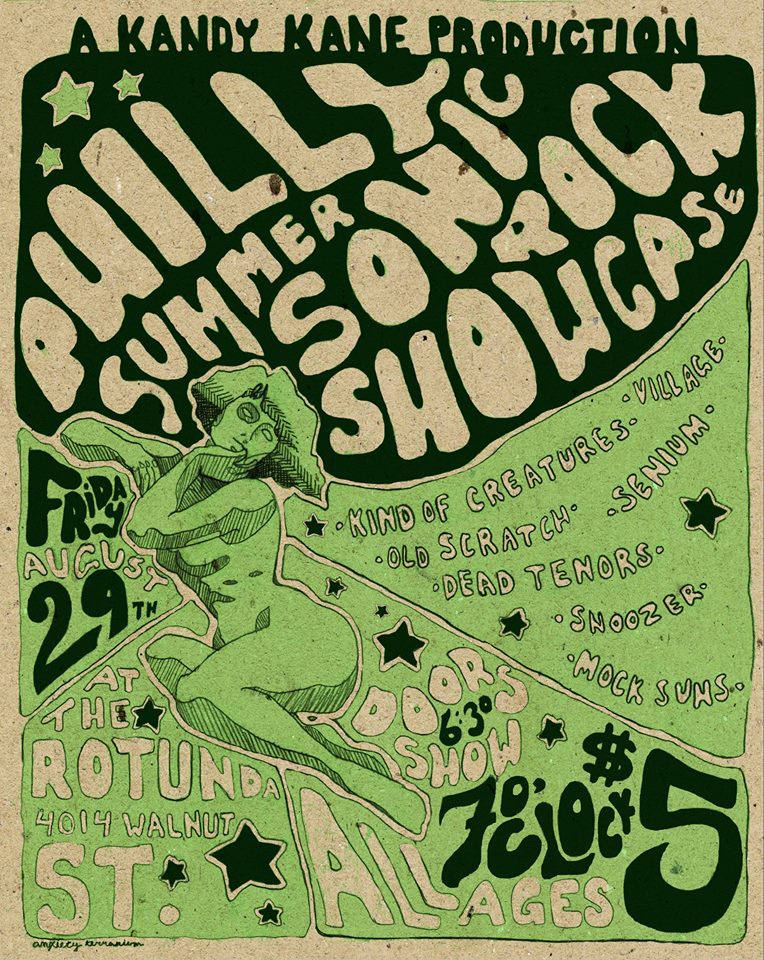 Kandy Kane Productions Presents:
PHILLY SUMMER ROCK SHOWCASE
with
\\\ Old Scratch ///
Pure garage rock, psychedelic sensibility and futuristic fuzz. Heavy and heady sounds to elate.
http://oldscratch.bandcamp.com/


\\\ Dead Tenors ///
Your favorite round-about Philadelphia musicians, genuinely vigor melodies and sweet power.
http://deadtenors.bandcamp.com/


\\\ Senium ///
Ultimate stage of life, loud and absolutely astonishing. Latest album, "You're Not From Here" is a must-listen.
\\\ Mock Suns ///
Spacey and harmonious, brilliant art direction and sonic sounds. Creativity at its finest.
\\\ Kind of Creatures ///
Fun and energetic rock, dance inducing and magnificent vision of great charm.
http://kindofcreatures.bandcamp.com/
\\\ Village ///
Current primary champions of superior sound. Influenced by the likes of Band of Gypsys, Blue Cheer and Electric Wizard, Village proves to be the extension of the long lost true psychedelic – fuzz sound of the 60's and 70's.
http://villageband.bandcamp.com/
\\\ Snoozer ///
Snoozer marks a fantastic return of true alternative rock music. Consisting of a rhythm section powerful to have you sway and swoon, with the primal Primus influenced bass and remarkably driven by the sounds of Shonen Knife and Sonic Youth, Snoozer is set to gratify the personable listener of true rock music.
Join the newest and most righteous event sure to rock your socks off and then some. Inspired by the remarkable musical genius emanating from the surrounding Philadelphia region, the showcase will capture the future of rock and roll with seven local bands each possessing a unique signature and fantastic direction. Start Labor Day weekend right at The Rotunda with a show strong enough to revitalize genuine rock music.
Admission is $5