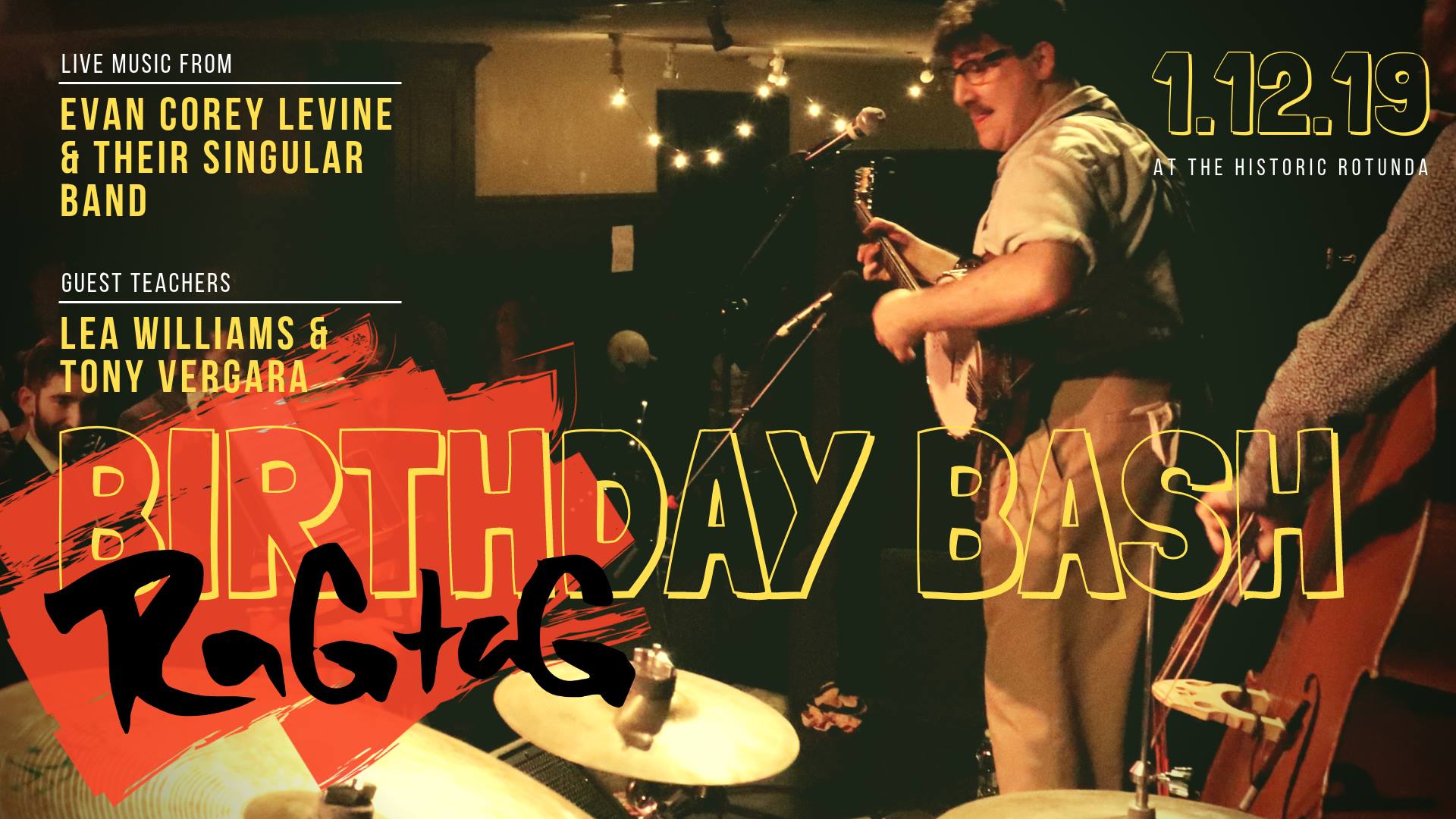 It's our TWO YEAR BIRTHDAY!
Double down on party time at the historic Rotunda in West Philly.
NOTE: while our dances are usually the THIRD Saturday of the month, this celebration is on the SECOND Saturday ('cause we booked it in, like, prehistoric times). Please don't show up a week late, that would be bummer.

Evan Cory Levine and Their Singular Band featuring:
Noah Hocker (Trumpet)
Matthew Keppler (Upright Bass)
St. Clair Simmons (Saxaphone)
Chad Brown (Drums)
Evan played the FIRST ever Ragtag back in December of 2016. Their support and belief in our little escapade was so important to us we are honored to bring them back every year to celebrate.
Did you know? Evan also teaches pay what you can music classes in West Philly! It's part of their mission to share their magical hard earned jazz knowledge with under served populations. Contact Evan with questions or to get started.

SUPER SPECIAL GUESTS:
Intermediate Teachers:
Lea Marie Williams and Antonio Vergara!
8-9 pm class.
There will also be a 8-9 pm "crash course" for brand new beginners.
Both Tony and Lea bring personal groove and gutsy expression to their dancing. So we've brought them forth to share their knowledge.

+ DJ Marjorie Bartell on the band breaks.
+ Ragtag Consignment is back. Bring cash or warm up your Venmo to purchase lightly worn fashion gems direct from the sellers. Contact us if you want to sell your wares.

Parking: Street/Metered Parking only.
The venue is ADA accessible.