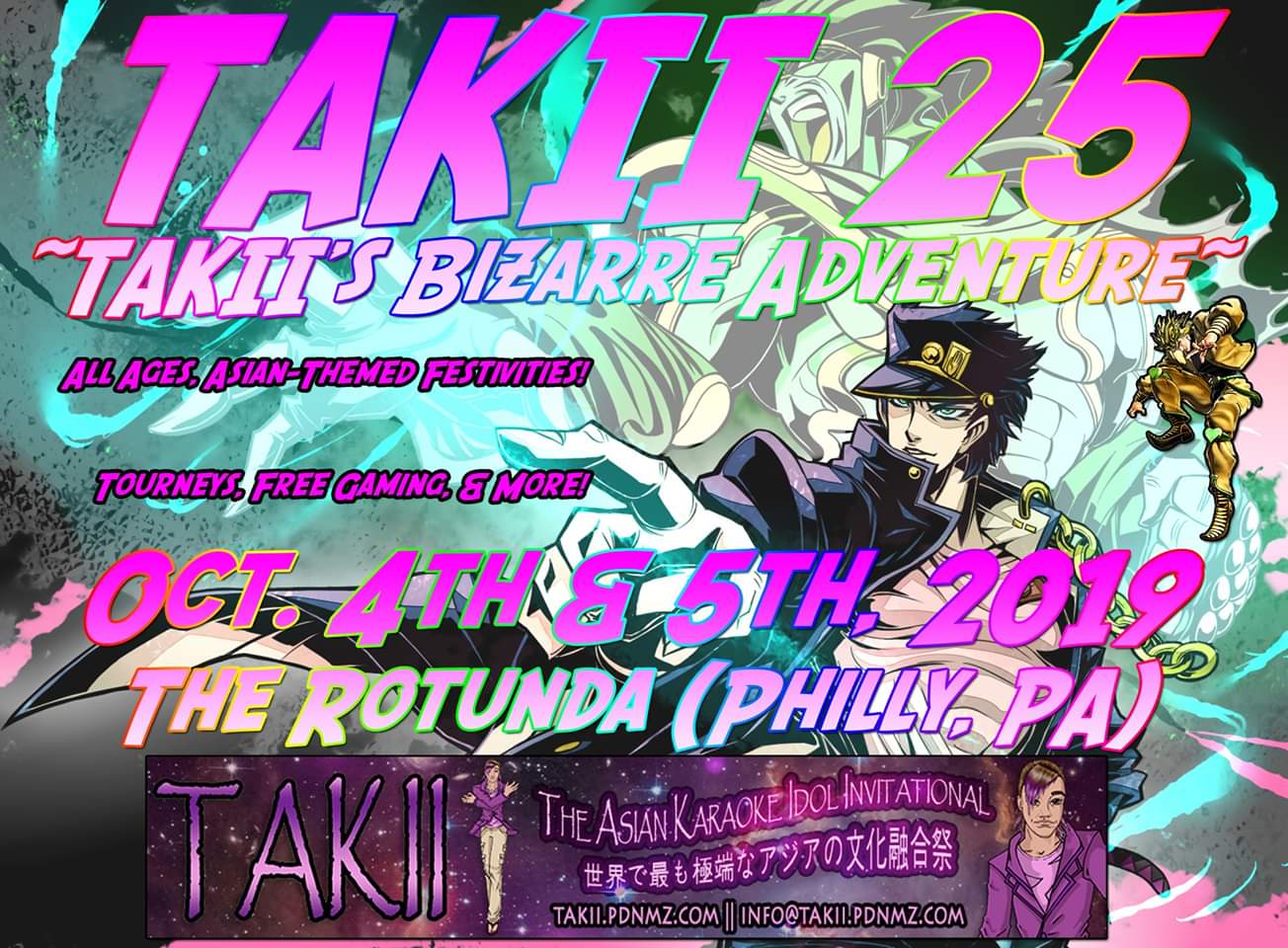 Please join us for a special season of The Asian Karaoke Idol Invitational called TAKII 25 ~TAKII's Bizarre Adventure~! Coming atcha from The Rotunda on October 4th (4pm - 9pm EST) & October 5th (12pm - 10pm EST), 2019, we're gonna serve up classic TAKII charm with a side of the best that is yet to come from your favorite Asian culture fusion festival".
ENTRY IS FREE for all who wish to attend! All that we ask if that you become very familiar with our "Rules & Regulations" before arriving: http://takii.pdnmz.com/rules-regulations.html
With TAKII 25 being a slightly shorter season than usual, we'll be keeping our vendor/dealer table offerings local. Be sure to frequent our "Snak Shak" & Rose's vendors table, among other points of interest. If you have your own wares to sell -- we welcome it! HOWEVER, you will need to bring your own set-up & space will be limited. If you would like to inquire about extra vendor space, please email info@takii.pdnmz.com.
Keep your eyes peeled on our Facebook event page as that is where you will be able to find our Hardcore Handbook (aka schedule) much closer to showtime.
The entire PDNMZ Empire, of which The Asian Karaoke Idol Invitational is a part, is finally entering its long-awaited transition period & as a result, this very well could be the last season of TAKII for at least another year. We'll come back better & stronger than ever, but let's celebrate 2019 in epic fusion festival style with the best family around -- the TAKII Fam!! ^_^
WEBSITE: takii.pdnmz.com
QUESTIONS/CONCERNS: info@takii.pdnmz.com