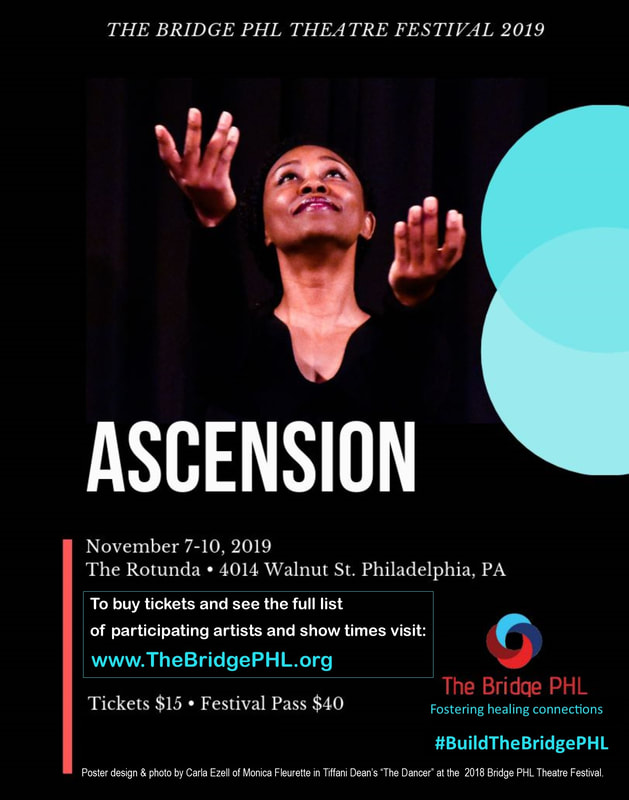 The 2019 Bridge PHL Theatre Festival!

November 7, 8 ,9 , & 10, 2019
The Bridge PHL is thrilled to present our 4th annual theatre festival, packed with 17 powerful works by the exciting artists noted below in this year's roster.

 Our festival theme is ASCENSION and is inspired by our belief in the power of the narrative to encourage dialogue and help us all rise together to remake our world with compassion and inclusion.

Thursday November 7 at 7:30pm
Friday November 8 at 7:30pm
Saturday November 9 at 2:00pm AND 7:30pm
Sunday November 10 at 2:00pm AND 7:30pm
To find which artists are performing on which days, please visit https://www.thebridgephl.org/2019festival.html for the full FESTIVAL PERFORMANCE SCHEDULE!

2019 FESTIVAL PERFORMANCES WILL INCLUDE:

#SuiteReality by TS Hawkins, directed by Lois Moses

It's Not My Fault by Tiffani Dean

NOT Without Her Stories by Jody Austin, directed by Collective Mic Productions

Just for the Weekend by Christine Emmert, directed by Renee Lucas Wayne

I'm a Motherfucking Superstar: So Where Are My Babies? by Valeka J. Holt

WaDe N Da WaTer by Monique A. Robinson, directed by Kalif Troy

It's Just Not Right by Indiya Stephenson

The Development of Life with a Twist to Stop the Press by Ahshylonda Stephenson

FILLER: Between Two Artists by Craig Liggeons

ECHO by Edgar Lee Faucett

No Country for Black Men by Lisa Amos

Snake Meets the Dragon Dance by Rhashea Lynn Harmon & Chik Mason

The Waiting Room by Susan Chase and Janelle T. Harvey

How Much Longer? by Maryann Bucci

Untitled by Marcia Pemberton

The Trojan Women adapted by Hannah Tsapatoris MacLeod

White Script by Gabrielle Corsaro

View show times & get tickets!

The Bridge PHL strives to foster healing connections between our rich and diverse communities by encouraging openness and dialogue about perspectives on racial prejudice, privilege, inclusion, intersectionality, and bias. Our annual theatre festival each autumn welcomes both experienced and new artists wishing to engage in this mission and to further our endeavor to
BUILD THE BRIDGE PHL!

Tickets available for cash at the door or by clicking HERE.
*GENERAL ADMISSION TICKETS* (Enjoy all the shows being performed during the matinee or evening you select): $15
​
*ALL FESTIVAL PASS* ​(Attend any and all matinee and evening performances throughout the entire run of the festival): $40
Tickets available for cash at the door or by clicking HERE.