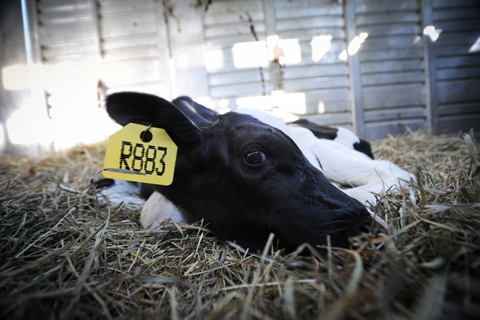 Animal ACTivists of Philly will present the Philadelphia premiere of The Ghosts in Our Machine, which received a standing ovation at the last Hot Docs Canadian International Documentary Film Festival.
With the exception of our companion animals and a few wild and stray species within our urban environments, we experience animals daily as the food, clothing, animal tested goods and entertainment we make of them. This moral dilemma is often hidden from our view.
The Ghosts in Our Machine illuminates the lives of individual animals living within and rescued from the machine of our modern world. Through the heart and lens of acclaimed animal photographer Jo-Anne McArthur we become intimately familiar with a cast of animal subjects. Each story and photograph is a window into global animal industries: Food, Fashion, Entertainment and Research. All part of an epic photo project called We Animals, McArthur has documented the lives of animals around the world with heart-breaking empathic vividness.
The film charts McArthur's efforts to bring wider attention to a topic that most of humankind strives hard to avoid. Are non-human animals property to be owned and used, or are they sentient beings deserving of rights?
Trailer: https://vimeo.com/59741668
Recent Awards and Nominations:
2013 Top Ten Audience
Favourite, Hot Docs Documentary Film Festival; Winner
Golden Sheaf Award for Best Nature/Environment Documentary; Nominee Golden Sheaf Award for Best
Documentary Director. 2010: Nominee for the Donald Brittain Award for Best Social Political Documentary at the Gemini Awards; Winner of the Best Canadian Feature Film Award at the 11th Annual Planet in Focus Environmental Film Festival; 2010 Featured Canadian Film for Cinema Politica; 2011 Honourable Mention Canada's Environmental Media Association Awards.
Recent press:
JAMES CROMWELL: "This is a masterful film. It should be essential viewing for everyone."
NEW YORK TIMES: Review: A Camera Aimed at the Conscience. "There's a logic at work in the motivated, morality-jarring animal-rights documentary "The Ghosts in Our Machine": If animals have emotions, and if we see that human actions cause them sadness, anger and fear, then we will become moved to help." David DeWitt. 11.07.13.
THE KIND LIFE WITH ALICIA SILVERSTONE: "Featuring pristine production and a cast of compelling nonhuman animals, the overall experience is nothing if not beautiful, and we dare say essential viewing." Nell Alk. 11.07.13
BUST MAGAZINE: "I feel like I'm a war photographer," says photojournalist Jo-Anne McArthur in Liz Marshall's brave new documentary The Ghosts In Our Machine. "I am photographing history, and photographing changes in history …". Emily Rems. 11.06.13
ANIMAL LEGAL DEFENSE FUND: The Ghosts in Our Machine: A Film by Liz Marshall: "What I love about this issue is that it's empowering. The Ghosts in Our Machine is not a "doom and gloom" film; our hope is that after people view the film they will reflect inwardly about their own daily consumer choices." Jennifer Molidor. 10.31.13
GEORGIA STRAIGHT: The Ghosts in Our Machine Captures Harsh Realities: "A worthy subject is aired in The Ghosts in Our Machine: the mistreatment of animals in this increasingly mechanized culture." Ken Eisner. 07.31.13
THE ASSOCIATION FOR THE PROTECTION OF FUR-BEARING ANIMALS: In The Spotlight: Liz Marshall, Filmmaker: "The animal rights movement has largely been misunderstood and very marginalized. I wanted to try and create something that would be like a bridge to people in communities and movements that don't give it the time or space that they should." Michael Howie. 07.23.13
MATT AND NAT BLOG: FILMMAKER LIZ MARSHALL DISCUSSES HAUNTING DOC: "Gorgeously shot and meticulously edited, it's no wonder this aesthetic gem premiered at Hot Docs Canadian International Documentary Film Festival and, I'm told, received a standing ovation." Nell Alk. 05.07.13
THE GLOBE AND MAIL: REVIEW: The Ghosts in Our Machine: Prepare To Be Uncomfortable: Once we begin to empathize with these animals, we can't ignore them quite so easily. Geoff Pevere. 04.22.13
Admission is FREE