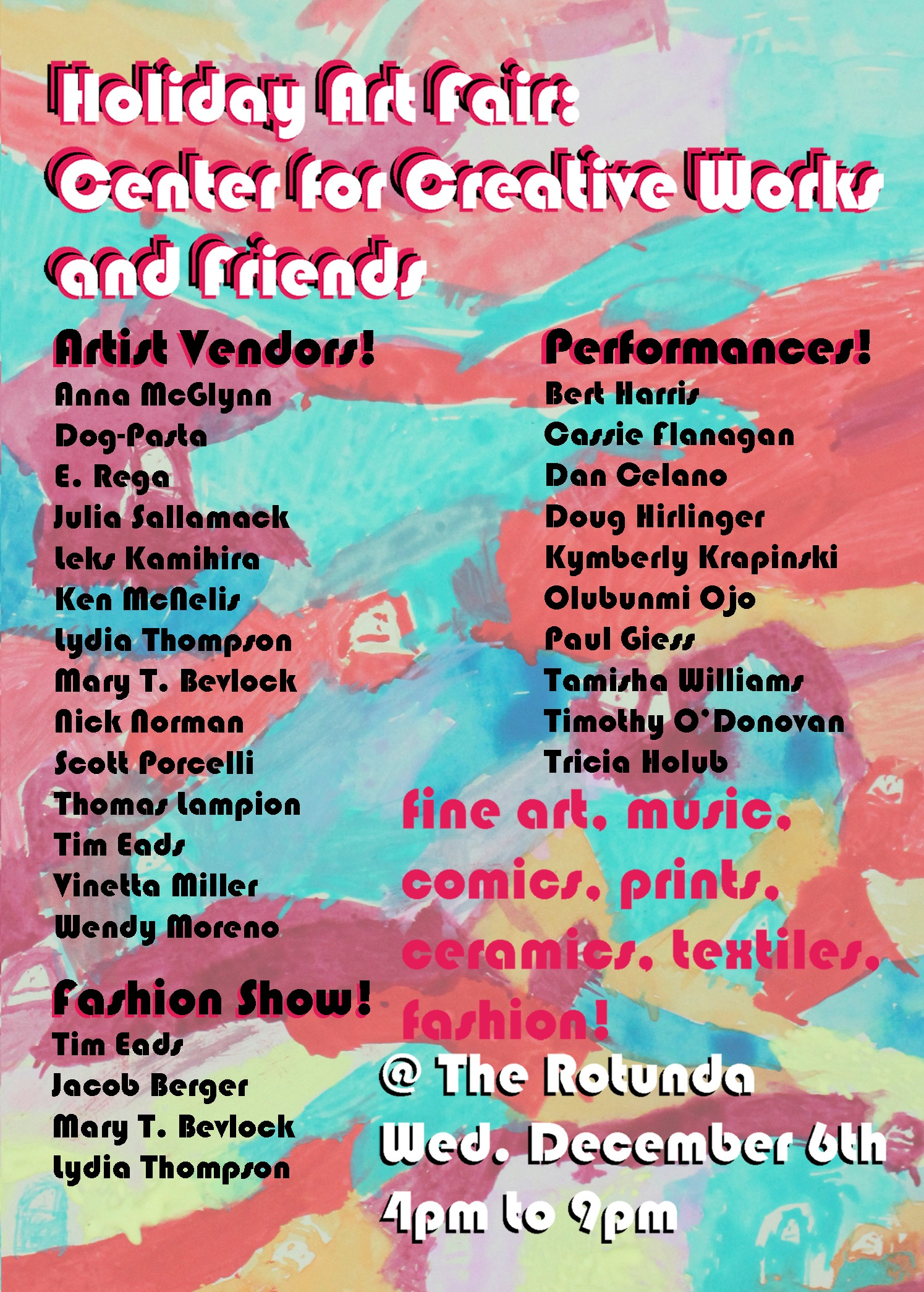 The Holiday Art Fair: Center for Creative Works and Friends is a combination art sale, concert, and fashion show, a fun evening of exciting new art.
The Sale features talented artists from CCW and local Philadelphia artists and artisans. Shop for comics, t shirts, drawings, paintings, ceramics, clothing, prints, and much more!
Artist vendors include:

Anna McGlynn
Dog-Pasta
E.Rega
Julia Sallamack
Leks Kamihira
Ken McNelis
Lydia Thompson
Mary T. Bevlock
Nick Norman
Scott Porcelli
Thomas Lampion
Tim Eads
Vinetta Miller
Wendy Moreno
Programming also includes live musical performances from CCW musicians with Pop! Pop! Pop! Records, and a fashion show of one-of-a-kind clothing and bags created through Allies in Art, a collaborative project between Tim Eads and three CCW artists: Mary T. Bevlock, Jacob Berger, and Lydia Thompson.
With performances by:
Bert Harris
Cassie Flanagan
Dan Celano
Doug Hirlinger
Kymberly Krapinski
Olubunmi Ojo
Paul Giess
Tamisha Williams
Timothy O'Donovan
Tricia Holub
and Pop! Pop! Pop! Records
Stop by to do your holiday shopping, enjoy some great music, meet the artists, learn more about our program, and see some great new fashions!

Sale runs from 4pm to 9pm.

Fashion show begins at 6pm.
Musical performances begin at 7pm.
!!!!!!FREE ADMISSION!!!!!!!!