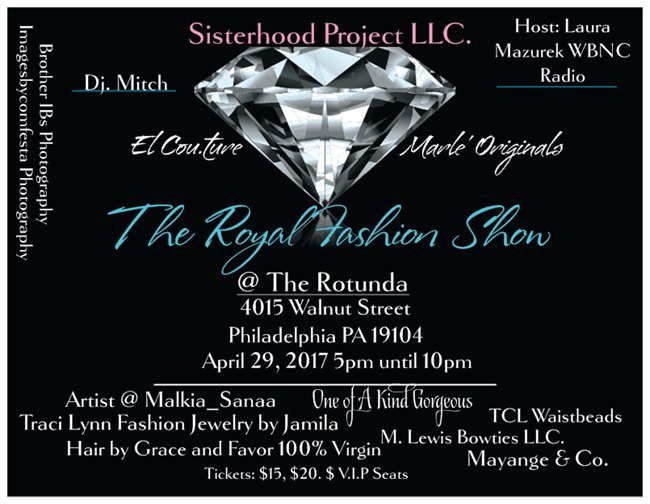 Are you ready, men and women of Philadelphia and surrounding areas?? Because our wonderful team here at Sisterhood Project LLC. has prepared a great movement that turned into a great show which only happens once a year.
Don't miss out on this wonderful opportunity to be a part of great change by increasing your awareness of social events, working on your networking pitch, building new working relationships, branding within a new circle encouraging the possibilities for future revenue and career endeavors. Why not - it's clean, simple fun. Click the link below to purchase your tickets. Also find out ways how you too can get involved with our movement.
https://www.eventbrite.com/e/the-royal-fashion-show-2017-tickets-26760878508?aff=escb&utm-medium=discovery&utm-campaign=social&utm-content=attendeeshare&utm-source=cp&utm-term=homepage
The Royal Fashion Show is once a year and you don't want to miss this year's show. Great models who've been working not just on their outer but their inner as well. Dj Mitch on the 1's and 2's. Food, Fun, Shopping, Raffles, Model of the year . Beautiful models, great designers, etc - a wonderful family event to attend.