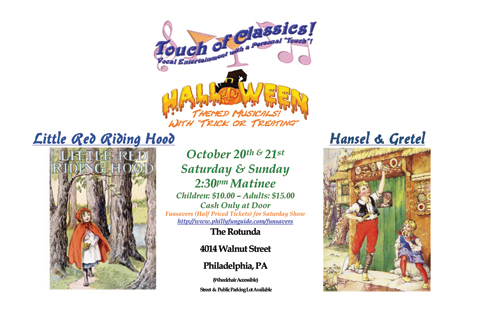 Little Red Riding Hood and Hansel & Gretel
Touch of Classics! Presents Two Musical Masterpieces for Halloween!
Two shows! Saturday October 20 and Sunday October 21, both at 2:30pm
Philadelphia, Pennsylvania - 9/30/2018 - Touch of Classics! is bringing two musical masterpieces Little Red Riding Hood and Hansel & Gretel for two performances at The Rotunda on the campus of The University of Pennsylvania. Touch of Classics! James R. Longacre and Dorothy Cardella bring these fully staged and costumed shows for the enjoyment of young and old during the Halloween Season.
Everyone knows the story of Little Red's adventure in the dark woods to visit Gramma's house and their escape from the ravenous wolf. By luck and trickery their lives are spared by the trusty woodsman's axe. Also, Hansel & Gretel's tale after their Mother sends them into the dark and eerie woods in search of strawberries where they both get lost in the deepest part until they discover the magical gingerbread house of the evil Witch, who quickly captures them and prepares to make them the latest batch of gingerbread children to add to her collection. Gretel outsmarts the Witch freeing all the other children from her magical spell and ending her reign of terror.
The productions feature a talented cast of performers within the warm atmosphere of The Rotunda at 4014 Walnut Street. In the cast of Little Red are Rachel Daly as Little Red, Sharon Derstine as The Grandmother, and Edward Bogusz as The Wolf/ Woodsman. Hansel & Gretel features Mary Punshon as Hansel, Dorothy Cardella as Gretel, Sharon Derstine as The Mother, Stephen Raytek as The Father, Rachel Daly as The Dew Fairy & The Sandman, and James R. Longacre as The Witch. Directing the operas is Michael Tunney and Music Director is Joseph Krupa. Both shows are slated for two Matinee Performances Saturday and Sunday, the 20TH & 21ST of October, at 2:30PM.
Cost of the opera is $15.00 for Adults and $10.00 for Children, and all the family is encouraged to join us for the performances! Refreshments will also be available. Funsavers available online for the Saturday performance only. Cash only at the door.
Touch of Classics! looks forward to seeing children of all ages for these two fully staged and costumed performances October 20TH & 21ST at 2:30PM, so bring the family and join us for a "spookily-musical" good time with Little Red Riding Hood and Hansel and Gretel this Halloween!
_____________________________________________________________________________________________
For a quarter of a century, Philadelphia's own Touch of Classics! Entertainment has been bringing to audiences the finest in vocal musical entertainment in the Tri-State area. Dorothy Cardella and James R. Longacre, husband and wife duo have performed together in a variety of musical performances throughout the United States. Their specialties range from Opera to Operetta and Musical Theater, along with cabaret and ethnic music. Individually, they have performed in productions with companies such as Opera Delaware, Opera Company of Philadelphia, Arden Theater and Bristol Riverside Theater, each having made a solo debut at Carnegie Hall in New York premieres. Dorothy has been soprano soloist with the Philadelphia Orchestra and Delaware Symphony Orchestra, and James has performed a leading role with the Metropolitan Opera Guild, along with making a solo debut at Avery Fisher Hall. Graduates of the University of the Arts in Philadelphia, they are recognized together by their company name, Touch of Classics! Entertainment. They are available for concerts, parties and holiday events.