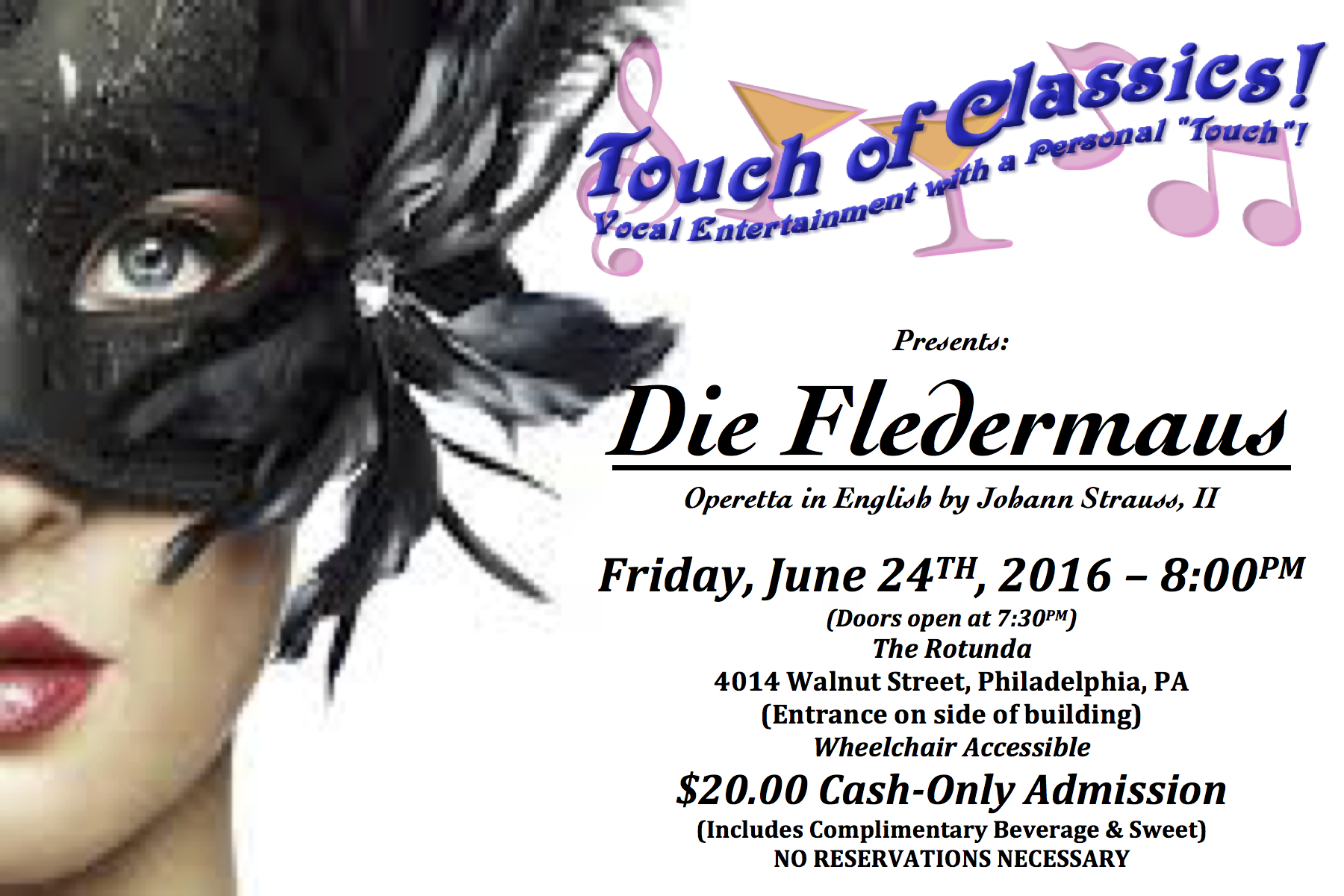 For Immediate Release

Dorothy Cardella or James R. Longacre
Touch of Classics! Vocal Entertainment
Phone: 215-432- 3362 or 215-868- 9988
Fax: 215-465- 0753
Email: info@touchofclassics.com
http://www.touchofclassics.com

Touch of Classics! Presents Operetta Masterpiece Die Fledermaus on

June 24 TH !

Philadelphia, Pennsylvania - 4/25/2016 - Touch of Classics! is bringing Johann Strauss II's operetta masterpiece Die Fledermaus for a performance at The Rotunda in University City. Touch of Classics! James R. Longacre and Dorothy Cardella bring this fully staged and costumed opera for the enjoyment of all during the Summer Season. The story involves mistaken identities, an amorous Italian tenor, maids aspiring to becomes actresses, a vengeful husband, a devious gentleman (also known as "The Bat"), a drunken jailor, and total mayhem; all of which takes place before, during and after a Ball given by a bored billionaire count. Joined by some of the most memorable waltz music ever written, this evening promises a satisfying and pleasant experience.

In the cast are Dorothy Cardella as Rosalinda, Melissa Primavera as Adele, Teri Seri as Orlofsky, Rachel Daly as Sally, Casey Howell as Margot, Ross Druker as Eisenstein, Edward Bogusz as Falke, Stephen Raytek as Frank, and James R. Longacre as Alfred. Directing the opera is Sandra Hartman and Music Director is Joseph Krupa. The opera will feature all of the wonderful waltzes and tunes of this timely operetta.

Cost of the opera is $20.00 per person, cash only at the door, with a complimentary beverage and sweet included. All the family is encouraged to join us for the performances!
The Rotunda is at 4014 Walnut Street in University City and is Wheelchair Accessible.
Parking is available on-street or at Public lot across from the venue. For more info, visit http://www.touchofclassics.com/calendar .