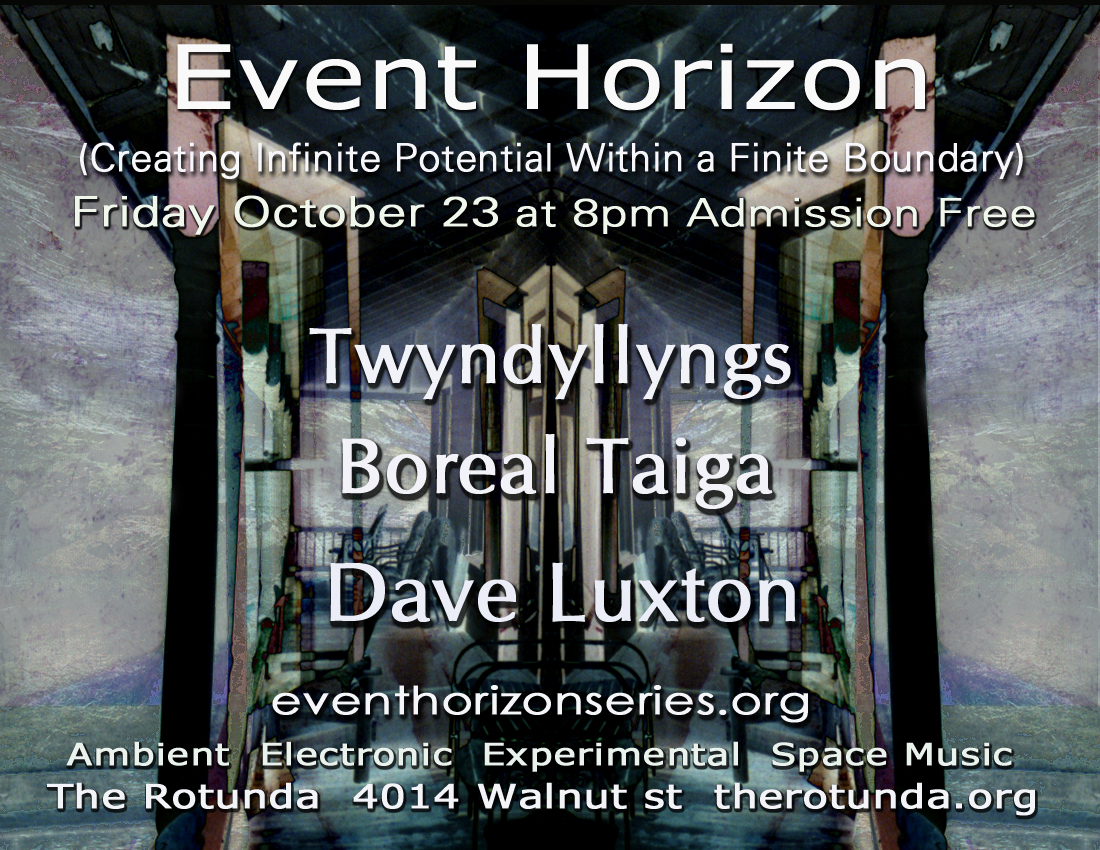 Event Horizon Series
presents
Twyndyllyngs, Boreal Taiga and Dave Luxton
Twyndyllyngs - Before forming Xeroid Entity with Greg Waltzer,Howard Moscovitz and Bill Fox were already playing together under the name Subspace. In 2010, they realized that they had made a resurgence as a duo and became Twyndyllyngs, performing weekly internet broadcasts (Chez Mosc) on electro-music radio.

Boreal Taiga was formed by ambient musician JimDe more than a decade ago. Originally from Seattle, Washington area, JimDe has explored Northern Alaska and North Western Canada and now resides in Norway, 350 miles above the Artic Circle. He has 20 yeras of experience in electronic music production and he masterfully uses samplers, binaural field recordings and synthesizers in his sonic creations. With Boreal Taiga, JimDe creates beautiful and lush ambient electronic atmospheres that are influenced by the Northern Hemisphere and Artic environments.

Dave Luxton is a producer, electronic musician, composer and guitarist based in Olympia, WA, USA. He is a classically trained musician whose diverse compositions span multiple genres to include guitar oriented compositions, cinematic filmscores, and Electronica. As a recording artist, he is internationally known for his work in the Ambient Spacemusic genre. His albums have been featured on nationally syndicated radio shows such as Hearts of Space, Musical Starstreams, and Star's End. He is also the founder of the Pacific Northwest based Wayfarer Records label and has produced albums for numerous artists including Boreal Taiga and Daren Keck. Dave is also a Professor, author, and clinical psychologist.

Admission is FREE