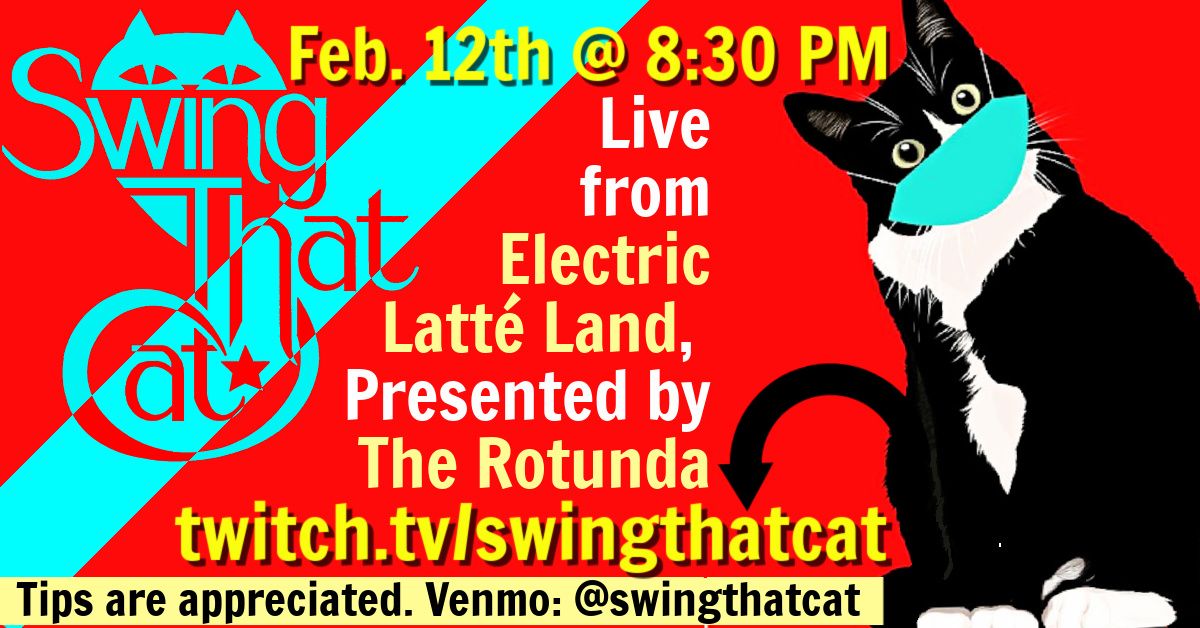 The Cats are getting together at Electric Latté Land for a virtual show through the generosity and partnership of @The Rotunda. We will be streaming to your living room via Twitch:
This is a free event, but tips are greatly appreciated and get distributed equally to our 9 band mates, visual engineer and sound engineers. We may have two or 3 new originals to showcase, as well!
Venmo: @swingthatcat
We hope you will join us, and dance in your living room.
About the band:
Swing That Cat is a sonic cocktail of Jump, Jive and Wail!
Born out of a simple idea and a love of good music, ~ Swing That Cat ~ is on a mission, with a message:
DANCE YOUR TAIL OFF!
What more could you ask for from a band that sounds like Jump Blues swizzled in Horny Swing, with dash of Cabaret Jazz, and a splash of Bourbon Street.
Front and center is Michele Peraino,, a modern-day Rita Hayworth meets Catwoman, with a vocal range and style drawn from another era, blending the sultry Jazz sound of Sarah Vaughan, and Rosemary Clooney, with the bawdy early Rock and Roll roar of Etta James. On stage, her voice combines with a penchant for performing, as Michele creates a hypnotic expression of the rhythm that entrances the audience and engages them in the performance.
But hang on for the twist - Swing That Cat also features Hugh Alan Luck on flute as their Lead Guitarist. Backed by more crazy cats including Chris Peraino (Rhythm Guitar), Sam Harasink (Bass), Styx Latte (Drums), Rick Yensen (Clarinet & Trumpet), Andy Donaghy (Baritone & Tenor Sax), Jon Episcopol (Trmbone), and David Graham (Alto & Tenor Sax), who all call Philly / South Jersey their home.
Formed in 2013, Swing That Cat has carved out a niche with a seductive sound, and live shows that encourage their audiences to shimmy and shake. Swing That Cat is not simply a throwback band. Drawing their inspiration from a time when one hand of Swing was moving into Jump Blues, Rock and Roll and the other was headed for Bebop Jazz, their original compositions sound fresh and inventive. If you are not up and dancing, you will still find yourself bopping in your seat.