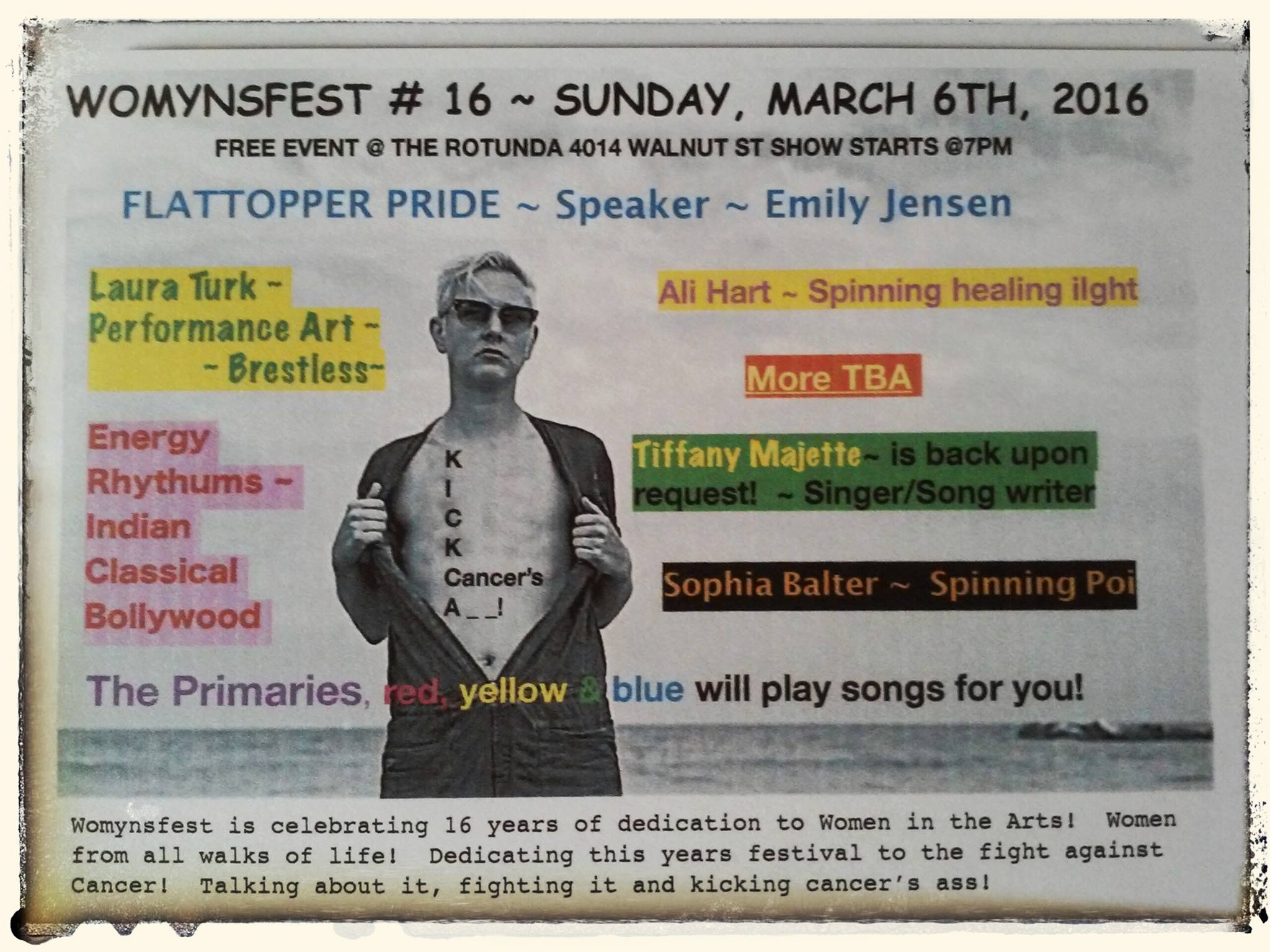 This festival showcases Women of all ages & race, including M-F trans.

Over the years we Included, but were never limited to, the following; Singer/Songwriters, Poets, Dancers, Theatre, Filmmakers, Speakers of Women's issues, crafters and so much more!
Each year we try to bring awareness to a cause. Last year was fighting addiction. The year before we protested Bullying. The last time we discussed Cancer was in 2006 when we had the honor or Presenting a film by Vitamin D on Clarity Haines Works with Breast Cancer Survivors. Dedicated to my sister Linda Witkowski ~ Kerekes.
THIS YEAR ~ it's Kicking Cancer's Ass. Come out and support Women in the Arts and this special event!
THE LINE UP, in random order:
*EMILY JENSEN, featured here in this photo who has had a double mastectomy, will speak about dealing with cancer.
Emily is going to discuss FLATTOPPER PRIDE.
*LAURA TURK PRESENTS BREASTLESS ~ a stage Play about Breast Cancer
*TAUPE ~ A local West Philadelphia group of some very talented folks, some members are returning guests who have performed at Womynsfest in the past.
*ENERGY RHYTHMS ~ Indian Classical Bollywood
*TIFFANY MAJETTE ~ Tiffany has performed for a brief 10 minutes at one of my shows and people have requested for her to come back! Singer/Songwriter with a powerful voice!
*ALI HART ~ Spinning light with dance performance
*SOPHIA BALTER ~ Spinning Poi with light.
*THE PRIMARIES ~ Red, Yellow and blue will play songs for you! One of the members is Susan Rosetti of Stargazer, Slomo and a performers of many other groups! She is a returning guest to Womynsfest! + Michelle Armour and Morgan Pinkstone
*AMULET MOON ~ a powerful duo with amazing sounds!
*MIA JOHNSON ~ Singer/Songwriter who has not missed but a few of Womynsfest shows! She has been there since the beginning!
**WE WELCOME AND WANT MEN TO PARTICIPATE IN THE AUDIENCE!
Admission is FREE
Addtional Images