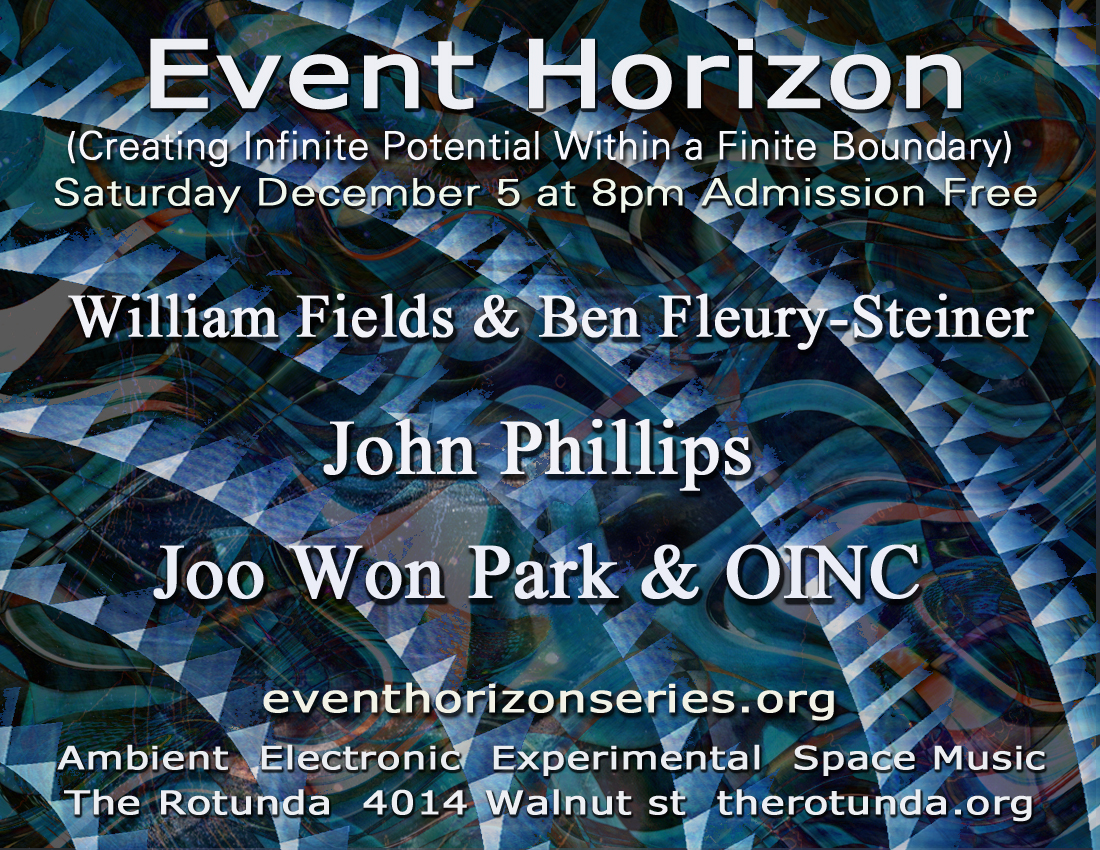 presents
William Fields & Ben Fleury-Steiner, John Phillips, Joo Wan Park & OINC


William Fields is an electronic musician and audio/visual artist from Wilmington, Delaware. His main interest is in exploring rhythm and audiovisual synesthetics in an improvisational context.
Ben Fleury-Steiner is an electronic musician from Wilmington, Delaware. He ran the Gears of Sand label (2004-2011). Since 2000, he has focused most on experimental drone and ambient releasing numerous albums on Infraction, low-point, Rural Colours and other labels. His recent interests have turned to pushing the boundaries of classic polyrhythmic electronica; the focus of his current collaboration with William Fields
John Phillips is a sound and video artist. His work has included interactive sound and video works and collaborative sound/sculpture/video installations in museums (Museum of American Art at Pennsylvania Academy of the Fine Arts and the Institute of Contemporary Art, Philadelphia), alternative spaces (Eastern State Penitentiary, Philadelphia; Cini Foundation, Venice, Italy; Disston Saw Works, Philadelphia) and various university art galleries (Dartmouth College, University of Michigan, Carnegie Mellon University among others). His tape works have been performed at New York City dance and theater venues, international electronic art festivals and on nationally syndicated New American Radio. His live sound and video performances have been featured in numerous venues in Philadelphia (Philadelphia Museum of Art, Temple Gallery, Annenberg Center) and also in New York City; his composing has been supported by American Composers Forum (collaboration with Pauline Oliveros) and the Millay Colony (composer in residence) and he has enjoyed five residencies at the Experimental Television Center to pursue his video work.
Joo Won Park performs live with toys, consumer electronics, kitchenware, vegetables, and other non-musical objects by digitally processing their sounds. He also makes pieces with field recordings, sine waves, and any other sources that he can record or synthesize. Joo Won draws inspirations from Florida swamps, Philadelphia skyscrapers, his two sons, and other soundscapes surrounding him. For this Event Horizon show, Joo Won is bringing Oberlin Improvisation and New Music Collective (OINC). OINC a 12-piece electronic music band specialized in free improvisation residing in Oberlin, OH. (https://soundcloud.com/jwparkpresents/sets/oinc-recording-session-2014)
Admission is FREE