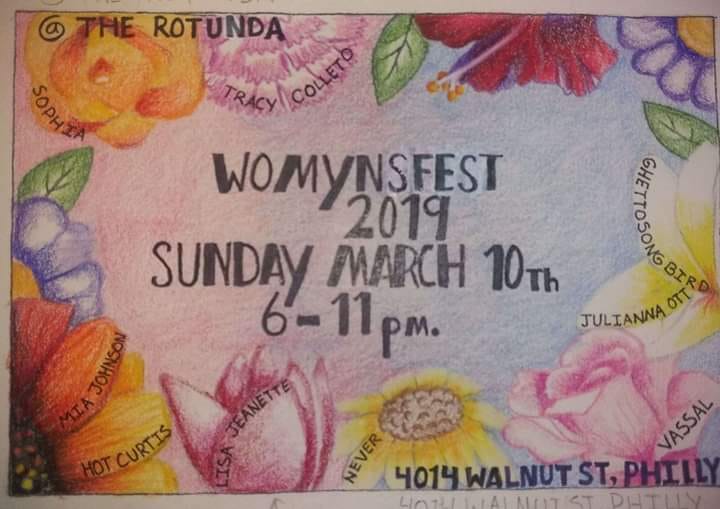 Womynsfest #19!
showcase of womyn in the arts, 19 years running!

**PERFORMERS:
Never
Mia Johnson
Vassal
Hot Curtis
Julianna Ott
Lisa Jeanette
GhettoSongBird
Tracy Colletto
Sophia

NEVER Never is four people who play music. They will never fit into a genre and never want to. They strive to never not mess up, never be bored and to always look dapper and svelte... but only on Thursday mornings. A collaboration of 4 numbers featuring our return performers Susan Rosetti and Mia Johnson. Mia Johnson has been committed to this Festival as well as Susan Rosetti since the beginning. MiaJohnson performs locally and will perform in this Festival along with the band never and also as a solo artist. Susan Rosetti has also supported Womynsfest the beginning. She has been on stage with The Primaries, Stargazer Lily and Stephan Hayes in the past.

SOPHIA BALTER is an entrepreneur, fire & light Poi, hoop & fire spinner. Her mazing presents onstage as absolutely wild the crowds in previous performances at the festival. She usually makes two appearances during the show and it really makes the difference of the transition of different styles of music that appears during our Festival.

VASSEL, formerly known as Sarah chodak will return to the stage again this year. Vassal came to Womynsfest at the age of 14, slowing the minds of our audience and is now returning at the age of 16.

HOT CURTIS is a new group to our Festival this year. A group of young individuals out of Bucks County bringing a whole new sounds of music to the stage. Hot Curtis from Yardley, PA, formed in 2017 and have been performing their original rock tunes around the North East, including the World Cafe Live in Philadelphia and Queens, NY. They have released one single, "Party Wall," and are currently working on more songs.

JUIANNE OTT describes her style as rootsy pop, jumping styles with a sincerity that honors her influences: Patty Griffin, Ryan Adams, REM. Her original songs are melodic and well crafted; her covers, carefully chosen, are sung with tenderness, power, and an edge, but always with conviction, honesty, and intensity. Vocals,
music, and lyrics sweet and nuanced one minute, the next a punch to the gut, and though you might hear some twang, it won't hurt a bit!

GhettoSongBird is a rock-n-roll singer/songwriter/guitarist
from North Philadelphia that has performed at legendary rock venues around the world including CBGBS (NYC) The Whisky A Go-Go (L.A.) and The Troubadour (London) to name a few. She recorded her 1st EP "Alley Of The Earth in Los Angles

LISA JEANETTEis a native Philadelphian and singer-songwriter who has recently released her debut album, Chasing Happy. A multi-instrumentalist, Lisa plays guitar, bass and piano on many songs on the new release. The best way to describe Lisa's style of music is Kaleidoscope Folk, which represents a wide variety of genres in a diverse collection of songs.

TRACEY COLLETTO has garnered comparisons to Jonathan Brooke and Joni Mitchell for her song writing iand vocal style. Several songs from her most recent album Chocolate Happy Cake have been added to playlists for manyl radio stations including XPNs Sleepy Hollow, WSTW and Women of Substance Radio Podcast.

And!! Check out our vendor Rosy Charm. Go to Rosy Charm's link below! Contact Sharon! https://www.etsy.com/shop/RosyCharmShop?ref=search_shop_redirect

All ages, FREE admission for all!