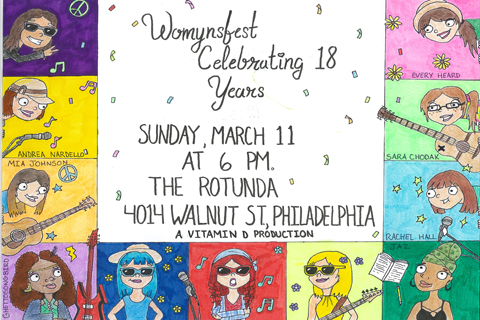 Womynsfest
Celebrating 18 Years
Womynsfest is the longest-running free festival for womyn in Philadelphia. Womynsfest is an all age showcase of womyn performers!

Looking for Vendors!

Returning Performers:
The Primaries

Mia Johnson: a singer/songwriter who has been making good music in Philadelphia for over two decades. To her strong vocals and rhythm guitar she adds the gorgeous talents of Erin Ryan Barnes on cello to create a texturally-rich duo.
Sara Chodak: a 14 year old Philadelphia-based songwriter who is driven by emotion and the world around her. She is an eclectic mix of grungy punk, traditional folk, and rebellious rock.

Every Heard: a Korean-American singer-songwriter. Winner of the 2017 Philadelphia Folk Festival Camp Fire contest, Ev blends the local Philly folk style with a jazz fusion all her own

Rachel Hall Trio: Baltimore-based singer and guitarist Rachel Hall, formerly of The Damsels, now fronts her own trio playing both covers and originals. Powerful and sultry vocals soaring over rocking riffs give the Rachel Hall Trio their signature sound.
GhettoSongBird: a rock-n-roll singer/songwriter/guitarist from North Philadelphia that has performed at legendary rock venues around the world including CBGBS (NYC) The Whisky A Go-Go (L.A.) and The Troubadour (London) to name a few. She recorded her 1st EP "Alley Of The Earth in Los Angles 2001 with the help of her mentor Rosa Lee Brooks (who wrote and recorded with Jimi Hendrix, with new material finally being released this year.

Newcomers:
Jaz: a published and performance poet, author, Singer-Songwriter, model and theater artist from Philly, PA. She also does a mean karaoke, loves big bodies of water and hugs trees.

Andrea Nardello: Philly's Andrea Nardello has garnered favorable comparisons to Melissa Etheridge and Shawn Colvin. Nardello has been performing and writing since she was 8 years old, has toured the US, and often fundraises to support The American Foundation for Suicide Prevention and Musicians On Call.
Vendors:
Alemah Boutique offers one of a kind handmade and upcycled clothing and unique reversible fabric bowls.
Admission is FREE