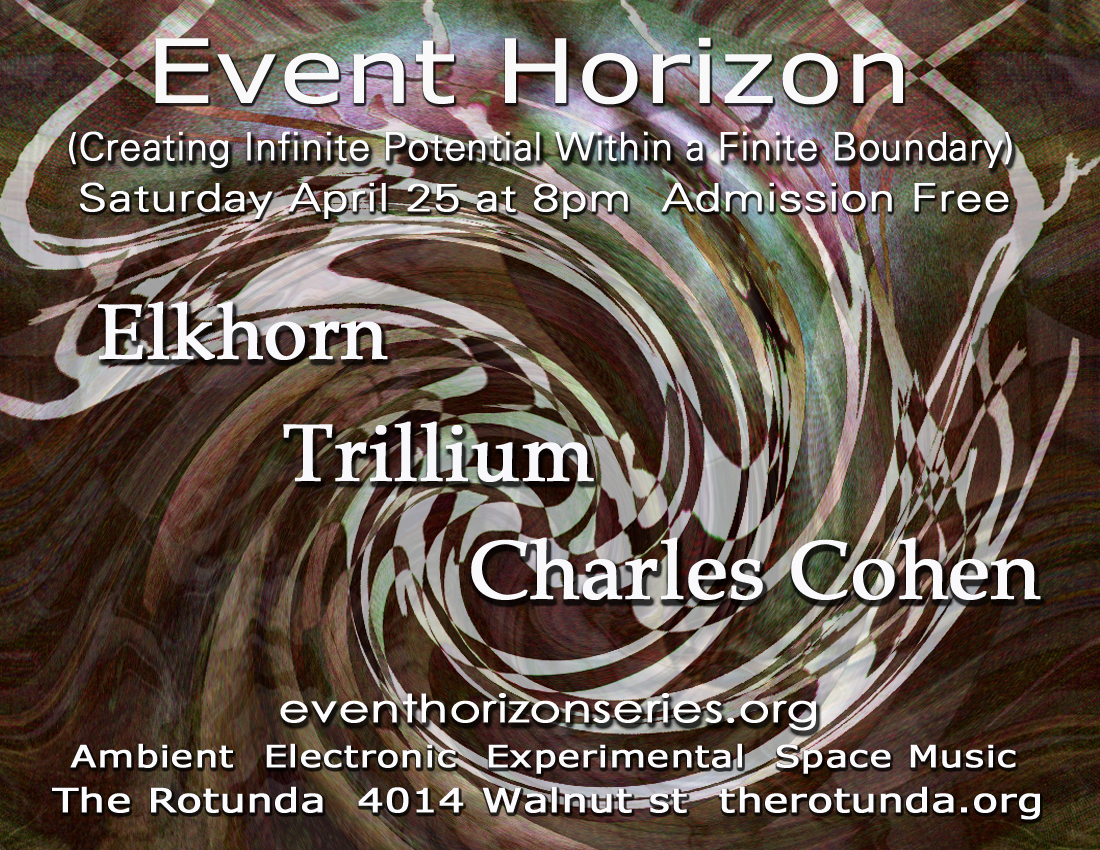 presents
Elkhorn, Trillium and Charles Cohen
Elkhorn is the electric/acoustic guitar project of Drew Gardner and Jesse Sheppard. The duo cmbines Sheppard's American Primitive-style acoustic finger picking with Gardner's extended improvisational and textural electric playing. The duo grew up together in the deep woods and rotting industrial husks of central New Jersey and have been collaborating on and off since the mid-1980s.

A filmmaker as well as musician, Sheppard directed The Things That We Used To Do (2010) a documentary about Jack Rose and Glenn Jones. He lives in the Brandywine region of Pennsylvania.

Drew Gardner lives in New York City and combines poetry and music in spontaneously conducted ensembles. His CD, Flarf Orchestra, appeared in 2011.
Matt Lo Re's Trillium - Consists of Matt LoRe on guitar, Stephen Testa on the bass guitr and J. Jody Janetta on drums/percussion
Charles Cohen - Based in the Philadelphia area, Charles Cohen has been amazing and challanging audiences for over 30 years. His music is entirely improvisational and produced solely on a vintage Buchla Music Easel synthesizer. An avid collaborator, Cohen is most well known from his work with Jeff Cain in their group The Ghostwriters. Charles Cohen With few recorded/commercially available works to his credit, Cohen prefers to concentrate on creating Electronic Music in the setting of the live performance space. His music ranges from completely abstract and challanging to pleasantly rhythmic and infectious. Each performance is original and new, to the audience and to Cohen as well. (source: Chuck Van Zyl, host ofStars End on WXPN)
Check out the next Event Horizon show on May 9! Info HERE


The Event Horizon concert series is a Philadelphia-based concert series featuring Ambient, Electronic, Experimental and Space Music.
Admission is FREE
Addtional Images