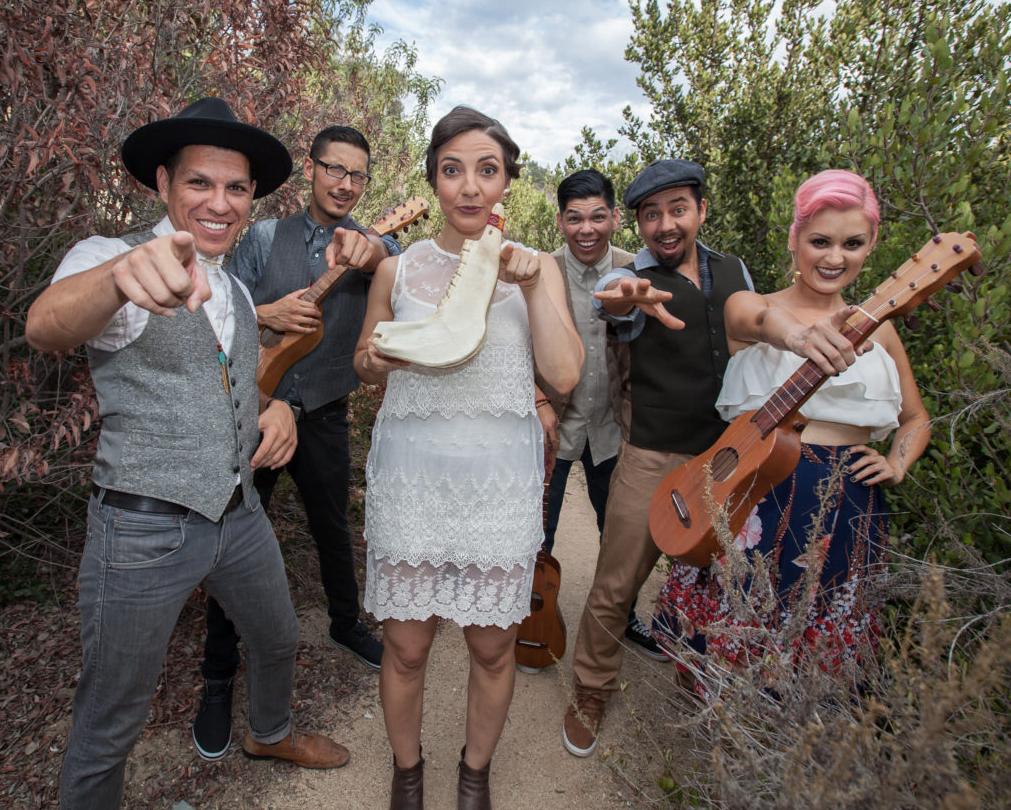 OUTDOORS AT THE 40TH STREET FIELD, 40TH BETWEEN WALNUT AND LOCUST. The Rotunda is the rain location.
The 40th Street Summer Series
presents
Las Cafeteras with Philadelphia Women's Slavic Ensemble
Born and raised east of the Los Angeles River, Las Cafeteras are remixing roots music and telling modern day stories. Las Cafeteras create a vibrant musical fusion with a unique East LA sound and positive message. Their Afro-Mexican beats, rhythms, and rhymes deliver inspiring lyrics that document stories of a community seeking love and justice in the concrete jungle of Los Angeles. Using traditional Son Jarocho instruments like the jarana, requinto, quijada (donkey jawbone) and tarima (a wooden platform), Las Cafeteras sing in English, Spanish, and Spanglish and add a remix of sounds, from rock to hip-hop to rancheras. Las Cafeteras use music as a vehicle to build bridges among different cultures and communities, and create 'a world where many worlds fit.' Hear Las Cafeteras on Spotify
Philadelphia Women's Slavic Ensemble (PWSE) is a fun community choir in West Philly, welcoming singers both new and seasoned. We snack, drink wine, and loudly sing the wonderful folk music of Bulgaria, Serbia, Croatia.. and whatever else we find arrangements for! Hear Philadelphia Women's Slavic Ensemble on Soundcloud
About the 40th Street Summer Series
The 2018 40th Street Summer Series—co-produced by University City District, Penn, and The Rotunda—will take place this year on Saturdays May 19, June 23, July 14, August 18 and September 15 at the green space behind the Walnut Street Library at 40th and Walnut. Activities, free giveaways, and performances begin at 6 pm. If the weather is inclement, the Summer Series will move indoors to The Rotunda at 4014 Walnut Street.
The Summer Series has grown into one of the most popular outdoor summer events in University City. This free outdoor series features internationally-recognized talent in one of "West Philly's picturesque open green spaces" (Philadelphia Weekly). In the past, the Summer Series has featured internationally-acclaimed acts such as the Millennial Territory Orchestra, Man Man, and the Sun Ra Arkestra, playing free outdoor concerts that capture the soul of the neighborhood.
This is the 14th year for the 40th Street Summer Series, produced by the University of Pennsylvania, The Rotunda, and University City District.
Stop by beginning at 6pm for interactive activities with the University City Arts League and free scoops of ice cream from Ben & Jerry's. The University City Arts League will pop-up in the park to make elegant paper roses with a special musical theme. Join artist Rob Seitz for a fun for all ages activity.
OUTDOORS AT THE 40TH STREET FIELD, 40TH BETWEEN WALNUT AND LOCUST. The Rotunda is the rain location.
Admission is FREE