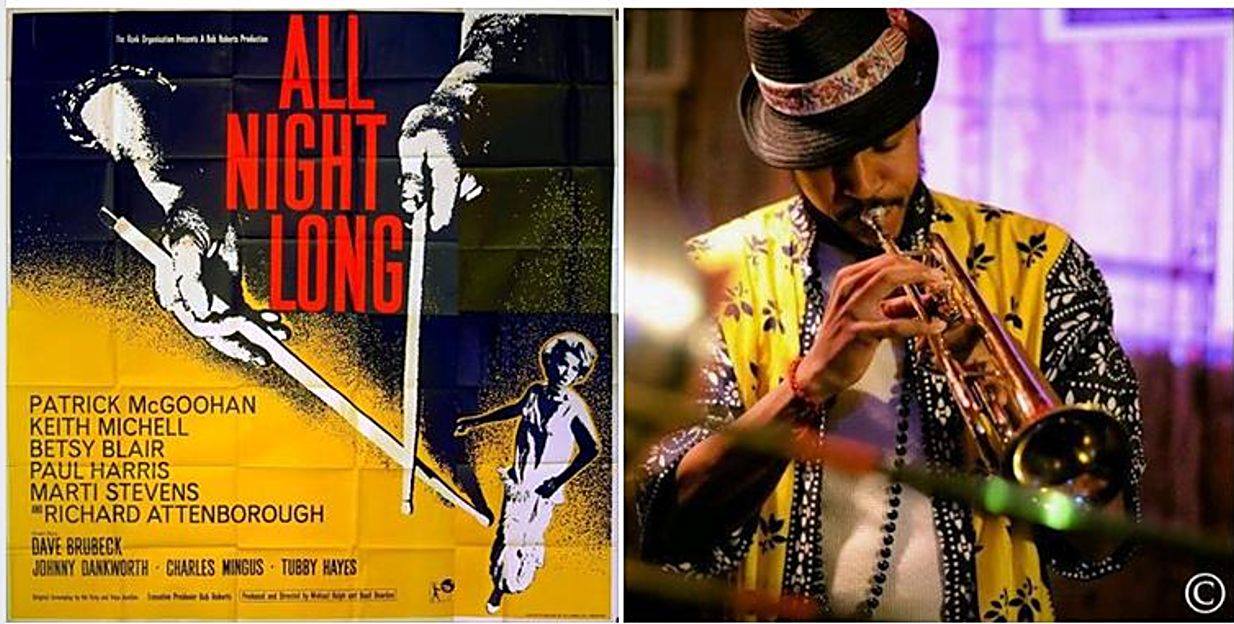 1962 Film. "All Night Long" & A Musical Set by Basquiat Blues
Featuring a musical set by BASQIAT BLUES (with AuRu Shabaka-Ra Khonsu of the Sun Ra Arkestra)
& Basil Dearden's 1962 film ALL NIGHT LONG starring Patrick McGoohan (THE PRISONER), Paul Harris (TRUCK TURNER, ACROSS 110th STREET) and Richard Attenborough (JURASSIC PARK) and featuring musicians Charles Mingus, Dave Brubeck and The Johnny Dankworth Orchestra.
ALL NIGHT LONG (1962, dir. Basil Dearden, 91 min.. U.K.)
In the late 1950's director Basil Dearden broke free of the British studio system and co-founded the production company Allied Filmmakers to independently produce films too controversial for the studios. ALL NIGHT LONG, co-written by blacklisted screenwriter Paul Jarrico, is a re-imagining of Shakespeare's OTHELLO, set in a single evening in a swanky British loft outfitted for an all-night jazz jam session. Amidst the hipster speak and dope smoking is African-American actor Paul Harris as a piano playing leader of the band, celebrating the anniversary of his marriage Delia (Marti Stevens), the band's vocalist who has given up her career for her husband. Patrick McGoohan is the "Iago" of the piece, an ambitious drummer who aims to take over the band through lies and manipulation.
Edward Scaife's camerawork glides you through the party (he was a camera operator on THE THIRD MAN) in this fast-paced version of The Bard's timeless story, with a special thrill for jazz fans in seeing rare appearances by bassist/composer Charles Mingus and pianist Dave Brubeck, as well as a brilliantly interwoven score by Philip Green (partially responsible for the library music later used in NIGHT OF THE LIVING DEAD). 
ALL NIGHT LONG will be preceded by a set of improvisational music from BASQIAT BLUES, featuring trumpeter AuRu Shabaka-Ra Khonsu, who has played in the Sun Ra Arkestra and has recorded with bassist/composer William Parker.
Admission is FREE