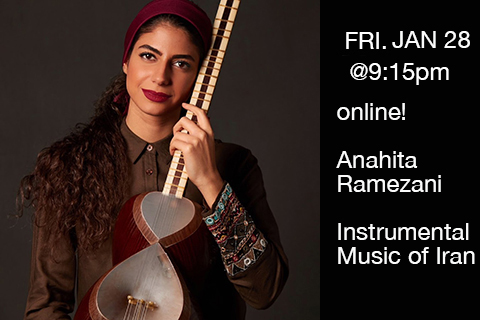 Fire Museum Presents

Anahita Ramezani - Instrumental Music of Iran
9:15pm-9:45


Direct link to the livestream: https://www.youtube.com/watch?v=cbbAu98nwxw
Tonight we premiere a program of Instrumental Music of Iran. We are proud to present a performance by Anahita Ramezani.

Anahita Ramezani:
Anahita Ramezani, born in Tehran, Iran, is a Persian Târ player. She embarked on her musical journey in 2001, taking advantage of the experiences of prominent musicians like Dariush Talaei along the way. Ramezani pursued târ playing to an advanced level. After completing a bachelor's degree in Iranian musicianship with great distinction, she enrolled in a master's program in Iranian musical instrument playing (specializing in târ) at the University of Tehran and graduated magna cum laude.
She has given numerous recitals as a soloist. In addition to her compositions and arrangements, she has performed the works of distinguished Iranian musicians in her concerts.
Apart from the solo performances, she has participated in Iran's National Orchestra and renowned music ensembles and has attended international music festivals.
She has also appeared in many competitive festivals, notably the Youth Music Festival in Iran, where she ranked first in târ playing at the country level.
She engages in other activities, too, such as teaching târ and setâr playing and Iranian music studies in Iran's top music institutes. She also collaborates with the Hafdâng institute in producing and promoting Iranian works of music.
event page: https://firemuseumpresents.com/events/anahita-ramezani/
Direct link to the livestream: https://www.youtube.com/watch?v=cbbAu98nwxw