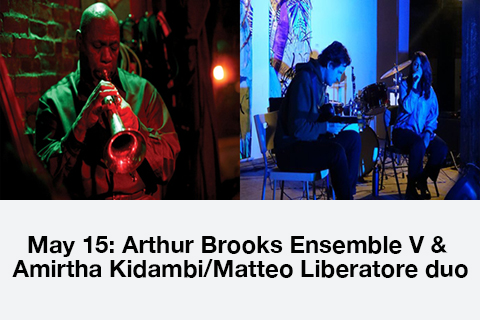 THE CURATORS OF THIS EVENT REQUIRE THAT EVERYONE IN ATTENDANCE SHOW PROOF OF VACCINATION AT THE DOOR. MASKING AND CONTACT TRACING ENFORCED. SEATING IS LIMITED FOR PURPOSES OF SOCIAL DISTANCING, ADVANCED REGISTRATION IS STRONGLY RECOMMENDED (link at the "Buy tickets" button).
Co-presented with Clavius Productions.
Arthur Brooks Ensemble V:
Trumpeter-composer ARTHUR BROOKS (trumpet, flugelhorn ) is one of the unsung heroes of the new music. In his 40+ year career he has collaborated with such legendary figures as Bill Dixon, Cecil Taylor, Sonny Sharrock, Alan Silva, and Frank Wright among others. For over 20 years he taught alongside Dixon in the Black Music Division at Bennington College. Brooks founded Ensemble V at Bennington College in 1973 and the music has continued to evolve. Though Brooks is technically the leader and creator — or perhaps curator — of Ensemble V, he emphasizes that the band is a democracy. "Everybody's a leader. And everybody has big ears. We find ourselves in areas that I would like to take home and develop and write, but I wouldn't want to limit what we're going to do." For this performance, he'll be joined by Jeremy Harlos – bass; Anthony Santor – singing bowls and Matt Weston – percussion.
Amirtha Kidambi & Matteo Liberatore:
Amirtha Kidambi – Voice
Matteo Liberatore – Guitar
Amirtha Kidambi and Matteo Liberatore's duo of voice and guitar creates improvised aural landscapes that are glacial and highly evocative, unfurling through dynamic gestures that are at once spacious and restrained. Juxtaposed against the frenetic pace characteristic of the New York improv scene, the pair applies the compositional aesthetics of Feldman or Oliveros to a free environment. The project is set apart from Kidambi's work with Lea Bertucci, Mary Halvorson or Elder Ones and Liberatore's collaborations with musicians including Elliott Sharp, Mark Kelley and Catherine Sikora. Each piece explores the unique possibility space created by the union of voice and guitar, delving deep into specific permutations including registral extremes, detuning and quiet mouth sounds, all without the use of processing.
While Kidambi and Liberatore come from radically different backgrounds, they draw from universal sonic signifiers, like the ringing of the bell at a Hindu temple threshold or the echo of church bells across the piazza of a small Italian town, invocations to prayer and reflection. The duo's interactions simmer beneath an anti-climax, begging the listener to observe one's surroundings, turn inward, and confront the self.
Admission is FREE but seating is limited so registration is strongly recommended. Please register HERE