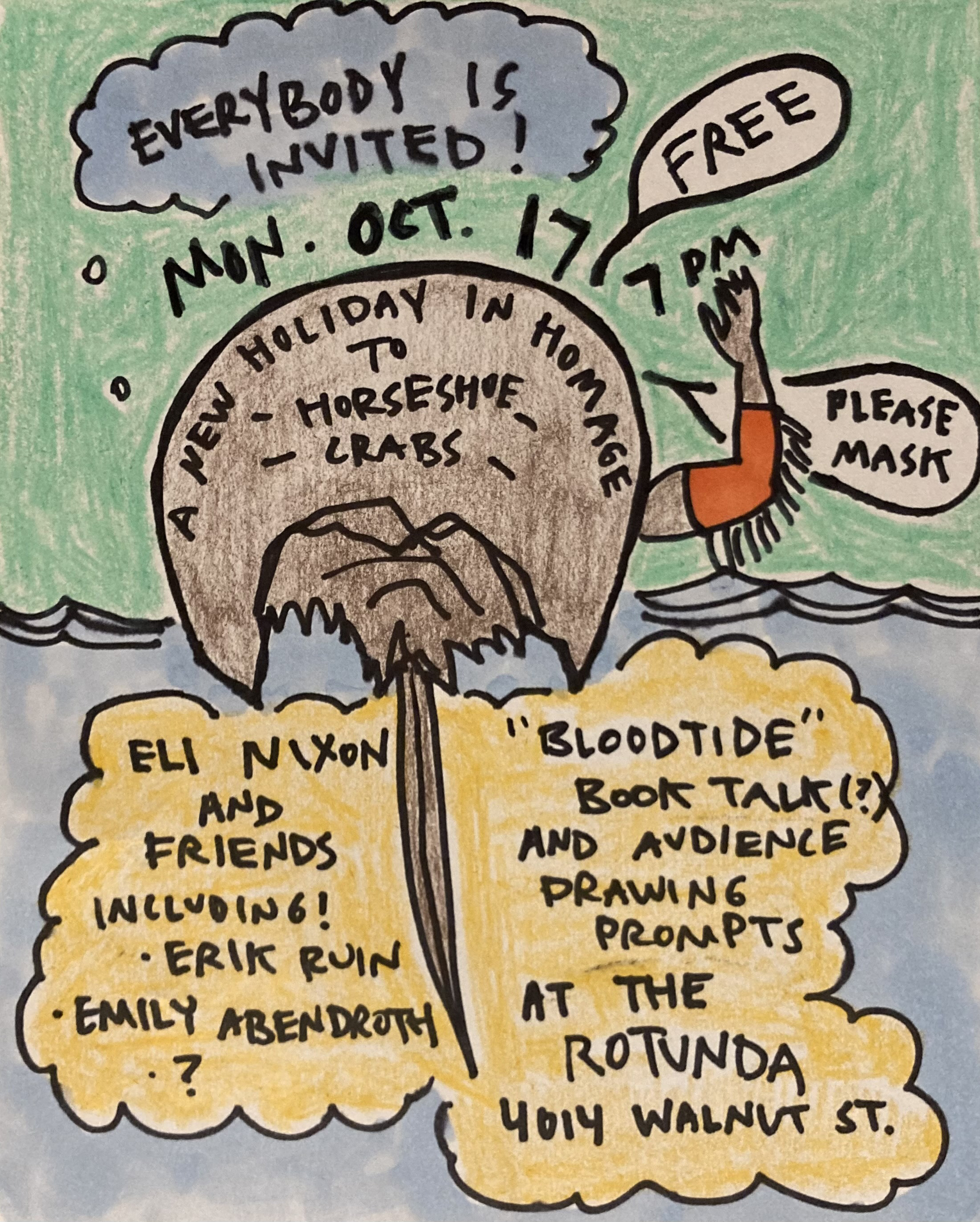 Join Eli Nixon for a BLOODTIDE holiday/book talk/show and drawing prompts plus honored to share the night with a little work by old pals Emily Abendroth and 
Erik
Ruin
 and maybe more?
About the Book Bloodtide-
Cardboard workshop how-to, karaoke songbook, nature drag theorization, 450-million-year-long love letter, field guide to a different future—Bloodtide proposes exactly what we need in a form we never imagined. Bloodtide is a new holiday to gather us around an homage dedicated to 450 million years of horseshoe crab fortitude.
"There is a crinkly poetry to BLOODTIDE, repurposed poetry, the poetry of wild rebirth snatched from the recycling bin. Words I thought I knew cast shadows that turn them into other beings entirely. Humble is an important word in this book, and so is impossible, and so is cardboard. I don't think you can make a book like this unless you have been making art and doing liberation work for, oh, I don't know, twenty years. BLOODTIDE is a box full of wild objects, and the wild space between them. It's might-y — might like "could be" not like brute force. It expands, has expanded me. I gasped a few times and my nose twitches with the smell — the "rutty musk of the freer beasts within us." It is radical, it is wise, it is alive." – Agnes Borinsky, author of Brief Chronicle, Books 6-8 and Sasha Masha
 It's a holiday drawn from the author's own need for new cultural practices and extended as an offering for anybody to use with hopes of contributing to collective liberation. Bloodtide attempts queer futurity, without mythologies of settler innocence and with sustained recognition that time extends through our ancestors: recent ones and ancient. Bloodtide promotes horizontalist structure building practices through pageantry, crabaoke, naturedrag, cardboard sculpting, feasting and other hands-on, locally oriented, commemorative & survivalist practices. Bloodtide posits that homage and attention to horseshoe crabs might further all repair efforts and other insufficient necessities for our collective and individual healing/transformation.--
Admission is FREE
You can also catch horseshoe crab fun on Fri Oct 14, 5-7pm by the Clark Park dog bowl shed. Build cardboard horseshoe crab costumes w/ Eli. Tools and materials provided. AND you can join Eli on Sat Oct 15 at noon at 50th and Walnut to march in the Peoplehood Parade as your horseshoe crab self!