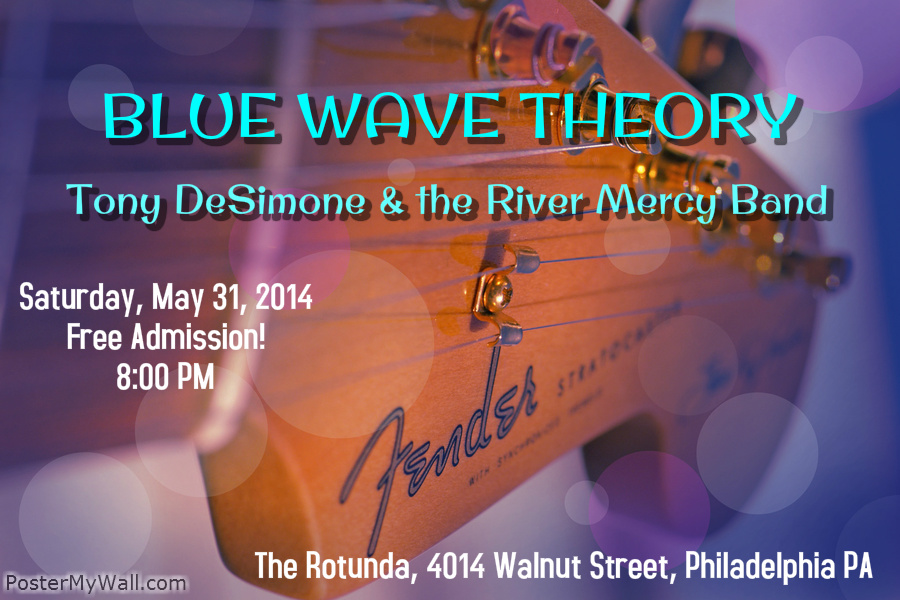 Blue Wave Theory is an instrumental rock band formed in 2007 in Cherry Hill, New Jersey. The group's sound is rooted in surf music of the 1960s, but delves into many genres including elements of garage, punk, and reggae. The band's music is entirely instrumental with Steve Rabeler on guitar, Kevin Stamper on bass, and Rob Wolleben on drums. Guitarist Bob Trimble recently joined forces with the band for live shows and recordings.  Blue Wave Theory has shared the stage with the legendary Dick Dale ("The King of Surf Guitar").  If you're a fan of Dick Dale, the Ventures, the Mermen, or Los Straitjackets, with a little X or Dead Kennedys thrown in, then you'll love this band.  
Blue Wave Theory website:  http://artistecard.com/bluewavetheory
Tony DeSimone & the River Mercy Band hail from the Philadelphia area, and open the show with a set of contemporary melodic rock in the vein of Jack Johnson and Rob Thomas.  Tony has released two CDs, licensed several original songs, and is currently working with Grammy Award winning producer Anthony Newett.  Tony's passion for music started at a very young age when he began playing drums. This passion led him to studying music and earning a degree in Jazz Performance from Temple University as a percussionist. While studying music, Tony also spent his time playing in numerous bands in the Philadelphia area experimenting in several musical genres from pop to progressive rock which gave him the musical versatility and style that is evident in his music today.
Tony DeSimone website:  http://www.tonydmusic.com/
Admission is FREE!