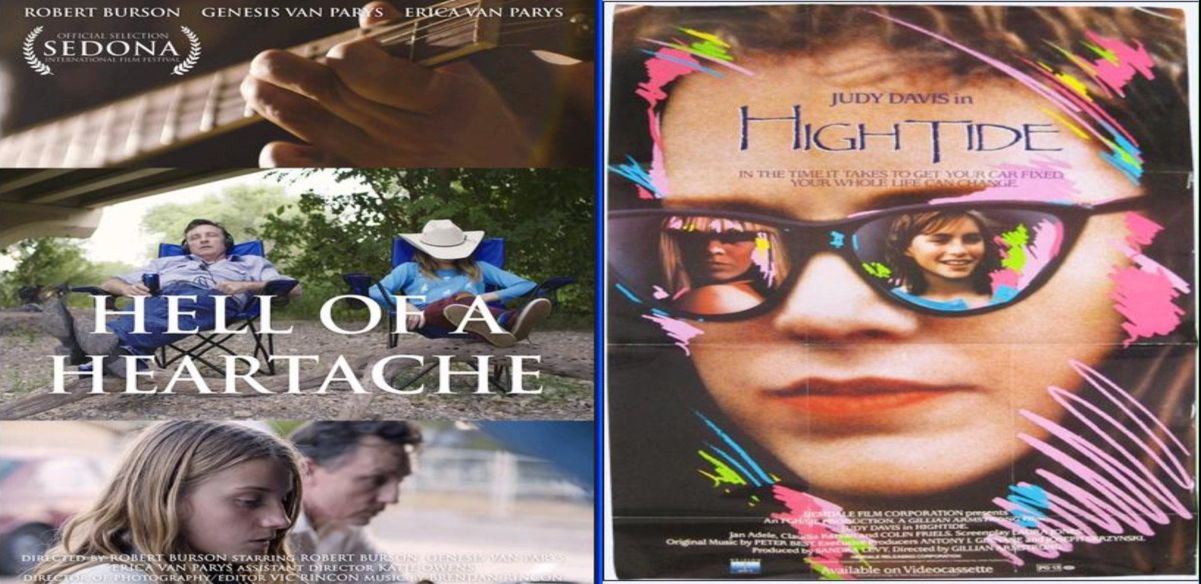 Bright Bulb presents
"Inconvenient Kids" Double Feature!
HELL OF A HEARTACHE (2020, director Robert Burson, 88 minutes, U.S.)
(EAST COAST PREMIERE! with co-writer/director/star Rob Burson IN PERSON for Q&A!)
HIGH TIDE (1988, directed by Gillian Armstrong, 104 minutes, Australia)
Rob Burson's 2020 indie drama HELL OF A HEARTACHE introduces us to Bobby Thompson, a musician whose fleeting success in country music has trailed off to small town bars where the alcoholic singer shakily holds things together. Barely responsible for himself, Bobby's hazy life comes into sharp focus when a old fan stops by and leaves her twelve year old daughter with him, swearing he's the father. We see father and potential daughter cautiously size each other up in his beat-up motel apartment while they wait the 10 days for the DNA results in the mail.
HELL OF A HEARTACHE is a rarest and most rewarding kind of cinematic small miracles. Shot in Northern Arizona in 17 days with a minuscule $10,000 budget, co-writer/actor/director Burson and his small crew finessed all the details to create a beautifully-sustained and haunting drama about fading dreams and possible redemption. In the spirit of humanistic filmmakers like John Sayles, Ken Loach and Sean Baker, HELL OF A HEARTACHE captures the rich details of its characters and community without falling into false nobility or easy sentimentality, delivering a story that imbues a generous dignity and humor to people on society's margins.
Scripted with the film's gritty locations in mind, HELL OF A HEARTACHE has a great sense of place, an engaging cast of native actors and a particularly beguiling performance by Burson as Bobby Thompson, a man near the end of his rope with only a dogged sense of gentleman's grace keeping him from hitting bottom. It's a role that would give a seasoned actor a workout but the fact that Burson could so fully inhabit such a complicated character in his middle-aged film debut is the biggest miracle of them all, making us root for a guy who seems almost done rooting for himself. The film also features a memorable turn by Genesis Van Parys as Sophie, the may-be daughter, embodying the inner resourcefulness of "adult" children forced to deal with their parent's irresponsibility. The chemistry between Burson and Van Parys is the kind that is not easily manufactured and by the time the film reaches its end, their relationship has its hooks in you.
- - - - - - -
HIGH TIDE is one of the highpoints of underrated Australian director Gillian Armstrong's fascinating career. After wowing audiences in Australia and beyond with the films MY BRILLIANT CAREER and the pop musical STARSTRUCK, Armstrong was woo'd to Hollywood to direct Mel Gibson and Diane Keaton in the 1984 period prison drama MRS SOFFEL (a film ripe for rediscovery). When the film's European style failed to find an audience upon release, Armstrong returned to Australia with the desire to make a smaller, personal drama in which she'd have full control.
She would rejoin the award-winning actress Judy Davis (made a star by Armstrong's debut MY BRILLIANT YEAR) this time as a back-up singer for a obnoxious Down Under Elvis impersonator. When Davis' brattiness gets her thrown off the tour, she ends up in a small beach town where her mother-in-law is raising Davis' abandoned daughter.
Armstrong is at her peak drawing on all the metaphoric possibilities of the ocean blue melancholy beating the shores of this little beach town, witnessing the always enthralling Davis as she seeks to transform herself from boozy background singer to something resembling a mother.
- - - - - -
Seating is limited.

Follow brightbulbscreenings on Instagram, Facebook