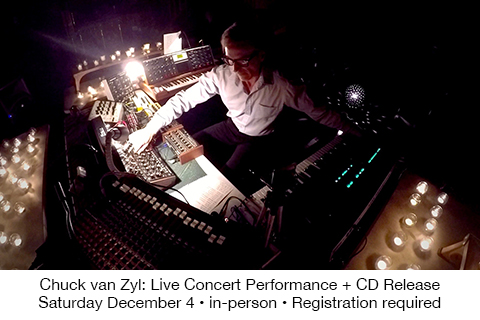 REGISTRATION IS FULL BUT YOU CAN JOIN THE WAITLIST. THE EVENTBRITE LINK IS BELOW. 

Chuck van Zyl: Live Concert Performance + CD Release
After decades of music-making, electronic artist Chuck van Zyl is credited with a range of substantial live appearances, collaborations and album releases. Realized in the specific poetry of the Berlin-School his creations draw on a unique understanding of texture, atmosphere and scale. With its deep-space gateways and brilliant sequencer breakdowns, from the heights of heedless improvisation, on down to its quietly consuming fields, his work opens a zone of one's own.
Spontaneously composed in the moment, performances by Chuck van Zyl evoke the sense of discovery first heard in early albums by Jean-Michel Jarre, Kraftwerk, Klaus Schulze and Tangerine Dream. Offering a quiet sense of mystery, his recitals are uniquely designed for an informed audience set for a journey. To riders of this aural plain his music is the perfect soundtrack. Somewhere between its mysterious sense of interiority and celestial yearning the audience will find room to contemplate the cosmos, or just as easily encounter the self.
Gliding through the spaceways, Chuck van Zyl presents pulsing passages of rhythmic flight. Slow chords hold forth, while cycling sequencer notes echo out amidst lithe keyboard leads. As synthesizer harmonies rise and fall, in passages of dark and light, an unexpected beauty emerges. It is in this remarkable realm that we are asked to give in to the sensation of sound, and connect with our inner stillness.
Perhaps best known as host of STAR'S END for the past 40+ years - one of the world's most successful radio programs of Spacemusic - or as founder of The Gatherings - Philadelphia's premiere concert series of innovative music - Chuck van Zyl has also been producing his own electronic realizations, in collaboration and solo, since the mid-1980s. He has played live at a variety of venues, and issued numerous studio works and concert recordings - all in service to an enduring impulse for expression. The new album "Votive" represents the diverse sonic terrain he is capable of achieving in the studio - the release of which coincides with the 4 December 2021 event at The Rotunda, his first public performance in well over two years.


Doors open at 7:30pm.
Following the performance will be a brief Q & A and CD signing.


PLEASE MAKE A NOTE OF OUR COVID RULES:
-Everyone over the age of two years old will be required to wear a mask the entire time they are indoors, regardless of vaccination status.
- We will ask each person in attendance to sign in at the front desk, for contact tracing purposes.
- Social distancing will be enforced.
-Seating is very limited. Registration is required.


This event is FREE. REGISTRATION IS FULL BUT YOU CAN JOIN THE WAITLIST. https://www.eventbrite.com/e/chuck-van-zyl-live-concert-performance-cd-release-registration-208177623877
Addtional Images