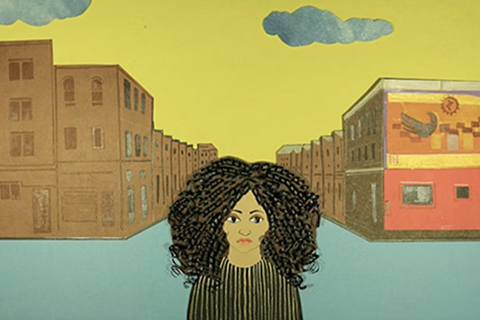 cinéSPEAK presents Best of Fests 2022
Join us at The Rotunda for a showcase of our favorite short films from local filmmakers recently featured in our region's films festivals.
In this provocative program, we are delighted to highlight some of our favorite short films from up-and-coming Philly-based filmmakers recently featured in our region's film festivals.


This program is sponsored in-part thanks to generous support from City of Philadelphia's Office of Arts, Culture and Creative Economy.
Special thanks to our film festival family at Philadelphia Asian American Film Festival, Philadelphia Latino Film Festival, BlackStar Projects, Women's Film Festival and The Tri-Co Film Festival for their collaboration on this exciting program!
**EVENT FLOW:
Doors @ 6:30PM
Film @ 7:00PM
**TICKETS: FREE! —Donations graciously accepted to support our on-going work (recommended) —No one is ever turned away for lack of funds. Please use the pay-what-you-can ticket option HERE.
**PLEASE NOTE: DUE TO COVID-19 SAFETY PRECAUTIONS, SEATING CAPACITY IS LIMITED TO 75 PERSONS** In order to assure you have a seat, advance ticket purchase is highly encouraged. Once we have reached capacity, we will not be permitting any additional guests. Unfortunately, we cannot make any exceptions.


—
ABOUT THE PROGRAM:
THE FEATURED FILMS:


LOVE MACHINE
(BlackStar Film Festival 2022)
Dir. Jasmine Lynea / US / 9:45 / English
After successfully building a time machine that uses love to help heal and replace harmful childhood memories, a teenage scientist/influencer puts his new invention to the test to challenge intergenerational trauma.


THE WALK HOME
(Philadelphia Asian American Film Festival 2022)
Dir. Chenjing Liaw / US / 3 min / English
A woman reminisces about her childhood walks home from school in Philadelphia.


TESTIMONY: 52ND ST & THE INVISIBLE VIOLENCE OF UPENN
(Women's Film Festival 2022; BlackStar Film Festival 2021)
Dir. Amelia Carter / US / 8:28 min / English
On May 31, 2020, residents of 52nd Street, in the predominantly Black neighborhood of Cobbs Creek, were attacked by the Philadelphia Police Department in response to unrest over the murder of George Floyd. Private university police forces from the University of Pennsylvania (UPenn), Drexel University and other organizations also participated in the crackdown. "Testimony: 52nd St. and the Invisible Violence of UPenn" is a short stop-motion animation film based on the experience of 52nd St. resident and UPenn employee, Amelia Carter. Through her testimony, Amelia explores what led to UPenn's participation in the attack and attempts to disrupt the normalization of everyday acts of institutional violence perpetrated by the university. Through her own self-reflection, Amelia invites the audience to question the societal conditioning that leads to complicity in the face of this violence and imagines a world where community care is prioritized over policing.


WUSS
(Tri-Co Film Festival 2022)
Dir. Rubbing Zhang / US / 2021 / 12:21 min / Mandarin with English subtitles
Nine-year-old tomboy Xiaoyu always wants to hang out with a group of boys in her neighborhood, but when her chance to join the 'boys squad" would be at the cost of a girl that she just made friends with, Xiaoyu has a hard decision to make.


RO & THE STARDUST
(Philadelphia Film Festival 2022)
Dir. Eunice Levis / US / 2021 / 18:00 min / English & Spanish with English subtitles
A free-spirited teen fulfills her terminally ill grandmother's dying wish of building a rocket ship to launch her into outer space.
—
**COVID-19 SAFETY MEASURES WILL BE IN PLACE**
—SEATING CAPACITY IS LIMITED TO 75 PEOPLE. We strongly recommend advance ticket purchase. Once we reach capacity, no new tickets will be issued. No exceptions.
—MASK WEARING IS REQUIRED of everyone over the age of 2, regardless of vaccination status.
—FEEL UNWELL? BEEN IN CONTACT WITH SOMEONE WHO TESTED POSITIVE FOR COVID-19? PLEASE STAY HOME. Again—if you have been in contact with someone diagnosed with Covid up to 14 days before the event...please stay home.
—IF AFTER ATTENDING OUR EVENT, you test positive for COVID-19 (within 10 days of attendance), please email Information@TheRotunda.org
—CONTACT TRACING WILL BE ENFORCED AT THE DOOR.
—GOT QUESTIONS?? Hit us up: info@cineSPEAK.org
—
ABOUT CINÉSPEAK:
We are a Philadelphia-based cinema organization that engages diverse audiences through our independent, repertory and foreign film programming; creating space and centering the stories of individuals and communities that are often underrepresented in mainstream cinema.
We promote community togetherness and global understanding by engaging film enthusiasts while cultivating the next generation of discerning moviegoers; encouraging people to demand social justice both on-screen and throughout society.
FOLLOW THE JOURNEY-->
@cineSPEAK (Instagram; Twitter; Facebook)
STAY IN THE LOOP—> https://bit.ly/cinéSPEAKMail