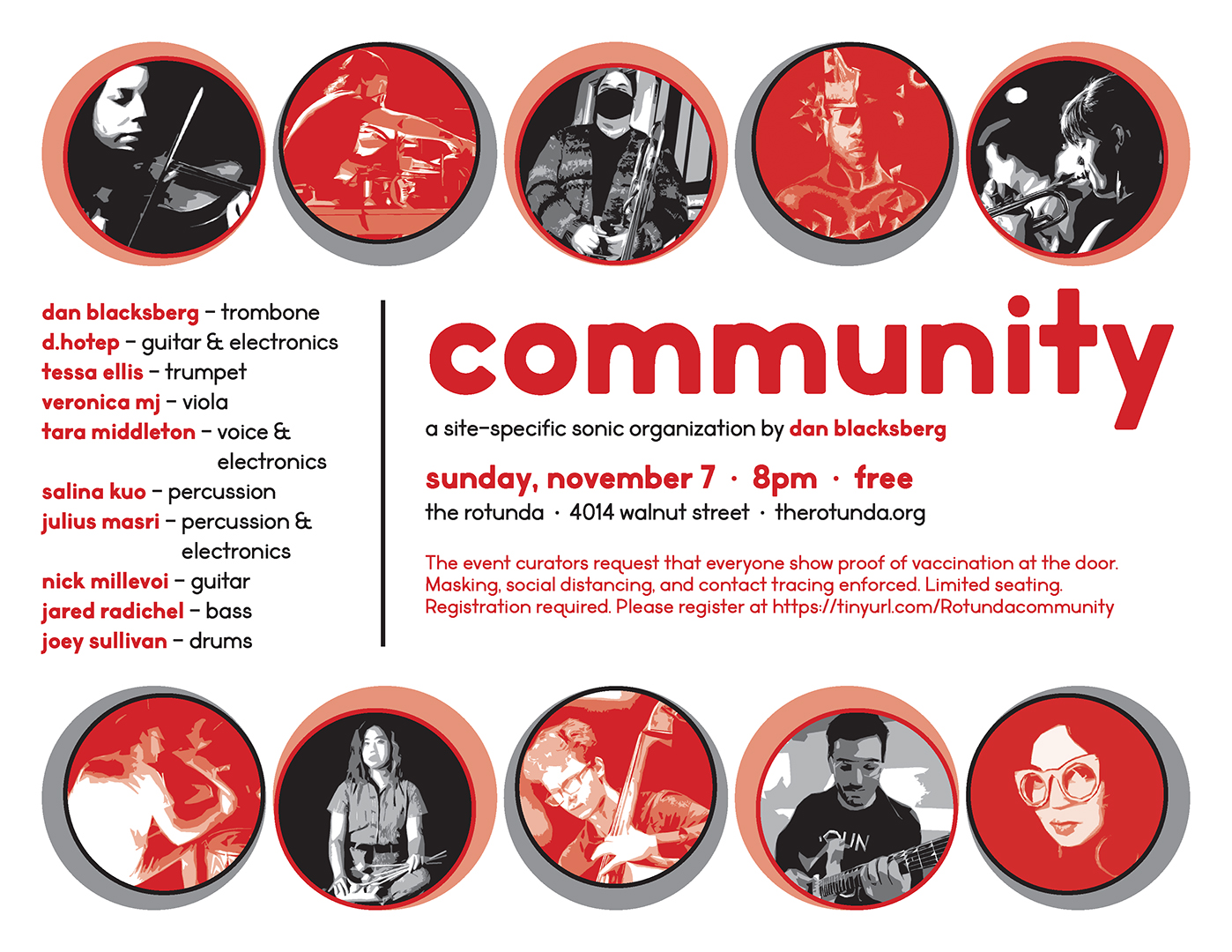 Registration is full but there's a waiting list at the Eventbrite link below. 
community
A site-specific sonic organization by Dan Blacksberg
Rescheduled from July 17!!!
Admission is FREE
The curators of this event request that everyone in attendance show proof of vaccination at the door. Masking, social distancing, and contact tracing enforced. Seating is very limited. Registration required. Please register at https://www.eventbrite.com/e/community-tickets-187646294117


Dan Blacksberg - Trombone
D.Hotep - Guitar & Electronics
Tessa Ellis - Trumpet
Veronica MJ - Viola
Tara Middleton - Voice & Electronics
Salina Kuo - Percussion
Julius Masri - Percussion & Electronics
Nick Millevoi - Guitar
Jared Radichel - Bass
Joey Sullivan - Drums
Program Notes
From 1977 - 1994, guitarist and free improvisation pioneer Derek Bailey ran his festival Company Weeks, bringing together improvising and experimental musicians from across the world. His collective group Company aimed to bring together exciting combinations of musicians who might not have otherwise have had the chance to play together.
community brings together improvising and experimental musicians from across the city of Philadelphia who should have had regular chances to play together and regularly cross paths in a vibrant musical ecosystem. The piece is a storyline of musical scenes that will unfold over three 30-minute performances. Each set will introduce new scenes as the musicians, many of whom have not played with each other either ever or at least in over a year, get more and more in tune as individuals and as an ensemble. 
The aim of community is to set up a kind of temporary musical biosphere for an afternoon where we musicians will interact with each other in exciting and fun ways and invite a small audience to join us on the inside. The scenes of the piece are designed to mimic some of the actions of a healthy music scene: getting to know each other, jamming, forming bands, having shared sounds or repertoire. It is my hope that participating in music making drawn from these kinds of activities will give people energy to go out and do that work beyond the one day of our performance.
It has been a hell of a year and a quarter since life drastically changed for so many of us. While the world of live music in Philadelphia and beyond is reawakening, many of us feel that things will never be the same. One thing I am committed to more than ever coming out of this is making room for people to show up as their full selves, especially when creating something collectively. community is a small chance to draw on all that is great about the creative music of Philadelphia: it's people and sounds, past and present, to do just that. 
I hope you come watch us, and I hope you enjoy the music. 
Sincerely, 
Dan Blacksberg
Dan Blacksberg forges a singular voice as a composer, trombonist, and educator by bridging multiple paths of music making from the traditional to the avant-garde. Dan is recognized as one of the foremost practitioners of traditional klezmer trombone, and is a respected voice in jazz, new music, and free improvisation. His work includes genre-busting compositions like chamber suite Name Of The Sea, commissioned by the Kimmel Center for the Performing Arts, performances with Anthony Braxton and doom metal band The Body, and work with klezmer luminaries such as Frank London, Elaine Hoffman Watts, Michael Winograd, and The Other Europeans. Dan currently teaches jazz and klezmer at Temple University, coordinates the Instrumental and Dance programs at Yiddish New York with Deb Strauss, and is the musician-in-residence at Kol Tzedek Synagogue. He also makes the Radiant Others Klezmer Podcast.
In alphabetical order: 

Tessa Ellis - Trumpet
Tessa Ellis has been fascinated by the sound of the trumpet since she was a four-year-old hearing the instrument for the first time. Her work as a Philadelphia-based freelance trumpeter and teaching artist is inspired by her lifelong drive to create new and nuanced sounds. Tessa is a founding member of the Arcana New Music Ensemble and the Opus 5 Brass Quintet and has enjoyed genre-bending performances with Hanson, Amos Lee, Square Peg Round Hole, and Caracara. She studied with David Bilger at the Curtis Institute of Music and earned a Bachelor's of Music (2017) and a Community Artist Fellowship Diploma (2018). As an orchestral musician, she has performed with the Rochester Philharmonic, the Lancaster Symphony, Orchestra 2001, and Symphony in C. Tessa was a finalist in the 2016 Ellsworth Smith International Trumpet Solo Competition and she has won first place in two divisions of the National Trumpet Competition. 
D.Hotep - Guitar and Electronics
From integral working relationships through the 1990s with rapper Kwame's DJ Tat Money, to Khan Jamal's Phila. Jazz Composer's Forum or Rogi Kenyatta's La Tumba, to his own ensemble JazGuardian with Philly drummer Kimpedro, his musical trajectory led to him becoming the guitarist for the Sun Ra Arkestra under the direction of Marshall Allen for more than the last two decades. Concurrent to ongoing Arkestra duties, he's found opportunities to collaborate with a wide array of notable local, regional and international artists, musicians and arts organizations. He is currently recording with the guitar/vocal electronic-jazz duo Jupiter Blue, and continuing to work at incorporating remote mixing, media scoring, and instrument tracking services for clients as diverse as ballet companies, independent artists, and music library publishers into his portfolio. He is scheduled to begin co-teaching a course in improvisation strategies at Curtis Institute of Music during the 2022 school year.
Veronica MJ - Viola
Veronica Mercedes Pazymiño Jurkiewicz is an instrumentalist, vocalist, educator, and curator based in Philadelphia.  She is drawn to sound involving the intersection of experimental, improvisational, and traditional practice; has a passion for creating and realizing diverse types of artistic programs and performing art experiences; and is an active member of the avant-garde music scene.
Tara Middleton - Voice and electronics
Tara Middleton is a 2019 Pew Fellowship nominated vocalist, violinist, and lyricist. Currently, she is the vocalist for the world renowned Sun Ra Arkestra directed by Marshall Allen, she also leads her own ensemble Jupiter Blue .She has studied under several prominent musicians, including Dr. Shinichi Suzuki, Booker Rowe, Gerald Price, Dr. George Allen, and Patty Wackenhut. In the 1990s, Tara co-founded The Foundations Singers, an African folksong oriented a cappella trio that garnered wide acclaim throughout the tri-state folk music community. Since then, she has performed and recorded as a featured vocalist with several ensembles, incorporating a broad range of songbooks and styles, including straight-ahead jazz, Portuguese Brazilian, Afro-Cuban/Caribbean, and Operatic avant-garde. Most recently she has worked as a vocalist and instrumentalist with Bowerbird's Arcana New Music Ensemble, and as a recording artist, and performer with Philadelphia Jazz Project. Recently Tara was commissioned to compose an original work for BalletX co-writing her first ballet "Twelve Bells", she has collaborated with Nick Millevoi's Desertion Trio to rave reviews in Rolling Stone magazine. Tara's most recent work can be heard on the newly released Sun Ra Arkestra album " Swirling" in which she wrote the lyrics for the title track.
Salina Kuo - Percussion
Salina Kuo is a Philadelphia-based person (settler of Lenape territory) interested in accessibility for music performance + music education. She opposes accessibility's "novel" reputation, and seeks to create nuanced, meaningful art from simplicity. She composes theatrical works for found objects, and writes/arranges songs for vibraphone and voice under "St. John's Wort." She holds a B.M. in music education from Temple University. There she studied orchestral repertoire, jazz vibraphone, latin percussion, and drumset. She teaches private drumset + piano lessons, and has performed at the Oh My Ears New Music Festival, Toronto Creative Music Lab, and Steve Weiss Mallet Festival. She will participate in the 2021 Montreal Contemporary Music Lab.
Julius Masri - Percussion and Electronics
Julius Masri is a Philadelphia based multi-instrumentalist and performer/composer for the city's dance community. Originally born in Tripoli, Lebanon, he moved to the States in 1990 at the age of 12, and picked up drumming a year later. His primary teachers in highschool included Philadelphia instructors Carl Mottola and Klezmer drummer extraordinaire Elaine Hoffman-Watts. As an undergraduate at Bard College, he studied with AACM's Thurman Barker, Richard Teitelbaum, and Joan Tower. Current projects include grind metal band Night Raids, avant jazz groups Sirius Juju, Dromedaries, and trombone & synth duo Superlith ("Best of Bandcamp'' for February 2021). A new solo album titled "The Arabic Room", under the project name Mephisto Halabi, is slated for release in the fall.
Nick Millevoi - Guitar
Nick Millevoi is a guitarist and composer whose music reflects his interest in the history of guitar music. He currently leads the band Desertion Trio and his discography includes records of psychedelic rock, noise music, avant surf, and explosive jazz versions of doo-wop hits which have been released by labels such Cuneiform Records, John Zorn's Tzadik label, and Clean Feed/Shhpuma label. As a guitarist, Millevoi has performed and recorded with musicians such as Nels Cline, John Zorn, Chris Forsyth & the Solar Motel Band, Jamaaladeen Tacuma, Marc Ribot, Fugazi bassist Joe Lally, and many others. He has performed on NPR's Jazz Night in America and Tiny Desk Concerts series and tours across the US and Europe, stopping everywhere from punk rock basements to New York's Town Hall. Nick's music has been reviewed by Rolling Stone, NPR, The Philadelphia Inquirer, Noisey/Vice, and Bandcamp Daily. 
Jared Radichel - Bass
Jared Radichel is an emerging improviser and songwriter based in Philadelphia, PA. They hold a bachelors degree in jazz performance from Temple University, where they studied improvisation under Dan Blacksberg. They are currently an active member of Philadelphia's DIY community, and have been organizing outdoor performances throughout the city.
Joey Sullivan - Drums
Joey Sullivan is a drummer, improviser and organizer based in Philadelphia. Holding a degree in jazz performance from temple university, his drumming is equally influenced by conversational rhythms of jazz, the wide sound pallet and playfulness of improvised music as well as the minimal propulsion of rock music. He has collaborated with Jared Radichel, James McMain, Pete Dennis, Tammy Huynh, Kevin Eichenberger, Kevin Murray, Leo Suarez and many others.
Admission is FREE
The curators of this event request that everyone in attendance show proof of vaccination at the door. Masking, social distancing, and contact tracing enforced. Seating is very limited. Registration required. Please register at https://www.eventbrite.com/e/community-tickets-187646294117
Registration is full but there's a waiting list at the Eventbrite link