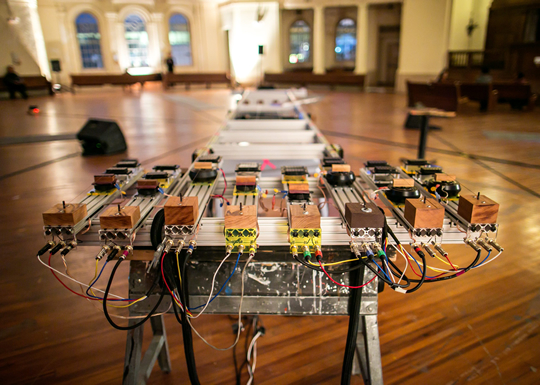 Daniel Fishkin and Bowerbird 
present
COMPOSING THE TINNITUS SUITES: 2016 
a concert series about hearing damage 
September 23, September 30, October 2, October 16 in the Sanctuary of The Rotunda

In 2008, composer Daniel Fishkin's ears started ringing, and they never stopped. Doctors offered no solace besides, "You get used to it." In the absence of a medical cure, Fishkin vowed to find a creative solution. "I do not want to get used to my hearing damage - I want to use it." 

Composing the Tinnitus Suites: 2016 is a concert series and sound installation that investigates the aesthetics of hearing damage. The series is anchored by the Lady's Harp - a system of 20-foot long piano wires activated by mixer feedback, using guitar pickups and pressure transducers to coax the strings into vibration. The Lady's Harp's buzzing strings create a forest of sound; as you walk around the room, the notes change along with your movements. The concerts are buoyed by conversations with neuroscientists and scholars who confront hearing loss or disability in their practice and personal lives. To make 'Tinnitus Music' is not just to compose sounds, but also to compose situations that can break the isolation of the experience of hearing damage. Composing the Tinnitus Suites is about listening to the way tinnitus makes one listen.


THE CONCERT SERIES 
PHILADELPHIA HEARING DAMAGE

Friday, September 23, 2016, 8pm
--
ELLEN FULLMAN with DANIEL FISHKIN

Friday, September 30, 2016, 8pm
--
DANIEL FISHKIN, CLEEK SCHREY, RON SHALOM

Sunday, October 2, 2016, 8pm
--
ENSEMBLE MISE-EN

Sunday, October 16, 2016, 8pm
Admission is FREE for all events in this series. 
Composing the Tinnitus Suites: 2016 has been supported by The Pew Center for Arts & Heritage.