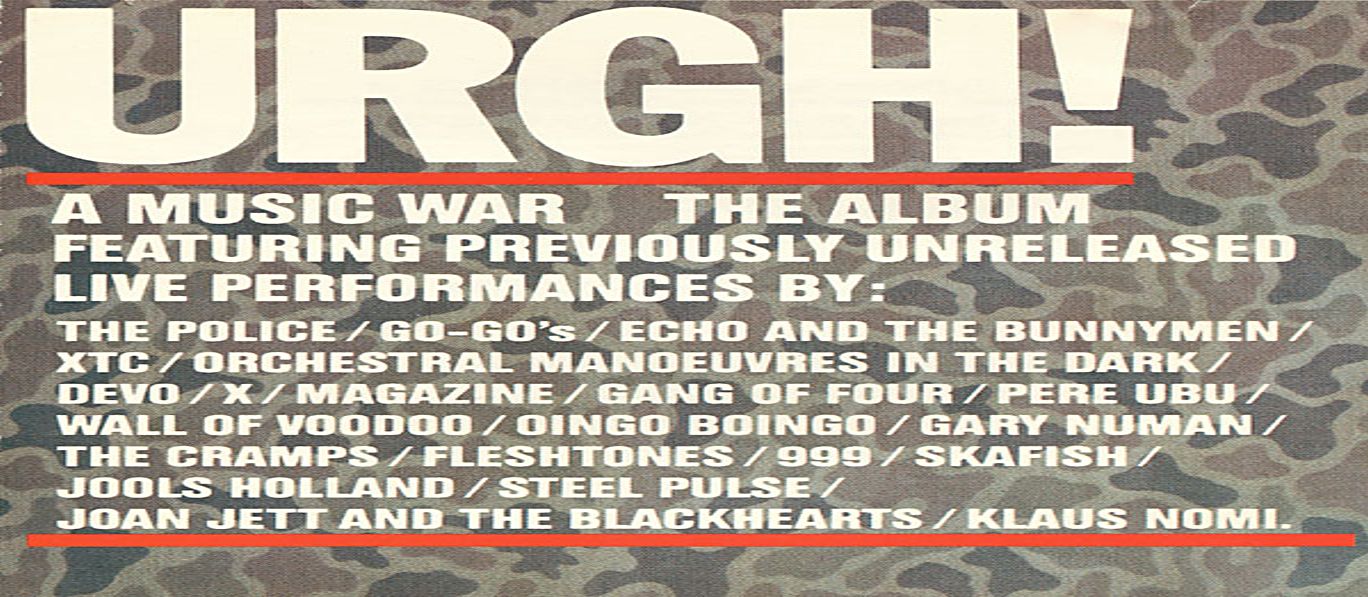 DJ DANA K Hosts the New Wave Concert Film, URGH: A MUSIC WAR (1982)


part of THE BRIGHT BULB SCREENING SERIES
Specially curated double features, the 2nd Thursday of each month
follow us on Facebook, Instagram
DANA K (WPRB-Princeton) Hosts the New Wave Concert Film, URGH: A MUSIC WAR (1982) Plus: Devo: The Men Who Make The Music (1979)


URGH: A MUSIC WAR (1982, directed by Derek Burbidge, 122 min., U.K.)


One of the great dazzlers among live performance films, URGH captures thirty-four musical acts from U.S. and the U.K. that demonstrate the overflowing imagination to be found in the New Wave/Punk Rock/Art Music world in 1980. No talking ('cept maybe by punk poet John Cooper Clarke) just a dizzying barrage stage stalkers, everyone from hitmakers The Police, XTC, Joan Jett and The Go-Gos, influential legends like Devo, The Gang of Four, Pere Ubu, and The Cramps as well as unclassifiable acts such as Wall of Voodoo and the mysterious Klaus Nomi.
This screening will be preceded by:
DEVO: THE MEN WHO MAKE MUSIC (1979, 55 min., U.S.)
THE MEN WHO MAKE MUSIC was the first visual compendium from the conceptually-attuned Akron, Ohio rock & roll band Devo, released at the birth of home video. It's a mixture of live performances from their 1978 tour, Devo's ground-breaking homegrown early music videos and interconnecting bits illuminating the globe on their still never-disproven theory on our culture's de-evolution.
(Dana K hosts WPRB-Princeton's "Don't Back the Front" currently heard Friday nights from 8 to 11pm)
The show begins at 8:00 pm. Admission is free.


Masking and contract tracing enforced. Seating is limited.