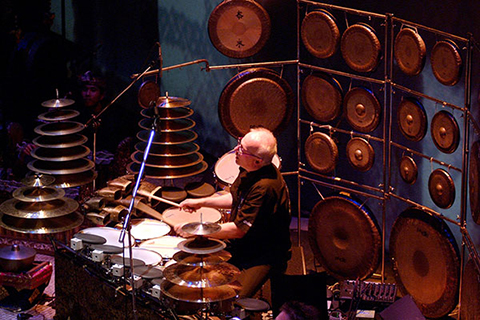 Proof of Covid 19 vaccination status and mask wearing required.
Co-presented with Clavius Productions.
Andrea Centazzo & Heath Watts:
Italian American composer, percussionist and multimedia artist Andrea Centazzo has been for 40 years a bold explorer of contemporary art. In the early 70's he introduced a new concept of percussion playing, migrating from the Free Jazz to a new form of improvised music, defining itself.
In the late 70's, Centazzo was one of the founders of the NY Downtown Music Scene with his seminal collaboration with John Zorn, Tom Cora, Eugene Chadbourne, Toshinori Kondo and others, documented in many albums.
In 1976 he established ICTUS Records, one of the first musician operated labels, recording with Steve Lacy, Evan Parker, Pierre Favre, Derek Bailey, John Zorn, Alvin Curran, Albert Mangelsdorff, Don Cherry and many others.
He left the improvised music scene in 1986, moving shortly after to Los Angeles, CA and dedicating himself to composition and video making. Centazzo authored 3 operas, 2 symphonies and almost 500 compositions for all kind of ensembles, plus many award winning video films.
Back to live performing in 1998, he created solo concerts and solo multimedia concerts, playing live in synch with videos that he shoots and edits.
His last project "Einstein's Cosmic Messengers" has been produced by LIGO, Caltech and NASA.
The Library of the University of Bologna at DAMS, just recently dedicated to the composer the Fondo Andrea Centazzo where all his works are collected and made available to students and scholars.
Heath Watts is a soprano saxophonist living in Philadelphia, Pennsylvania, who specializes in free improvisation and free jazz. He has released three albums on Leo Records, Sensoria, Bright Yellow With Bass, and Breathe If You Can. Roeba Records released Philadelphia Company #1 in 2007 with Watts, drummer Dan Pell, and guitarist Barry Chabala. He has also self-released the album 2x with pianist Alexandra Swaney in 2007.
Noa Even, Matt Engle & Scott Verastro trio:
Noa Even is a versatile saxophonist dedicated to the creation of new music through close collaboration with other artists, improvisation, and most recently, composition. She embraces the challenge of incorporating unfamiliar elements into her work on a regular basis. The process of navigating new territory and synthesizing ideas yields immense personal and artistic growth.
Noa began improvising as a doctoral student and has since continued developing her skills in that area. As an improviser, she is interested in iteration, speech patterns, and other forms of vocalized communication, and exploring the idiomatic, tactile qualities of the saxophone.
Matt Engle grew up in the Philadelphia area and has been an active member of the creative and improvised music scene for 20 years. He has contributed to many varying musical situations and has previously performed with Dan Blacksberg, Bobby Zankel, Sonic Liberation Front, Shot By Shot, Jarrett Gilgore, Split Red, Dave Liebman, Tim Young, Marshall Allen, Sam Newsome, Jaimie Branch, Elliot Levin, Anthony Pirog, Raymond King, David Middleton, Vince Johnson, Veronica MJ, Muhammad Ali, Oliver Lake, Tim Berne, Jack Wright, Thurman Barker, Jay Lunar, and Brandon Seabrook among many others.
Percussionist Scott Verrastro utilizes a plethora of sticks, brushes, bells, shakers, cymbals and gongs, bowed metal, contact mics, and household items -- in addition to a traditional drum kit -- to coax a wide palette of sounds. Verrastro received a degree in music literature from Northeastern University in Boston and continues to examine many forms of music, including all styles of improvisation and traditional folk. 
Past and present collaborations include Damo Suzuki, Marshall Allen, Peter Brotzmann, Jandek, Gibby Haynes, Elliott Levin, Paul Flaherty, Khan Jamal, George Kinney (of Golden Dawn), Richard Pinhas (of Heldon), Mike Tamburo, Rat Bastard, Kenny Millions, Little Howlin' Wolf, John Dikeman, Anthony Pirog and many more.


More info: https://www.firemuseumpresents.com/upcoming/andrea-centazzo-heath-watts-duo
Admission is FREE.