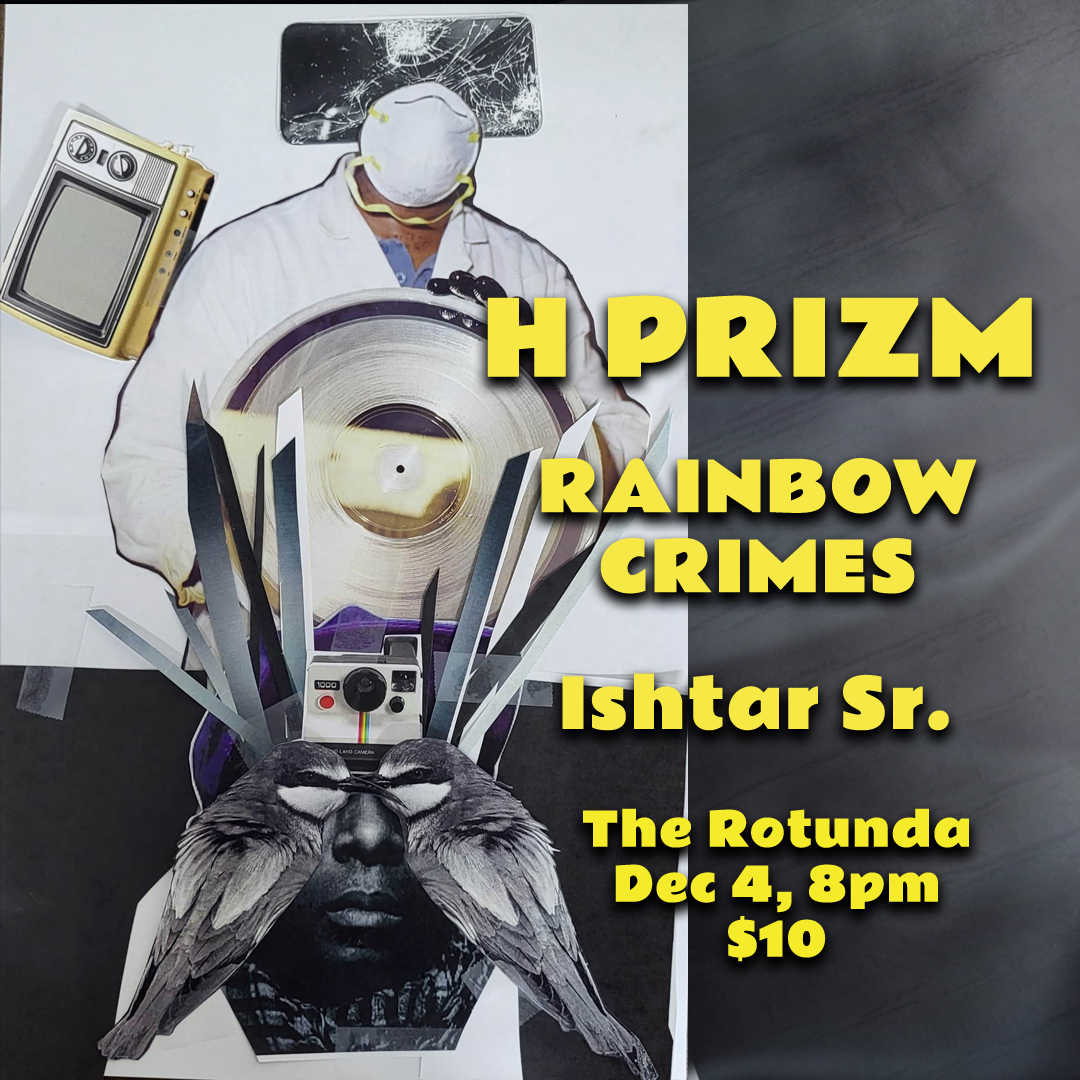 H PRIZM
ISHTAR SR.
RAINBOW CRIMES

$10 donations, all are welcome
HPRIZM
An accomplished MC, poet, beatmaker, producer, programmer, and sound engineer, H Prizm's musical projects range from global jazz to eclectic experimental hip hop. Best known as a member of the groundbreaking, legendary rap group Antipop Consortium, H Prizm's solo work has expanded the producer's sound palette in dramatic ways. At the core of his music-- through the layers of dense noise, pummeling beats, and esoteric underpinings-- is soul, a relentless groove that connects listeners with the music intimately. This sound is bombastic, wild and unfiltered; like ghetto blasters at 11 exploding in kaleidoscopic bursts of color and shit. Frankly, the shit is wild-- rappable but trancey, technologically driven but organic and spiritual, a collision of future and past that must be experienced.
On December 4, we bring HP to the Rotunda in west Philadelphia to share his vision with us. It will be an audio display like none other, live in a surround sound with a warm system and chill environment. Much like HP's Rebel Broadcast-- a nearly weekly event that sees him going live on instagram (@hprzim) displaying new beats and rhythms-- this show will stick with you for months after. Join us in the future, discover new approaches to sound.
ISHTAR SR.
Philadelphia is a mass of hardened coals, smashed by systemic chaos and a sometimes overwhelming brokeness, but every once in awhile, a this music community will produce a gem, a diamond from all that pressure. Ishtar Sr.'s music wavers from hard, pulsating experimental East Coast hip hop to dreamlike, cinematic cyberpunk soundscapes-- she is both the diamond and the coal existing simaltaneously, creating a kind of hip hop that's at once jagged and ethereal. Their set will be comprised of material spanning their vast, eclectic catalog, as playful art-beats dance with tripped out vocal excercises. We are looking to have this phenomenal performer in our midst.
https://savandepaul.bandcamp.com/
RAINBOW CRIMES
Noisy, chaotic, dollar-bin 90's cut-out indie punk meets 2000's shambolic soundscapes. RC is cyberwitches, ex-members of Trophy Wife, Solarized, and Ex By V., this trio takes stream of conscious weirdo post-everything and hones it into odd shapes, into cascading sounds.
http://rainbowcrimes.bandcamp.com