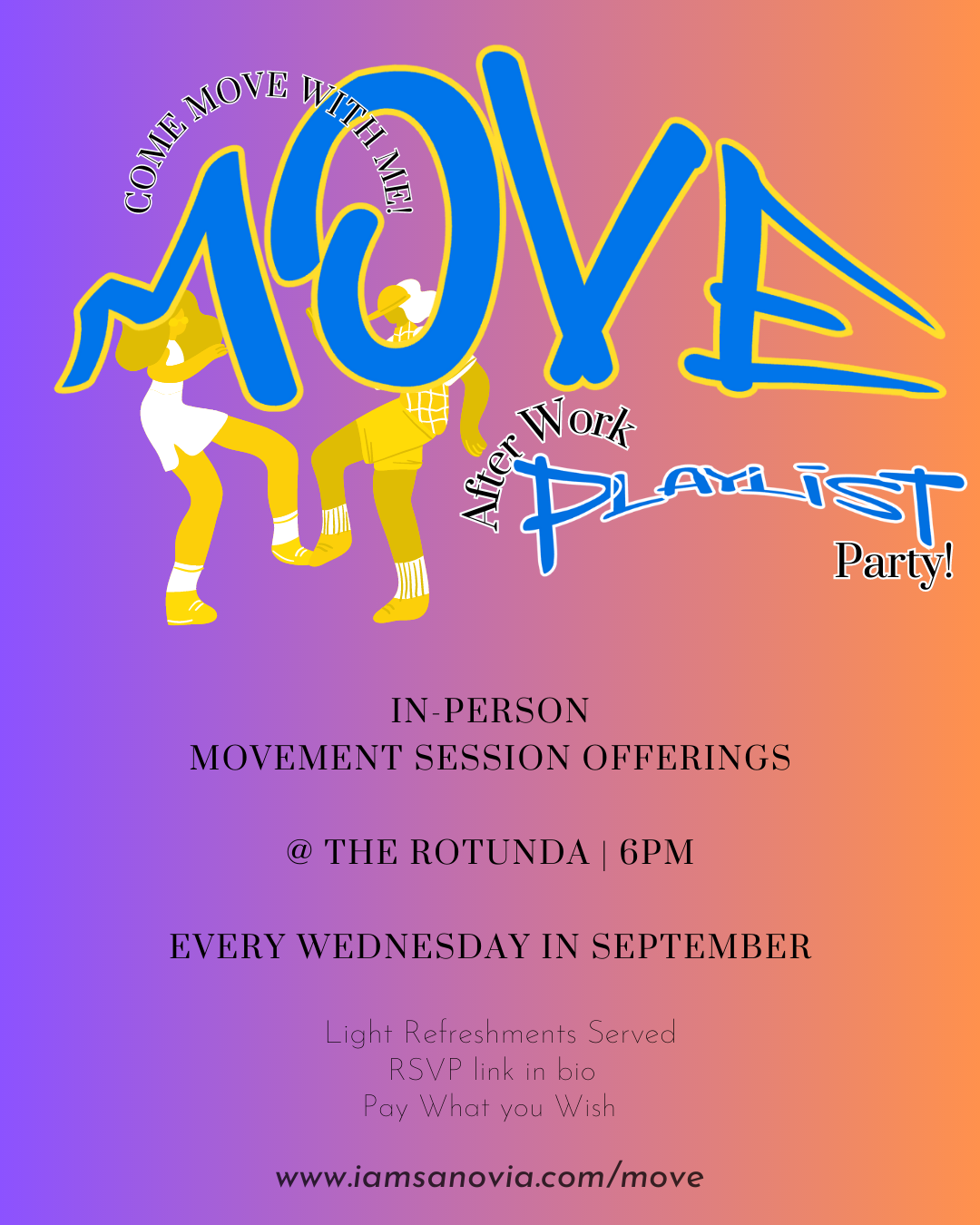 EVERY WEDNESDAY IN SEPTEMBER! Sept 6, 13, 20, and 27, all at 6pm until about 7:15pm. 
Come Move with Me with Sanovia Garrett is not just your average movement experience. It is an inclusive, interactive, and judgment-free space that welcomes individuals of all ages, shapes, sizes, colors, and dance abilities. Led by the talented trauma-informed artist Sanovia, this live movement experience is designed to leave you feeling refreshed and uplifted.
One unique aspect of Come Move with Me is the collaborative playlist creation. Participants have the opportunity to contribute to the playlist, ensuring that it caters to everyone's tastes and preferences. After a long day of work, this is the perfect way to unwind and move your body in a supportive environment.
And remember, you are encouraged to bring a friend along to share in the joy! The more, the merrier.
In terms of payment, Come Move with Me operates on a "Pay What You Wish" model, with a minimum contribution of $5. This allows for accessibility while also valuing the experience provided.
Please send to $pcklight on cash app, @sanovia-garrett on Venmo, or use the page www.iamsanovia.com/give .
Light refreshments will be served to keep you energized and hydrated. The space itself embodies freedom of expression, liberation, and a deep connection with our bodies. Who knows, you might even be lucky enough to witness a special appearance by a guest DJ at one of the sessions.
So, if you're looking for a transformative movement experience that celebrates diversity and promotes self-expression, Come Move with Me is the place to be. Join us and let your body and soul soar.