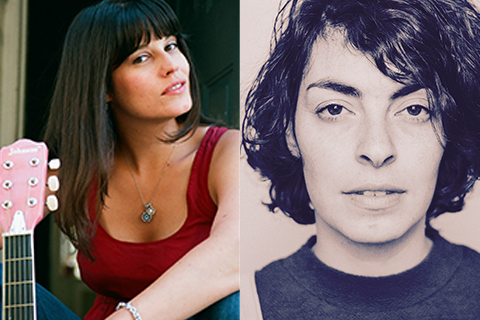 PLAYING FIRST!
Originally from Michigan's Upper Peninsula, Singer/Songwriter/Rhythm Guitarist
MIA JOHNSON
has been in Philly making music since the mid-nineties. She got her start busking on South Street, then onto Philly venues, the recording studio, and independent tours of the East Coast and Midwest.
Over the years she has performed most often as solo act with just the acoustic guitar, with stripped-down duos & trios and in full bands. Her sound is rooted in rock 'n roll, rhythmically varied and rich in melody with influences of folk, blues, reggae.
In addition to her original music, Mia's has a large mixed-genre repertoire of popular music covers that span the 1920's to the present day. She stays very busy performing for a living for the tri-state area's many music venues, retirement communities and special events. 
http://miajohnson.net/
PLAYING SECOND!
Born and raised in the suburbs of Paris,
L.O.S.T. (Line On Some Trip)
 grew up in a muslim immigrant family from Syria and Palestine. From 2006 to 2013, Line travelled across Europe and lived in England, Italy, Scotland and Hungary where she found many human and artistic inspirations. She moved to the US in 2014 and started her official music project in New York City before moving to West Philadelphia in 2019. Line's quirky punk-folk songs tackle serious topics such as mental illness and complex family relationships, the effects of capitalism, misogyny and racism on society, and the acceptance of the fragility of life. She conveys her message through instinctual guitar playing and a voice that transforms from sweet and childlike to powerfully enraged in a blink of an eye. Line will be presenting a range of songs written from 2009 to present, recounting the background story behind each of them. 
https://linktr.ee/line.on.some.trip
Tips are welcome during L.O.S.T. (Line on Some Trip)'s performance - or any time! Venmo:@lostmusic or Cashapp: $line.on.some.trip