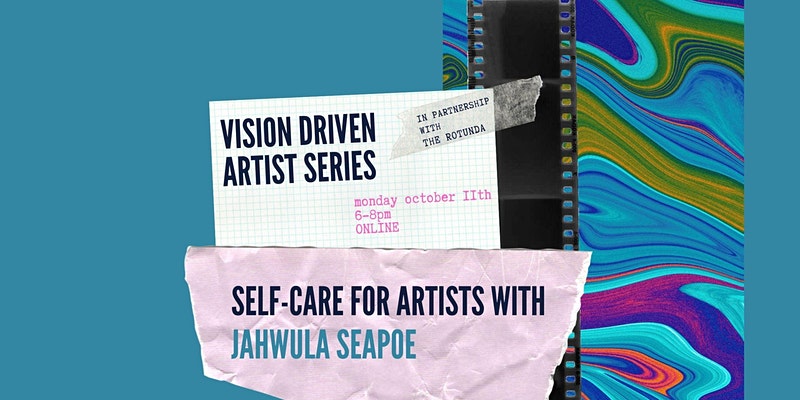 Free Workshop on Self-Care for Artists

Vision Driven Artists (VDA) exists to increase resources and opportunities for local artists and arts organizations.
This workshop will combine journaling exercises, and beginner yoga poses to encourage self-exploration and the practice of radical self-care.
Journaling is a form of Svadhyaya (self-study) that helps to connect us to our inner selves. By combining journaling and yoga, we will reflect and release to create the lives we wish to live. This workshop is for anyone interested in deeper self-reflection and learning how to add self-care practices into your daily life.
MEET YOUR FACILITATOR:
Singer and now yoga instructor, Jahwula completed her 200-HR Yoga Teacher Certification with Online Yoga School. Her additional certifications include Restorative Yoga and Chair Yoga.
Her yoga philosophy is rooted in practice, collaboration, and community. Jahwula's classes combine practical sequencing, complimentary sounds, and a dose of inspiration in my classes. I hope to provide an experience that nurtures the mind, strengthens the body, and feeds the soul with my yoga offering.
ABOUT VISION DRIVEN ARTIST
Vision Driven Artists - Philly RESOURCES is an online community of local artists who are interested in sharing resources, collaborating on projects, learning about opportunities, and building a more equitable arts scene.
If you want to market your art, events, fundraisers, performances, etc. please do so at Vision Driven RESOURCES - Philly PRESENTS [Closed Group]: https://www.facebook.com/groups/VDAPhillyPresents
If you would like to learn more about Vision Driven Artists, please follow our Facebook Page to learn about events, resources, opportunities, and workshops: https://www.facebook.com/VisionDrivenArtists/
This event will take place on Zoom. Registration is required in order to receive the link. Please register at https://www.eventbrite.com/e/vda-self-care-for-artists-tickets-167383980993