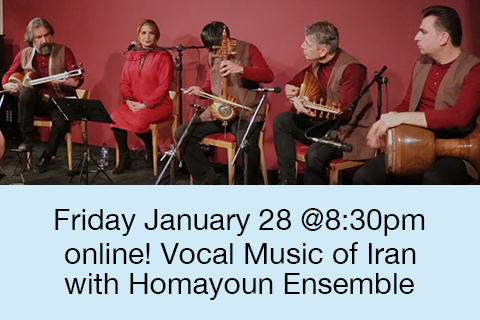 presented by Fire Museum
8:30-9pm

Direct link: https://www.youtube.com/watch?v=t5f2D79pJzo
Tonight we will premiere a program of vocal music from Iran. We are proud to bring you a performance from the Homayoun Ensemble.
Homayoun Ensemble:
Mehran Mehrnia – leader & tar
Sepideh Jandaghi – vocals
Ardavan Abedipour – oud, Omid Samari – tonbak, Arash Siahchashm – kamancheh & Homayoun Mehrnia – tarbass.
Mehran Mehrnia is an Iranian classical musician, tar and setar player and composer. He is the founder and has been the lead performer of Iranian classic music ensemble "Homayoun" since 1994. He is a professor of Iranian music at Art University and Tehran Conservatory of Music. He is a pupil of the famed Iranian music master Mohammadreza Lotfi. Mehrnia has led several Homayoun ensemble performances in Iran and in other countries including Estonia,Lithuania, Germany, Poland,France,Turkey and Vietnam. Mehrnia's albums include "Tale'e Mehr", "Naghme-ye Hamrazan", "Parvaz-e Khakestar" and "Hokmrani-e Baad".
Sepideh Jandaghi is a contemporary singer of Iranian traditional music. She was tutored by Parisa on vocals for 15 years, and further boosted that education with an academic degree in singing. In addition to being a singer, she is also a setar instrumentalist.
Jandaghi has been professionally active since 2015. Her first singles were composed by Arshak Rafiei and released in online media. Since 2018, she has been collaborating with Mehran Mehrnia, a composer and the head of Homayoun band. The duo performed in a concert together, and have been producing singles ever since.
links: https://firemuseumpresents.com/events/homayoun-ensemble/
Direct link to this evening's performance: https://www.youtube.com/watch?v=t5f2D79pJzo