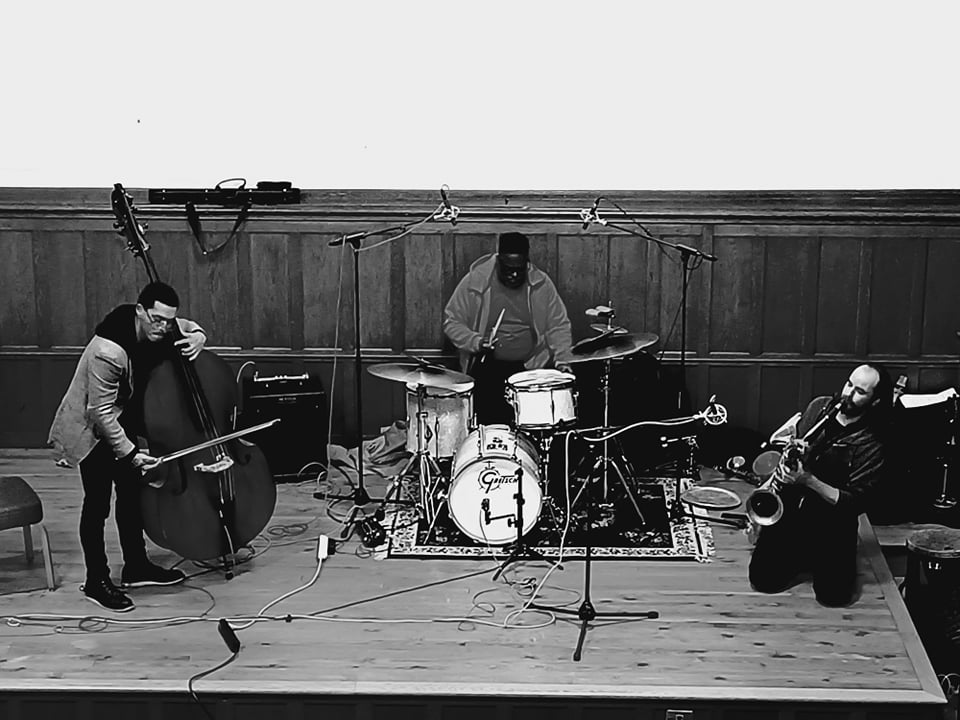 Stay at home NYE: Brandon Lopez Trio


DONATE TO FIRE MUSEUM PRESENTS:
https://fundraising.fracturedatlas.org/fire-museum-presents
Direct link: https://www.youtube.com/watch?v=qZlVWFWlcKE


We are sharing this video on New Year's Eve, join us for a viewing/listening party at home if like us you'd like to bring in the new year with a joyful noise at home!
This video will be taken down after the premiere – the audio from this performance is going to be released on the wonderful Relative Pitch label in the future!
Brandon Lopez works at the fringes of jazz, free improvisation, noise and new music. This collaborative powerhouse never lets up with underground sax hero Steve Baczkowski and Gerald Cleaver who is among the most agile and wide-ranging first-call musicians on the 21st century jazz scene.
Brandon Lopez:
New York-based composer and bassist working at the fringes of jazz, free improvisation, noise and new music. His music has been praised as "brutal" (Chicago Reader) and "relentless" (The New York Times).
From the New York Philharmonic's David Geffen Hall to the DIY basements of Brooklyn, Lopez has worked beside many luminaries of jazz, classical, poetry, and experimental music, including Fred Moten, John Zorn, Okkyung Lee, Ingrid Laubrock, Tony Malaby, Tyshawn Sorey, Bill Nace, Chris Potter, Edwin Torres, Tom Rainey, Cecilia Lopez, Sun Ra Arkestra, Susan Alcorn, Mette Rasmussen, and many others.
Brandon was a 2019–2020 Artist in Residence at Roulette, a 2018 Artist-in-Residence at Issue Project Room and 2018 Van Lier Fellow at Roulette Intermedium, Recent highlight performances include opening the 2018–2019 season of the New York Philharmonic as a featured soloist in Ashley Fure's "Filament" and a number of works with John Zorn, including the Zorn's 35th anniversary of "Cobra".
Steve Baczkowski:
Steve Baczkowski is an improviser, saxophonist, and multi-wind instrumentalist. Baczkowski began playing alto saxophone at age eight and switched to baritone by the time he was twelve. He studied music in high school at Buffalo Academy for Visual and Performing Arts and went on to studies in music, saxophone performance, literature, and ethnomusicology at the State University of New York at Buffalo from 1994 to 1999. In 1999, Baczkowski became the music director of Hallwalls Contemporary Arts Center in Buffalo, N.Y, where he has since produced and presented hundreds of concerts of contemporary music as well as numerous community-based artist residencies.
In addition to organizing multiple ensembles, such as the Buffalo Improvisers Orchestra, and the Buffalo Suicide Prevention Unit, Baczkowski also performs with the 12/8 Path Band, Genkin Philharmonic, Ubudis Quartet, Rey Scott's Unusually Different, in duos with percussionists Ravi Padmanabha and John Bacon and guitarists Bill Nace, Omar Tamez, and Bill Sack and in numerous other ensembles as well as solo. He has collaborated with many renowned musicians and has appeared at festivals in North America, Mexico, and Europe.
Gerald Cleaver:
Drummer Gerald Cleaver was born and raised in Detroit, Michigan, and is a product of the rich music tradition found there and also in his home. Inspired by his father, John Cleaver, also a drummer, he began playing the drums at an early age. He also played violin in elementary school and switched to trumpet during junior high and high school. While in his teens, he gained early working experience with Ali Muhammad Jackson, Lamont Hamilton, Earl Van Riper, and Pancho Hagood and later with Marcus Belgrave, Donald Walden, Rodney Whitaker, A. Spencer Barefield and Wendell Harrison. Cleaver earned a B.A. in music education from the University of Michigan. During his studies he was awarded an National Endowment for the Arts Jazz Study Fellowship to study with drummer Victor Lewis. After graduating he began teaching in Detroit, and later joined the jazz faculty at the University of Michigan and Michigan State University. He relocated to New York in 2002.
Cleaver has worked with Roscoe Mitchell, Henry Threadgill, Jacky Terrasson, Hank Jones, Tommy Flanagan, Mario Pavone, Charles Gayle, Matthew Shipp, Reggie Workman, Joe Morris, Craig Taborn, Ralph Alessi, Eddie Harris, and Miroslav Vitous, among others. In 2002 "Adjust", recorded for the Spanish label Fresh Sound New Talent, was nominated in the Best Debut Recording category.
video recording by Richard Stankiewicz, audio recording by Randy Thaler & video editing by Mitch Altman.
links: https://firemuseumpresents.com/events/gig-895/ 
Direct link: https://www.youtube.com/watch?v=qZlVWFWlcKE