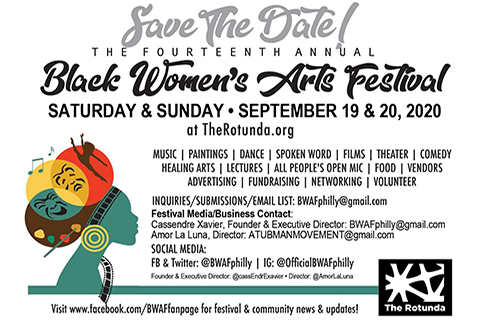 For more information, 
Contact: Cassendre Xavier
For Immediate Release
Philly's 14th Annual Black Women's Arts Festival Announced; a "Virtual" Festival – September 19-20, 2020
August 21, 2020 – For the first time, this year's Black Women's Arts Festival – the 14th annual Philadelphia-based event – will be a "virtual" festival, its organizers announced today.

The event, which once again will showcase a variety of multimedia arts and performances by African American and Black women, will take place this year on Saturday, September 19 and Sunday, September 20, said the event's founder, Cassendre Xavier.  On both days, the show will begin at 1 pm and end at 7 pm, she said.
"The Black Women's Arts Festival has taken place at The Rotunda on the University of Pennsylvania's campus," Xavier explained.  But because of the pandemic, this year's event will live-stream on The Rotunda's You Tube channel, she said.  
People can watch the show at https://www.youtube.com/TheRotundaPhilly and at The Rotunda's Facebook page (https://www.facebook.com/TheRotundaPhilly). 
Xavier, who herself is a Philly-based singer-songwriter who performs at the Festival, said this year's event will feature, among others, visual artist Wanda Payne, singer-songwriter Narissa Bond, and performance artist O.
A full schedule of presentations and performances will be released closer to the event, and artists interested in participating should contact Cassendre Xavier at BWAFphilly@gmail.com.