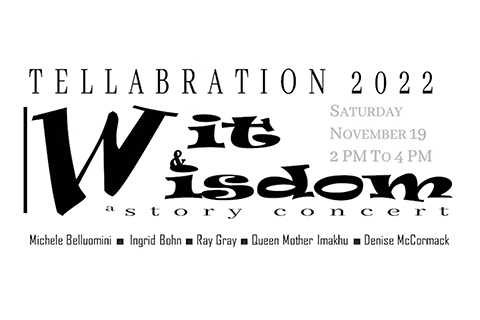 PATCHWORK CELEBRATES TELLABRATION 2022
Patchwork: A Storytelling Guild presents Wit & Wisdom, a Story Concert
This live event is open to the public.


Patchwork returns with a new cache of stories to celebrate the folkloric art, craft, and practice of the oral tradition of storytelling. Featured in this amazing lineup are, in alphabetical order, Michele Belluomini, Ingrid Bohn, Ray Gray, Queen Mother Imakhu, and Denise McCormack.


According to McCormack, president of Patchwork and host of the event,
"Tellabration is a hallmark event, celebration of story, and we're working hard to bring an assortment of rich, vibrant, and humorous tales to our audiences this season. The tellers are extraordinary and each adds a new perspective and twist through their individual performance styles and interpretations. There's a reason that folktales have endured for millennia; they're truly timeless because they have the capability to offer something special to everyone of every age and era."

More info and storyteller bios at https://patchworkstorytelling.org/tellabration22wit%26wisdom


This program is recommended for adult audiences. Light refreshments will be served.
Approx. Running Time: 110 minutes.
Patchwork offers Pay-What-You-Can ticket options for greater accessibility for all. Suggested donation $15/pp. Please reserve at https://www.eventbrite.com/e/tellabration-2022-wit-wisdom-a-story-concert-tickets-460319306437