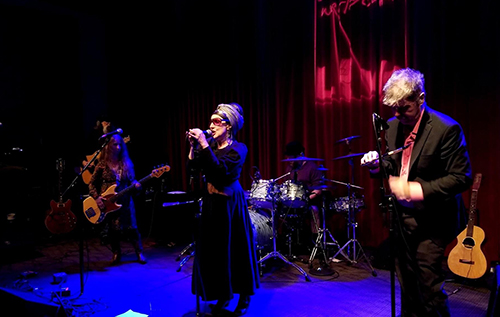 Sylvia Platypus Live from ElectricLatteLand!
About the band:
 If Edith Piaf partied with the Yardbirds on a windswept moor, the result might sound something like Sylvia Platypus. Sylvia Platypus is Philadelphia's (and possibly the world's) only psycho-celtic glam-blues band. Take the distinctive vocals and unusual poetic sensibility of Janet Bressler, add the soul-searing lead guitar work of Bill Barone (formerly of the 1970's era German symphonic rock band Wallenstein), the solid rhythmic foundation of Ruchama Bilenky (bass) and Quirky Tom Theurer (drums) and throw in some wailing highland and uilleann piping from Charlie Rutan ("the Eddie Van Halen of bagpipes"*) and you have an original sonic signature that rattles the cage of "genre".



This event is FREE but tips are MORE THAN WELCOME for the band. Just Paypal @Sylvia platypus during the performance [or any time, really!].