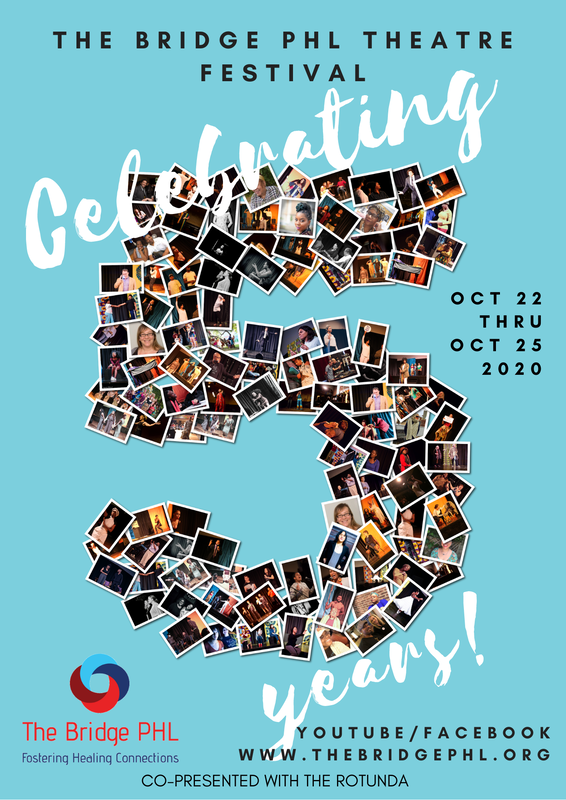 The 5th Annual Bridge PHL Theatre Festival!
www.thebridgephl.org/2020festival
Please join us October 22nd through 25th for our first virtual festival.
Presented with The Rotunda via The Bridge PHL YouTube channel.
Thursday Oct 22nd @ 7pm ET
Friday Oct 23rd @ 7pm ET
Saturday Oct 24th @ 7pm ET
Sunday Oct 25th @ 2pm ET
Free w/ RSVP! 
(Donations gratefully accepted.)
Visit www.thebridgephl.org/2020festival for the full roster of performances and to RSVP. 
The Bridge PHL is a Philadelphia-based production company founded in 2015 by Gabrielle Corsaro, Hannah Tsapatoris MacLeod, Meryl Lynn Brown, and Kathy Harmer. We believe in the power of the narrative to encourage dialogue so we may all rise together to remake our world with compassion and inclusion. We seek to inspire a dialogue confronting systemic racism and to highlight the work of local black and brown theatre and performance artists.  Since 2015, our Bridge PHL family has grown into a power-packed ensemble of writers, performers, directors, and designers. 
MISSION STATEMENT 
The Bridge PHL strives to foster healing connections between our rich and diverse communities by encouraging openness and dialogue on racial prejudice, privilege, inclusion, intersectionality and bias. 
VISION STATEMENT 
Our annual theatre festival each autumn and cabaret each spring welcomes both emerging and experienced artists wishing to engage in this mission. Through theatre and the performing arts, we seek to create spaces where artists with marginalized voices, especially the diverse voices of Black American women, feel welcome and are heard.