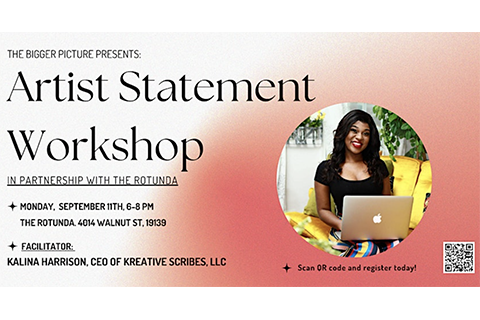 ​The Bigger Picture
presents
Artist Statement Workshop with Kalina Harrison
Join us for the Artist Statement Workshop on September 11, 2023, from 6:00 PM to 8:00 PM. This exciting event will be hosted by Jasmine Jahwula Seapoe, with Kalina Harrison as your workshop facilitator. 
​This workshop is designed to help artists craft a compelling and professional artist statement. Whether you're a seasoned artist or just starting out, this workshop will provide you with the tools and guidance to effectively communicate your artistic vision and purpose. So, come along and let's create some magic together! Workshop topics include marketing yourself via EPKs, artist statements, and resumes.
Registration is FREE and required. Please register HERE