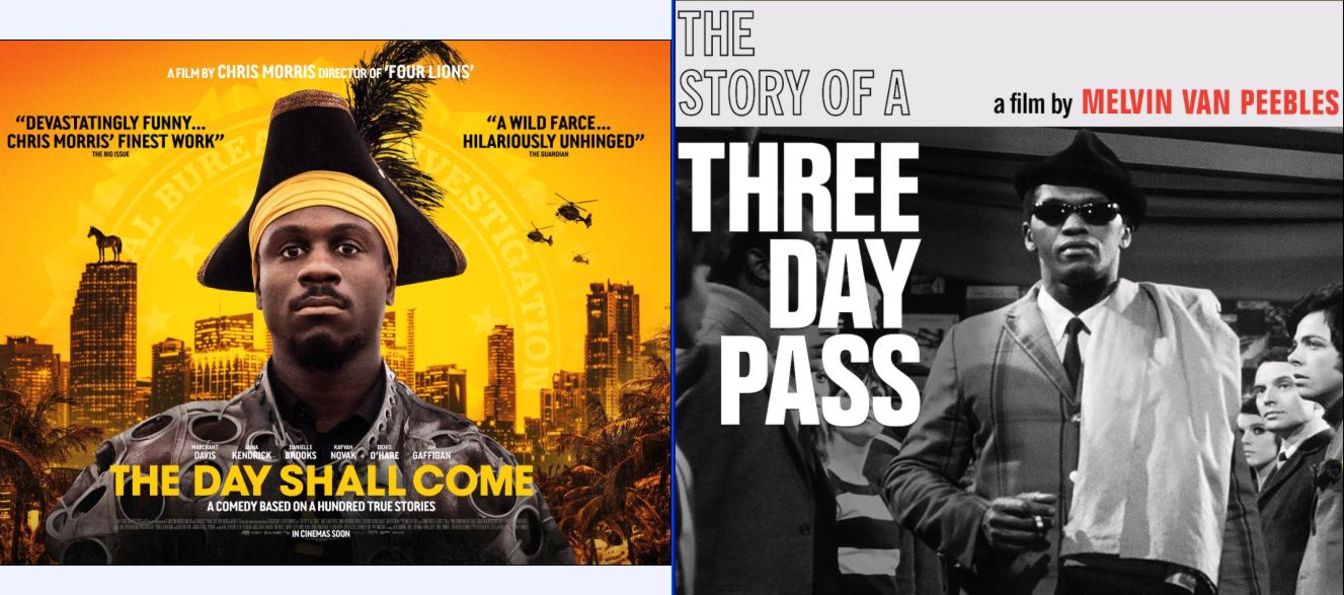 BRIGHT BULB SCREENING SERIES 2021
Free Screenings @ 8pm The Second Thursday of Each Month

FIRST SCREENING OF 2021! (see COVID policy below)

DOUBLE FEATURE!
(Hosted by Dan Buskirk - WPRB, Fleisher Arts Memorial)
THE DAY SHALL COME (2019, directed by Chris Morris, 87 minutes, U.K./U.S.)
THE STORY OF A THREE-DAY PASS (aka "La Permission") (1967, directed by Melvin Van Peebles, 87 minutes, France)

Two concise comedies/social commentaries on the bill, first is British director Chris Morris' devastating and under-seen 2019 film, THE DAY SHALL COME. Morris' comic expose details the FBI's record of first dreaming up terrorist schemes, then recruiting gullible citizens to entrap. Here, special agents recruit the horse-mounted Moses of Miami (North Philly-born theater actor Marchánt Davis in his film debut) and step-by-step attempt to radicalize him and his handful of followers' preposterous beliefs. Also starring Danielle Brooks (Taystee from ORANGE IS THE NEW BLACK), Anna Kendrick and comedian Jim Gaffigan. Heavily inspired by the case of "The Liberty City Seven."

The only thing more outrageous than the jokes are the facts that inspired it."
- Pete Debruge, VARIETY

Second-billed is the 1967 debut of the recently-transitioned director Melvin Van Peebles (SWEET SWEETBACK's BADASS SONG), THE STORY OF A THREE-DAY PASS. The French New Wave inspired hundreds of films but only one was made in France by an African American expatriate. Based on Van Peebles' autobiographical novel, THREE-DAY PASS examines the mind-set of Corporal Turner (Harry Baird, stirring in his only leading role) as he hits Paris looking for romance on a weekend leave from the barracks. Van Peebles is determined to dazzle and the film is awash with surreal asides and satiric barbs as he illustrates the inner and outer turmoil inherent in being a black man in France in the 1960s. The film features the final performance of Nicole Berger from Truffaut's SHOOT THE PIANO PLAYER and includes music by guitar great Mickey Baker.

"A kind of gentle cross between 'Hiroshima Mon Amour' and 'Guess Who's Coming to Dinner'—a little hard to imagine, it is true, but less pretentious than the first and less false than the second."
- Renata Adler, The New York Times
Admission is FREE

COVID POLICY


- Everyone over the age of 2 will be required to wear masks indoors, regardless of vaccination status. 

- Performers and attendees will be asked to stay home if they feel unwell or have been in contact with someone diagnosed with Covid within 10 days of the event. 
- We will engage in contact tracing. We will register attendees at the front desk, and will require them to alert us if they become sick after the event.