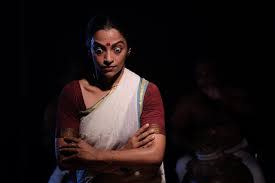 Fire Museum Presents: VIDEO PREMIERE: KAPILA VENU - KUTIYATTAM PERFORMANCE
THIS PREMIERE WILL BE AVAILABLE FROM 5TH SEPTEMBER TO 12TH SEPTEMBER 2023. View it at https://youtu.be/AmgpVFnwHzs
Kapila Venu is a renowned Kutiyattam practitioner and one of the foremost disciples of the legendary Kutiyattam maestro Guru Ammannur Madhava Ckakyar. She has also trained in Kutiyattam with renowned masters such as Guru G Venu, Guru Ammannur Kuttan Chakyar, Guru Usha Nangiar and Guru C N Rama Chakyar and in Mohiniyattam dance under Guru Nirmala Paniker for several years.
Venu spent five years of her life in Japan working with avant-garde actor-dancer Min Tanaka where she also studied the theatre philosophy of the 14th-century Noh master and scholar Zeami Motokiyo.
Kapila has been performing Kutiyattam and Nangiar Koothu, both as a solo performer and together with the ensembles at Natanakairali and Ammannur Gurukulam all over the world since 1997.
Forplay Society & Fire Museum present Kapila Venu – Devi Mahatmyam Nangiar Koothu
Episode – Mahishasurajanananam – The birth story of Mahishasura
Accompanying Artistes Mizhavu – Kalamandalam Rajeev, Kalamandalam Hariharan Edakka – Kalanilayam Unnikrishnan Thalam – Saritha Krishnakumar
Ensemble – Kottichetham Kutiyattam Ensemble
Recorded at the Foreplay Society, Festival, Mattancherry, Kerala. 14th January 2023
THIS PREMIERE WILL BE AVAILABLE FROM 5TH SEPTEMBER TO 12TH SEPTEMBER 2023. View it at https://youtu.be/AmgpVFnwHzs